Marvel Comics Released Excaliber #11 on August 19. Writer Tini Howard, artist Marcus To, colorist Erick Arciniega, and VC's Ariana Maher return us to the events at the end of Excalibur #9 in what is quickly becoming a complex plot to follow in the lead up to X of Swords.
Before issue #10 introduced readers to a pocket reality, issue #3 left off with Excalibur's attempt to arrive at the Starlight Citadel, which resulted in an injured Shogo. Shogo and Jubilee begin this issue detained by people of the Green, those who live outside of the Citadel.
Howard, along with To and Ariciniega does a fantastic job of conveying Jubilee's grief over her injured son, whose injuries are conveyed by one of the characters in horrifying terms as being so big in his dragon form that his body could fall apart if he goes through a Krakoan gate and transforms back into a baby.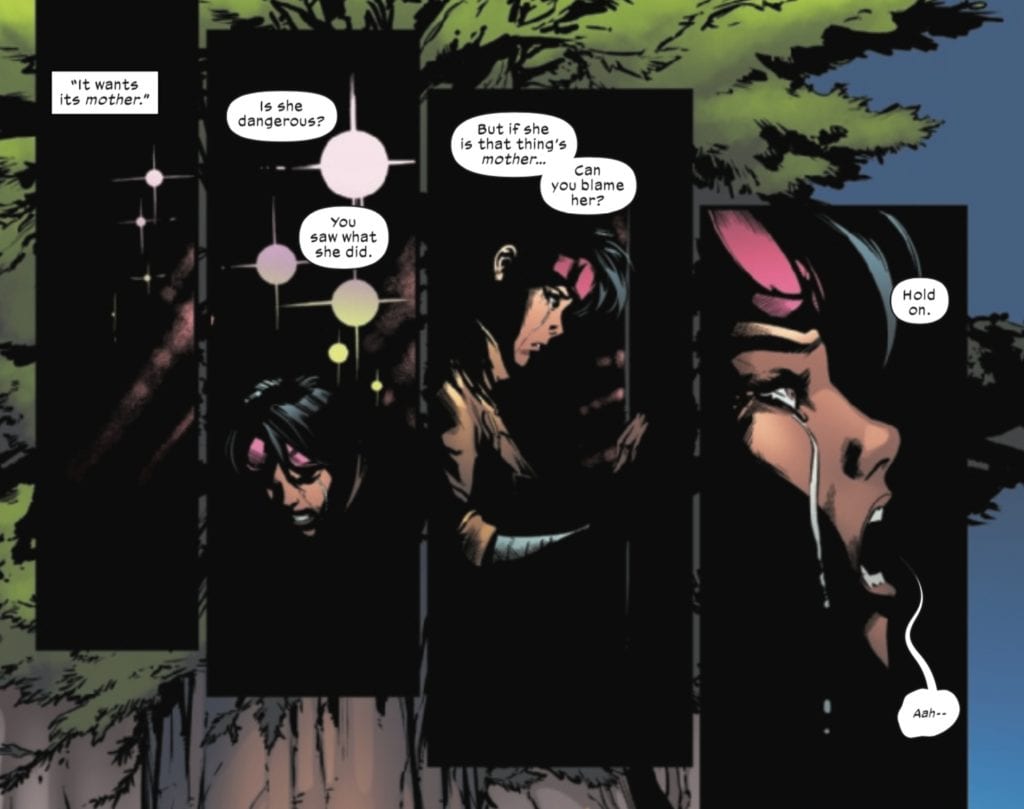 These scenes with Jubilee are full of heart, but not deprived of wit. The art team, along with letterer Maher, convey the desperate grief of Jubilee and her misplaced rage at her captors, whether through the bright colors expressing Jubilee's power, or the "wham" indicating a fight-ready Jubilee!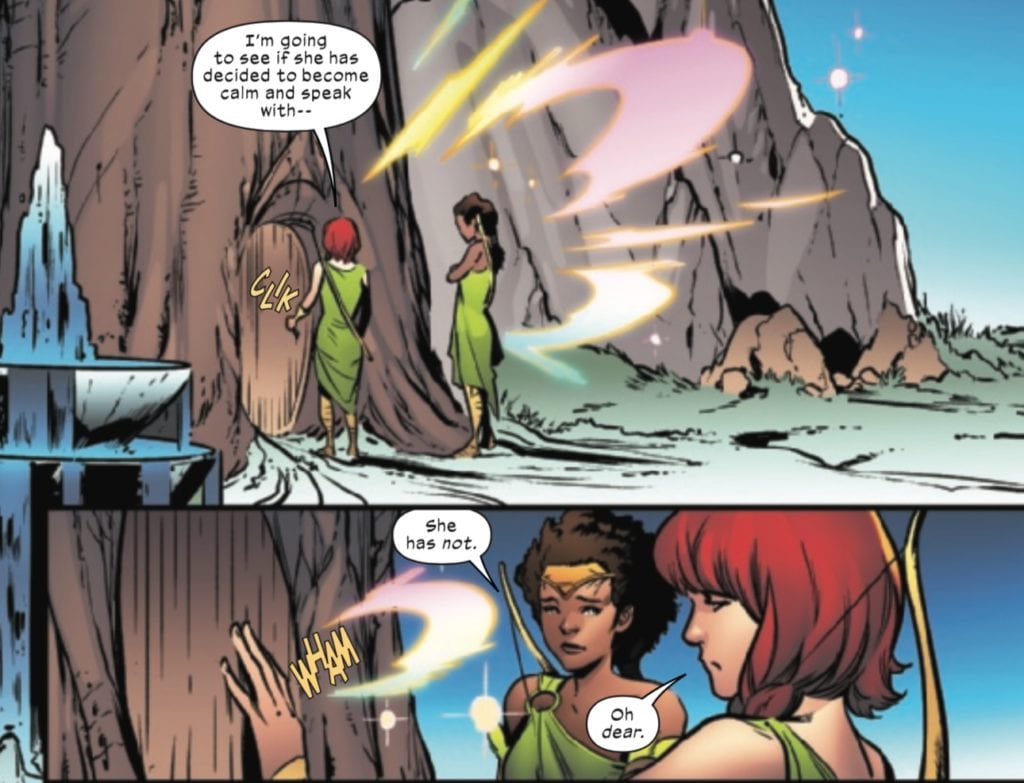 This scene captures the way that the entire team for this issue comes together to produce some subtle character moments in this issue.
Excalibur does make it into the Starlight Citadel, where Betsy informs Lady Satyrne that she'll have to get used to working with her instead of her brother because Betsy "is the only Captain Britain you've got." This scene could very well be meant to be ironic, given that in the pocket reality, more Captain Britains have been created.
Meanwhile, Apocalypse's plan for a mutant presence in Otherworld comes into focus as he seeks a stone of power that everyone's favorite Cajun pickpockets from the Starlight Citadel.
One might be forgiven for having a hard time tracking the plot of the Excalibur series from issue to issue. Howard and co. are creating an increasingly complex tale, complete with alternate realities, secret plots, and hints of a war to come. This is all heading towards X of Swords, with the next issue serving as a prelude to this next big X-event.