Everything Everywhere All At Once has emerged as one of the biggest films of 2022, earning near-universal critical and audience acclaim. The question is does Everything Everywhere All At Once deserve this acclaim?
Evelyn Wang (Michelle Yeoh) is a Chinese émigré to the United States. She runs a laundromat with her husband, Waymond (Ke Huy Quan). Tensions are high amongst the family and their business is about to be audited by the IRS. Evelyn's world gets rocked when another version of Waymond hijacks her husband's body to warn her the multiverse is under threat from a great villain, and she might be the only person able to stop them.
Multiverse stories have become increasingly popular. Since Avengers: Endgame the Marvel Cinematic Universe has explored their multiverse with Loki, Spider-man: No Way Home, and Doctor Strange in the Multiverse of Madness, and DC is about to explore their multiverse with Flashpoint. Whilst on TV Rick and Morty and His Dark Materials have been hits. These aforementioned properties are big-budget blockbuster releases – Everything Everywhere All At Once gave the multiverse setting an indie sensibility.
What the writers/directors Dan Kwan and Daniel Scheinert created was the ultimate mash-up of Terry Gilliam, The Matrix, and Rick and Morty. Their film was an ambitious and oddball film that was hilarious, action-packed, and thoughtful. Everything Everywhere All At Once managed to have the trifecta of being entertaining, intelligent, and emotional.
Comparisons with Rick and Morty were the most obvious. Both Everything Everywhere All At Once and Rick and Morty were multiverse-set stories that were also zany comedies and looked at philosophical ideas. Everything Everywhere All At Once was bloody hilarious: it provided some of the biggest belly laughs I have had in the cinema for a long time. There were small interactions between the characters that raise a chuckle, to big outlandish moments. This was a film where characters had to perform random actions so they could gain special abilities. Some of the moments that induced big laughs were the Space Odyssey parody and when a man tried to use a phallic-looking item.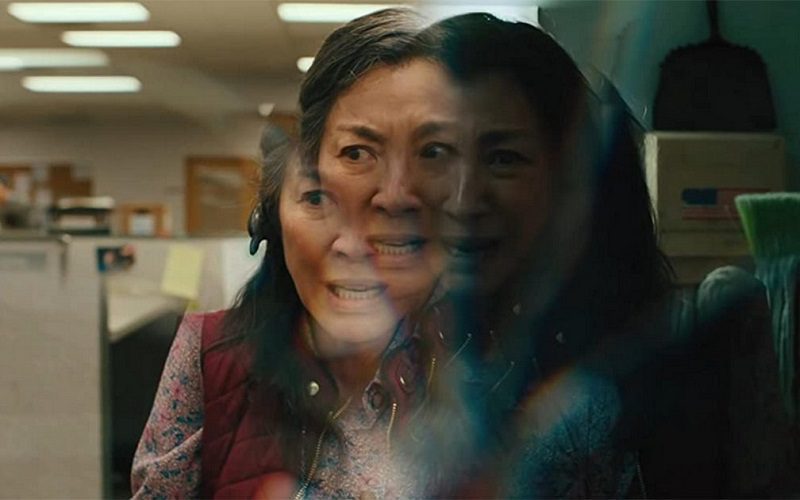 Like Rick and Morty, Everything Everywhere All At Once addressed the issue of existentialism. It was a world-shattering revelation for Evelyn to find out she was just an insignificant speck in a vast multiverse. The version of Evelyn that the film followed was of a woman who never fulfilled her potential which adds to the existential crisis. A part of the film felt very similar to the Rick and Morty episode "Rixty Minutes" because Evelyn got to experience the life of a successful version of herself if she never married Waymond.
The film's villain came to a similar conclusion as Rick Sanchez about the multiverse: everything is meaningless. If every eventuality can happen then why bother. Owlman in Justice League: Crisis on Two Earths had the same view as Everything Everywhere All At Once's villain and set out to destroy all reality. The villain in the film had the ability to go into any universe without any technology and had the abilities of a god.

Comparisons between Everything Everywhere All At Once and The Matrix may not seem obvious at first. Everything Everywhere All At Once was a bizarre indie film, whilst The Matrix was a special effects-heavy sci-fi film with a major studio backing. Yet there were similarities. Both films were high-concept sci-fi films with a focus on philosophical issues. Evelyn was like Thomas Anderson/Neo because they were both living mundane lives and ended up having their minds blown when they find out the true nature of their reality.
The comparisons can go even deeper. In The Matrix characters could have skills like martial arts and piloting helicopters uploaded into their minds. In Everything Everywhere All At Once people could instantly gain the skills of other versions of themselves through 'reverse-jumping.'
Everything Everywhere All At Once was also a really fun action film. Michelle Yeoh is an accomplished martial artist, so it was great to see her use her skills once again. There were some fight scenes that were also funny. Some of the highlights were when Alphaverse Waymond used a fanny pack as an effective weapon, one character gained wrestling abilities, and Evelyn had to fight off a mass of agents from another universe. The fight scenes had a Jackie Chan quality to them, especially when Waymond was involved because of his agility and use of weapons.
Everything Everywhere All At Once wasn't just a high concept film, it was a family drama. Evelyn had tensions with her family members. Waymond was trying to muster the courage to give his wife divorce papers. There was generational strain because Evelyn's father (James Hong) had disowned his daughter due to her marriage, whilst Evelyn and her daughter, Joy (Stephanie Hsu) had a frosty relationship. Evelyn was uncomfortable with Joy being gay and dropping out of college. This all plays into the stereotype that Asian parents are overbearing but Everything Everywhere All At Once does have fun with the idea and for Evelyn sorting out her family issues was just as important as saving the multiverse.
Due to the film taking place in many different universes and showing different versions of the characters it required a great editing job. And Paul Rogers provided. He was able to make the film a compelling piece. The climax was mesmerizing as it showed events across the multiverse. Rogers deserves an Oscar nomination, at least for his work.
Everything Everywhere All At Once was a rare film because it got everything right. It had perfect acting, writing, and direction, making it a cinematic triumph!