Writer Cavan Scott and artist Ario Anindito, with inker Mark Morales, colorist Annalisa Leoni, and letterer Ariana Maher present "Star Wars: The High Republic" #4. This issue continues to present and explore new threats and concepts within the Star Wars universe while digging into more character storytelling and great galactic adventure. With more stellar artwork from the visual team, this issue is another entertaining success in this new chapter from the Galaxy Far Far Away.
"THE JEDI TURNED AGAINST EACH OTHER?! AVAR KRISS and her band of brave JEDI helpless in the clutches of a traitor in their midst. STARLIGHT BEACON under attack from an insidious foe. Danger from an age-old enemy. Who is really pulling the strings on the distant planet of SEDRI? Plus: The secret history of the terrifying DRENGIR revealed."
Writing & Plot
Cavan Scott's script for "The High Republic" #4 is the most fast paced and action oriented thus far, but it still takes the time to flesh out its cast. The opening sequence is a flashback showing Avar Kriss training under her former master and current ally, Jedi Master Sskeer, before taking us back to the present where the latter is possessed by a Dark Side wielding plant. The trails that these characters have faced up to this point have ensured that every moment in this comic has tension. Nothing in this chapter feels like a throwaway, and each scene adds something to the characters or the lore at large. Sskeer's struggle with trauma, Avar's coming to grips with her own role and her former master's fall, and the first real test of Starlight Beacon all come to a head here. The discovery of the Drengir on the outset seems a bit odd, even for Star Wars, but the notion of ancient Dark Side aligned plants just works here thanks to Scott's framing of this new menace. Knowing that there is still much more story to come is immensely intriguing, and this issue's end is one of the wildest yet coolest cliffhangers I've gotten to see in comics recently, Star Wars or otherwise.
Art Direction
This unexplored era of the Star Wars universe in "The High Republic" #4 is brought to life by the consistently brilliant grouping of Ario Anindito's pencils, Mark Morales's inks, and Annalisa Leoni's colors. The animation and detail that the lines and shades give to the characters and environments here all look near-immaculate with the same kind of high production we've been getting from all of Marvel's Star Wars outings. The art style still obviously retains the look and feel of a Star Wars tale, but with new design choices the replicate the unseen era we get to see here. The panel direction as well is kinetic and natural, making this fast paced issue easy to follow and very capable at building tension. The colors are gorgeously vivid, giving every panel a life that is rare even in the most well-produced mainstream comics. From the bright golds and whites of Starlight Beacon to the dank tunnels in the home of the Drengir, and to the glow of lightsabers humming in the dark, everything in this book looks spectacular. This is another piece in the long line of outstanding looking Star Wars comics, and one that very much has a life of its own.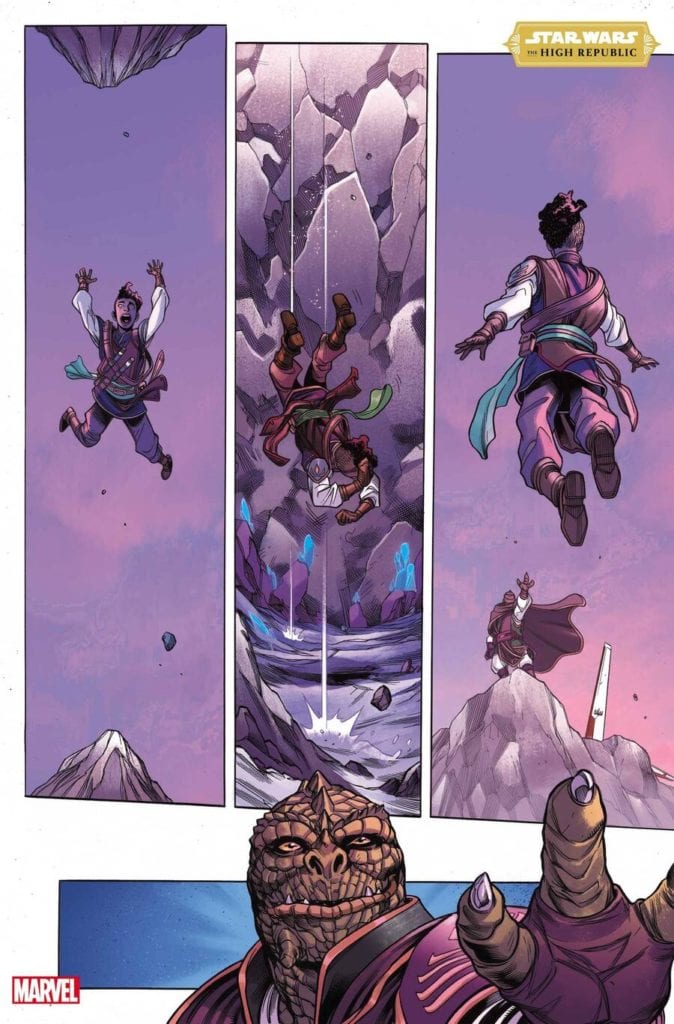 "Star Wars: The High Republic" #4 is an intense, character-driven, and action-packed installment in this fantastic series. Cavan Scott's script is full of lore and character building and also full of twists and pleasant surprises. The visuals from Anindito, Morales, and Leoni are vivid and full of life, bringing this mysterious era of Star Wars history to focus with familiar yet new energy. Be sure to grab this issue when it hits shelves on 4-7!