From Killadelphia creators Rodney Barnes and Jason Shawn Alexander comes a spinoff tale in a new town with a new kind of terror. Along with artist Patric Reynolds, colorist Luis NCT, and letterer Marshall Dillion, Nita Hawes' Nightmare Blog #1 is a tense and deep opening to this new horror series. With the same kind of character driven writing that makes Killadelphia so successful, and incredible as ever visual work, this new series is off to one hell of a start.
"Jimmy Sangster might have left Maryland for the vampire-infested city of "Killadelphia," but there is still untold evil lurking the streets of Baltimore. The demon Corson has surfaced from the underworld to possess a once-wronged man, and his vengeance will come at the cost of humanity's despair! But Jimmy's former lover Nita Hawes—a woman with demons of her own—has begun a quest to root the evil out of her city. Guided by the ghost of her dead brother, she must come to terms with her own past, lest she join her brother in a state worse than death!"
Writing & Plot
Rodney Barnes constructs horror the right way in Nita Hawes' Nightmare Blog #1. Much like with Killadelphia, he constructs the story in a two-fold direction. He builds the character and backstory of Nita Hawe and other cast members to make them relatable and feel human. When he isn't doing that, he's scaring the hell out of us with his antagonist. Hawes' experience with evil comes from her past – both from her ex Jimmy Sangster (protagonist of Killadelphia) and the tragic manslaughter of her brother. The problem is, her brother won't leave her be now. Hawes' guilt takes a unique form here, as her little brother's ghost pusher her to make this blog and root out evil.
Barnes does fantastic work making Hawes a well-rounded character that is simultaneously experiencing and dealing with trauma. We are only at the tip of the iceberg with her investigations into the underworld, and I can't wait to see how she navigates that threat. On the other hand, we have Corson. His backstory is as compelling as any slaughter-loving demon's can be. This blues-singing monstrosity is a genuine terror on the page, with every one of his scenes sticking well into my memory. Especially with what may very well be the single most jolting turn-of-the-page scare in comics this side of Junji Ito.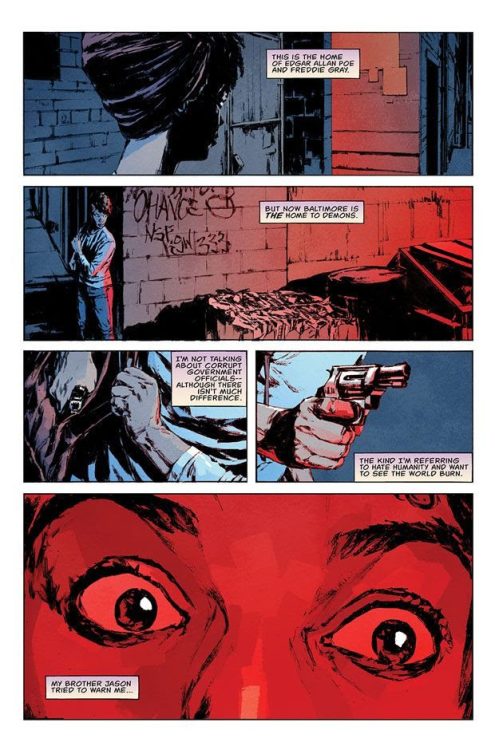 Art Direction
Jason Shawn Alexander's work on Spawn has likely prepared him well for what he does here in Nita Hawes' Nightmare Blog #1. Much like with Killadelphia, he and Patric Reynolds are responsible for the art and layouts in this spinoff. Alexander displays a keen sense of horror direction in this issue. He typically sets up 5 to 8 panels per page, capturing moment to moment movements from different perspectives. In the case of character moments, its a great way to get a sense of people's emotional states and personalities. In a horror scene, it's an intense play-by-play for the approach and slaughter by a demon to his victims. This intricate directing shifts just for the last turn-of-the page scare. A full page image creates one of the most chilling scenes in horror comics.
Alexander and Reynolds have a distinct, gorgeous style that is perfect for character detail and horror. Their use of realistic references has an almost photorealistic effect that never gets into uncanny valley territory. Minute expressions are portrayed with perfect detail to give us a view into the heads of our main characters. The demonic details come to life with ferocious surprise, with disturbing designs and gory aftermath. Much of the horror here is based on staples of the genre, but it's handled so well that it's a welcome sight for any horror fan.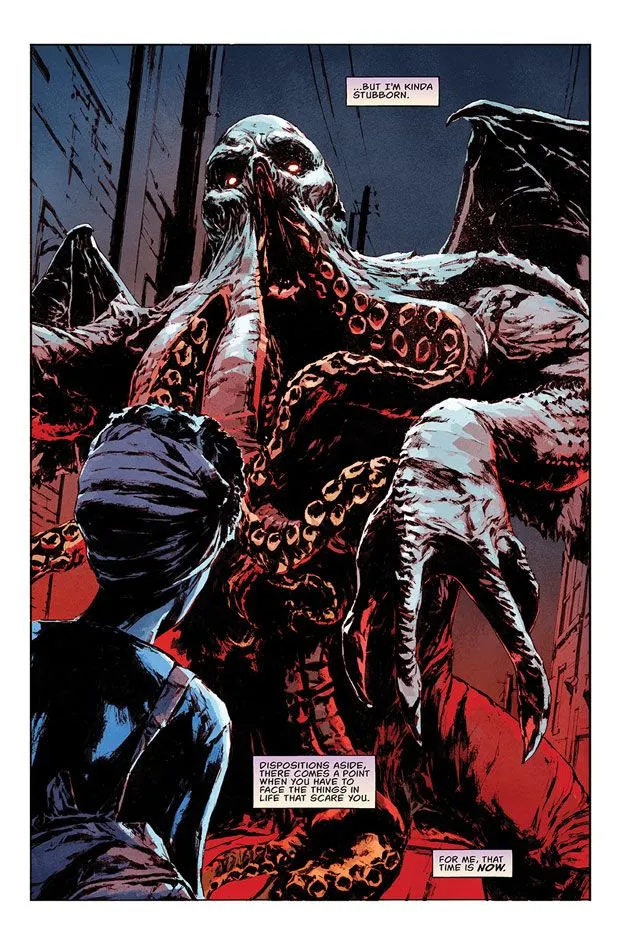 Color & Lettering
The painted style colors from Luis Nct add a whole other layer of complexity to the book's aesthetic. Every image is saturated with a palette of shades due to the color work instead of a flat tone. His work is especially memorable on the more monstrous and supernatural sequences. These moments bathed in blood, viscera, and/or hellfire feel akin to the works of Francisco Goya. Marshall Dillion's lettering deserves note here for its simple yet creative touches. His main font is a standard, highly legible contemporary font that come alive during the demon Corsan's passages. The red-on-black lettering is such a smart move. His SFX letters are really cool as well, coming off as scratchy disturbing shockwaves. This comic is a phenomenal work of visual horror storytelling.
Verdict
Nita Hawes' Nightmare Blog #1 is a phenomenal and frightening start to this spin-off series. Rodney Barnes pens a script that builds its characters to make their troubles relatable to the reader while never letting up on the brutal terror that has come to their world. The visuals from Jason Shawn Alexander, Patric Reynolds, and Luis NCT are densely detailed and darkly atmospheric, making images that will stay with you long after you close the book. If you're a fan of Killadelphia or a horror fan in general, be sure to grab this issue when it hits shelves on 10/20!