The premise is simple: read one comic every day for the entire year. It seems like a simple task but there is no way that I read 365 comics last year, even if you count the individual issues in collections. So, this year, I have committed myself to this reading challenge, in the hope that I can broaden my reading habits and fully engage with my favorite hobby again.
Last week had a superhero slant, with Spider-Man featuring a lot, and I still have many more Spidey titles on my reading desk for the next few weeks. This week will probably be a mixed bag as I haven't specifically picked anything out or have any reading agenda. Next week, however, will be focused heavily on one thing. You'll have to come back here then to find out the what and why of it.
But I've got 7 comics before then, so without further ado..
Comic Number 29: Doctor Who Classics Volume 3
Everyone is familiar with Grant Morrison's mind bending, philosophical superhero comics, and Dave Gibbons is the Watchmen artist, so big, BIG names on display here. But it's also a well known fact that if you're a British creator and born after 1963 then you've had a go at Doctor Who at some stage. Every single British actor has been in the series (not an actual fact, but not far off) and every writer or artist has worked on a strip for Doctor Who magazine. Are you even British if you haven't?
So, it should come as no surprise to find both Morrison and Gibbons in this little collection of stories featuring Doctors numbered 4, 6, and 7. Today, I read the opening few stories with numbers 6 and 7 worming their way through some bizarre backwaters of the universes.
A fun read with plenty for Whovians, like myself, but it's not groundbreaking stuff. It won't change the way you look at Doctor Who or comics. But, it is quintessentially Doctor Who.
Comic Number 30: Secret
When it was first announced, Secret was to start coming out at the same time as another Jonathan Hickman title, The Manhattan Projects. At the time, I decided to buy one on a monthly basis and the other, if it was successful enough, I would wait for the trade. I settled on Secret as the monthly, and I'm still not sure if I picked the right one or not. The Manhattan Projects was by far the more successful of the two, which meant that it had a regular release and was collected fairly quickly. Secret, on the other hand, took two years from issue 1 in April 2012 to issue 7 in April 2014.
Jonathan Hickman knows how to tell a story. It's the reason he is so successful. His early work Pax Romana and A Red Mass for Mars are sufficiently groundbreaking for a new voice in comics. He then made his name with his phenomenal Fantastic Four run followed by a massive stint on the Avengers comics. But all the while, he's produced indie books such as The Black Monday Murders, Decorum, and the aforementioned The Manhattan Projects. That's not including East of West, which I will no doubt do a read through later this year as it is simply one of the best comics of the last 50 years.
Secret is a bit more low key than other titles, but it is still a stunning piece of work. The artwork by Ryan Bodenheim is emotionally charged, making the violence so much more violent. And his character work is stunning. Michael Garland provides minimalist colors — a style that was becoming more popular in 2012. The contrast this created not only suits the story but enhances the overall tone.
And then there's Rus Wooton's lettering. Wooton's work doesn't just tell the reader the story, it is embedded into the narrative with perfectly placed word balloons and superb text layout. Take, as an example, the panel below. The script is telling you about something that has happened but the balance of the lettering, the shape of the two stacked balloons and the placement within the image, gives the speech physical and emotional weight. The hand is virtually holding the two balloons in a balanced shape but the gap between the fingers and the speech adds an element of uncertainty, as if the whole thing is about to topple over and come crashing down. It's almost like a fore shadowing of what's to come.. Surely comics can't be that clever. Can they?
It's genius.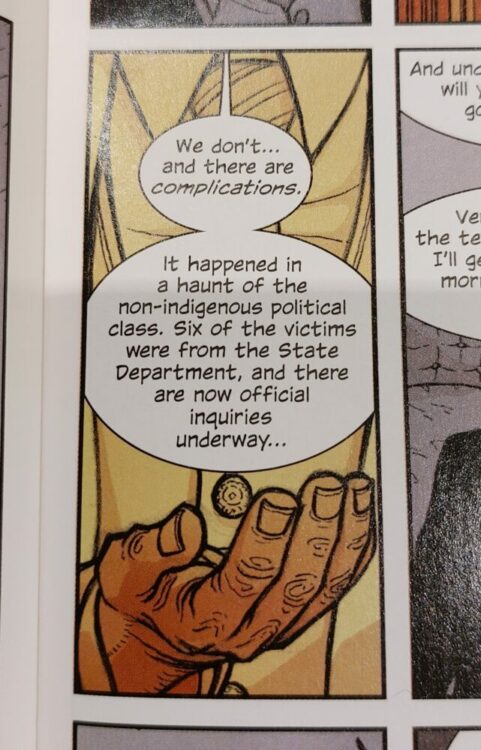 Comic Number 31: SuperZero #1
More from AfterShock Comics, this time one of their earlier titles, released in the publisher's first year, 2015. This is a superhero comic with a difference: there's no actual superhero in it. At least, not in the first issue.
The mini-series was created and written by Amanda Conner and Jimmy Palmiotti, who produced a large volume of Harley Quinn comics, and there is something of the outcast element in this story. In fact, the central character, Dru, is just a geek like one of us, trying to find her place in the world. Years of indulging in comics and counter culture may have given her a distorted view of the world around her, but her desire to be important in some way is something that most people can identify with. The obsession with detail and being able to use pointless, extensive, knowledge for something other than trolling people online is the driving force behind Dru's motivation to become a superhero.
The artwork draws on superhero traditions while also expressing the mundanity of normal life. Dream sequences explode with color and action shots, cementing Dru's impression of the superhero life. However, this doesn't always flow into her 'real' life. The pain is shown on the characters faces and through the body language; almost too close to the bone in some instances.
The first issue is an impressive opener to the series. It is quite word heavy, however, this suits the narrative as it becomes more of a comment on superhero and comic culture rather than an actual superhero story.
Comic Number 32: The Amazing Spider-Man: Origin of the Hobgoblin
I may have mentioned before that I'm a fan of Spider-Man, especially the late 1970s/early 1980s' stories. And the Hobgoblin is one of my all time favorite characters, more so than the much more famous Green Goblin and the infamous, uber popular, Venom. Give me the orange mercenary with a ridiculously convoluted history any day of the week.
What I enjoy about this collection is that it sets the scene for the creation of the character. The first three comics, which are the ones I've read today, are from The Spectacular Spider-Man issues 43, 47, and 48, and feature the villainous Belladonna, whose manipulation of the fashion world introduces Robert Kingsley to the world. Kingsley will go on to play a major role in the Hobgoblin story, but in this opening arc, he is a weasel of a man who is pushed to breaking point.
The scripts by Roger Stern combine exhilarating action and tragic comedy which is captured on the page by the various artists: Mick Zeck, Steve Michell, John Costanza, Bob Sharen, Marie Severin, Bruce Patterson, Rick Parker, and Ben Sean. Phew, a lot of people worked on this story. As a set up for the coming Hobgoblin storm, these three issues are brilliant. A self contained story that arranges so many pieces for future stories.
Comic Number 33: Life Is Strange #6
I bought a grab bag of comics from a local shop this week. 10 comics for £10. All surprises (it was a sci-fi bundle, so a small idea of what to expect. I have in the past bought the Horror bundles and got some utter gems).
Two of the comics inside were Life is Strange issues 6 and 7. I've never heard of the comic before but I have seen Emma Vieceli's work on a few things, namely Doctor Who and a manga version of Hamlet. After reading the first issue I am definitely going to track down more issues of this. The time bending story is fueled by a realistic, emotional character almost to the point that you could easily forget the science fiction element of the comic, especially in this issue. There are a few hints to a stranger, larger picture, but for the most part it about the relationship between friends. Vieceli's characters are honest portrayals of young adults, with identifiable lives and problems. The artwork by Claudia Leonardi (with colors by Andrea Izzo) makes the mundane interesting through clever set up panels and great character design.
I'll be honest, the cover to the issue 6 that I have put me off but I have learnt not to judge a book by it's cover thanks to the 4 issue masterpiece RunLoveKill which had the most deceptive covers ever. They in no-way represented the contents of the comic.. which is part of a much larger conversation.
Life is Strange is great and this issue is enough to hook me into reading more.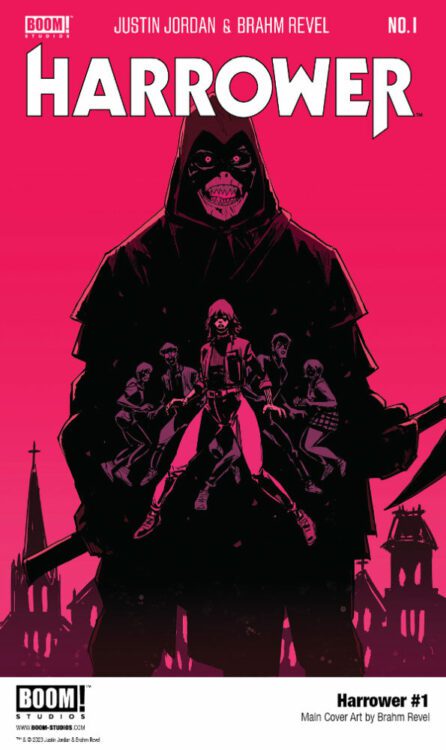 Comic Number 34: Harrower #1
Who doesn't like a bit or murder and mayhem on a Friday night? Just after reading this (which is due out from BOOM! Studios next week), I watched the movie Smile. Thematically, the two are very similar because there is an unknown murderous force praying on unsuspecting people but there is also something else, darker, more complex, going on behind the blood soaked bodies.
Harrower is a homage to classic slasher and cult horror movies dating from the 1960s onward. It plays with the clichés of the genre, introducing the characters you can instantly recognize as the 'jock', or the 'loner', but doesn't fall into the trap of being tired or rehashed. There is a vibrancy and an energy in the comic that makes you flick through the pages with excitement and trepidation. You know that something horrible is going to happen and you want to get to it as soon as possible, to get it out of the way, but at the same time you don't want to see what it is.
Justin Jordan and Brahm Revel have put together a wonderful take on a classic horror narrative and I am hooked. Towns with secrets that cause bloody mayhem.. what's not to like?
Comic Number 35: Silver Surfer: Ghost Light #1
Bit of a punt, this one. I haven't read anything with the Silver Surfer in it since (checks comic collection) his appearance in the Planet Hulk story line. My knowledge of the character is therefore limited, but I get the gist: herald of Galactus, flies on a surfboard, wears a suit that makes it difficult to accessorize. One of the space heroes in the Marvel Universe.
But, all flippancy aside, this new number one is a very good read. It has a dramatic opening page which leads sweetly into the main story: a drama set around a family who have just moved to a new, quieter town. John Jennings gives each of the family members their own unique voice, appropriate to their age, and the art work (by Valentine DeLandro) flows through the pages like a man on a silver board. Matt Milla's colors give the scenes the required amount of tension and make the science fiction elements really jump off the page.
This was a fun read for an early Saturday morning and I think fans of the Surfer will love this.
---
Over a month into the year now. Where is the time going? This week has been the first week that I've struggled. Not the actual reading, it's easy to find 10 minutes to pick up a comic, but writing about each one has been difficult this week. Partly due to the fact that a comic like Secret deserves thousands of words written about it and not just a paragraph or two. And partly because I have not had the time on specific days to write about what I have read. I also planned on reading all of SuperZero but only read the first issue. The question is do I now devote additional days to the other issues in the mini-series or drop it to find something new? Reading different eras or titles of a comic, such as Spider-Man feels somehow different to spending a week on one title like SuperZero.
We shall see how Week 6 goes, especially as it'll be a little bit different to what I've done so far.
So, see you next week, and don't forget to let me know in the comments what you're reading!