We are here to tell you what trades and collections you should be looking out for this month from Marvel Comics!
1. She-Hulk Volume 2: Jen of Hearts
The second volume of writer Rainbow Rowell's She-Hulk is out at the end of the month, and this series continues to be a delight.
Rowell seamlessly blends slice-of-life with superhero antics and legal drama. You get romance, comedy, action, and more with this series, as She-Hulk's relationship with Jack of Hearts blossoms while she tries to re-establish her law career.
This volume is illustrated by Luca Maresca and Takeshi Miyazawa, with colors by Rico Renzi and letters by Joe Caramagna, and it's a visual treat. A story like this requires art that can balance big action with small character moments, and this team does just that.
She-Hulk: Jen of Hearts is an overall fun read that will put a smile on your face right before it punches you in the heart (in a good way).
Release date: May 30th, 2023
2. Peter Parker & Miles Morales: Spider-Men Double Trouble
We have a new digest-sized Double Trouble book out this month, this one featuring both infamous wall-crawlers, written by Mariko Tamaki and Vita Ayala, with art by Gurihiru, and letters by Cory Petit.
Miles Morales shadows Peter Parker on "Take Your Sidekick to Work Day" (despite his vocal protests) and the two end up battling just about every supervillain in Spider-Man's rogue gallery. This all-ages romp is a blast for Spider-Fans of any age, full of jokes, Looney Tunes antics, and some legitimate superhero action sequences.
Gurihiru is the perfect choice for art on these Double Trouble books. Their work is whimsical and cartoony, and overall just delightful — a perfect match for Tamaki and Ayala's lighthearted and witty script.
Release date: May 23rd, 2023
3. She-Hulk Epic Collection: The Cosmic Squish Principle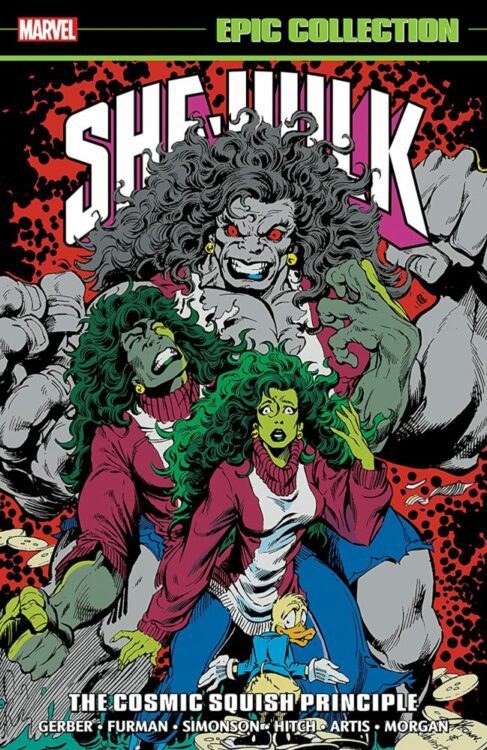 Marvel is releasing their second She-Hulk Epic Collection this month, this one collecting Sensational She-Hulk #13-30, featuring work by Steve Gerber, Simon Furman, Bryan Hitch, and many more!
She may have started out "Savage," but She-Hulk's "Sensational" period is where she came into her own as a character. If you're looking to see where many of Jen Walters' modern character traits come from, simply pick up her two Epic Collections that will be available by the end of the month, compiling the first half of Sensational She-Hulk's run.
This volume features cameos from a large chunk of Marvel's great pantheon of characters, and also includes Jen's very brief stint as the more savage-minded Grey She-Hulk.
Release date: May 31st, 2023
4. Sgt. Fury Epic Collection: Berlin Breakout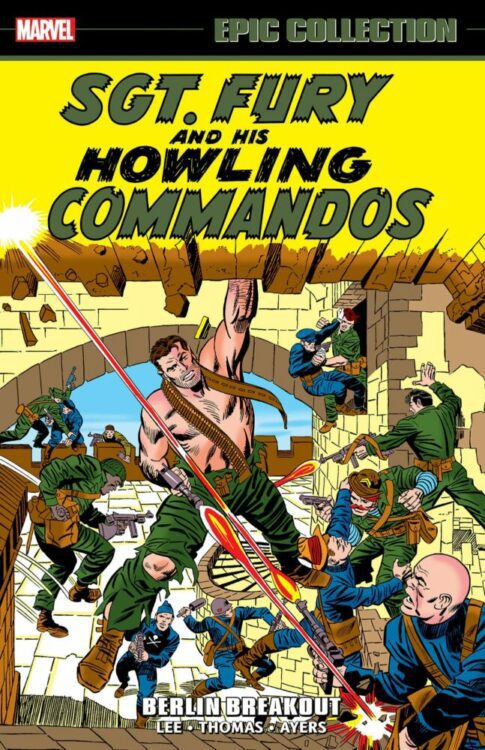 It's been a few years, but we're finally getting the second volume of Sgt. Fury and his Howling Commandos in Marvel's Epic Collection series, gathering issues #20-36 and Annuals #1 and 2, by writers Stan Lee and Roy Thomas, and penciller Dick Ayers.
Celebrate Nick Fury's 60th anniversary this year by going back to where his adventures began: World War II. If you ever wanted to check out what classic Marvel had to offer outside of superhero shenanigans, here is your chance. This title follows Sgt. Fury and his elite squad as they take on the Axis of Evil — and in this volume, you'll even get to see the origin of Fury's iconic eyepatch (spoiler-alert, it does not include a scratch from an alien cat).
Release date: May 31st, 2023
---
What trades and collections are you planning to pick up this month from Marvel Comics? Sound off in the comments, and we'll see you back here in a month!