Dexter: New Blood is the recent Showtime revival of the beloved serial killer Dexter Morgan, played by Michael C. Hall, and Gizel Jimenez is along for the wicked ride.
The former forensics expert who spent his nights as a vigilante, finds himself retired 10 years later in a small town called Iron Lake in upstate New York. Dexter now goes by the name of Jim Lindsay living peacefully among the small town people of Iron Lake.
In this new limited series, Gizel plays the role of Tess; a High School science teacher by day and a part-time bartender by night who's completely unaware of the "dark passenger" Jim carries with him.
PopAxiom spoke with Gizel Jimenez about her actor's journey from training, to stage performance, to the screen and how it all lead her to Dexter: New Blood.
Safe

Born in Miami, raised in New York, Gizel is the daughter of Cuban immigrants. Her mother Nancy is from the Capital of Cuba, Havana, and her father Pedro is from the city of Santa Clara. She grew up in an "old school" household where rules and discipline kept her in her shell. "I was extremely shy as a kid. Any attention from people gave me crippling anxiety. I loved school" she continues, "Learning came easy to me. I felt safe in this world of books, pencils and paper." Safe, that is, until the day her elementary school teacher had all of the students audition for the school play.
"There was no way I was auditioning," Gizel remembers thinking. 
"What if I ask to be the assistant to the teacher instead?" she thought. To her relief, the teacher said yes. "It felt like my first job," she says, "being the teacher's right hand. It continued my sense of purpose while I remained behind the scenes and out of the spotlight. I went above and beyond learning the entire show on my own just in case someone needed help with a line, a lyric, or where to stand on stage. Little did I know that extra work would end up changing my life for good."
Didn't Even Know
"Days before our opening night, our soloist who plays Belle in the opening number of Beauty and the Beast called out sick. We were scheduled to run through the opening number that day and our director insisted on running it without her. She asked me to stand in for her. No pressure."
Gizel went on stage, closed her eyes and began to sing. "I heard my voice out loud for the first time that day. The melody vibrated through my body and calmed my anxiety and turned it into a healing blanket of comfort." It was during that moment that Gizel discovered the freedom that came with being someone else. Following that performance, everyone around her looked shocked and confused. "Our director came up to me and asked: "Why didn't you tell us you could sing?"; "My response was simple. I didn't even know I could."
Natural
At the age of thirteen, tragedy struck when Gizel's mother passed away. She then moved to Florida to live with her dad. "My father enrolled me in a Magnet Middle school where I joined the chorus program. I loved it! Choral music was the first genre I studied. It has nothing to do with your individual sound and all to do with blending. As a result, the journey to discovering my voice as a soloist was put on pause."
Fast forward to Gizel's sophomore year at Coral Reef High School. "I continued my interest in Chorus and began to compete in classical vocal competitions. Sadly enough, I would get terrible scores. When I asked my Choral director why, he explained that I fail to give proper posture in the room. "The judges aren't interested in the performance of the song. All they care about is vocal technique and posture." My response came in the form of a simple question: How do they expect me to stand still with excellent posture while I'm singing about my dead baby?
Gizel's "common sense," as she calls it was just her instinct to express the story further. Her teacher suggested, musical theatre. "You're very expressive Gizel. I think you should try auditioning for Miami Children's Theater at the Jewish Community Center."
Southeast Side Story
"At the time, the JCC was holding auditions for West Side Story. I figured I'd give it a shot and as a result, I was cast as Anita. I hadn't even learned acting yet," she laughs. "But subconsciously I was just a kid pretending. It made sense in my head."
Gizel fell in love with acting from that production forward. "Senior year I joined our Thespians club. The drama teacher then set me up with an audition for a private College at New World School of the Arts. I got in, and freshman year was the first time I learned the fundamentals of acting."
100 Tapes

"I come from a Broadway background. My first professional job was a Broadway tour. I was the cast as Rosalia in the first National Tour of West Side Story after receiving my BFA in Music Theater. Since then, I've performed regionally, Off Off Broadway, Off Broadway, and Broadway for close to ten years now." So, how did the first-generation Cuban actress go from stage to screen as a Puerto Rican bartender? "I did do some Guest/Co-Star roles on TV. But because my theater career was non-stop, I never had the time to really focus on TV acting."
But Gizel doesn't like to rest on her laurels by simply continuing to act within her comfort zone. She believes doing so stems from fear. "That's the mindset I give myself. I set goals. I accomplish them. Then I set new goals. I'm always challenging myself."
The theatre industry shut down during the pandemic, so Gizel got to work on a new goal. "Why don't I perfect my TV craft?", she thought. "I did a self-tape every day and said yes to every audition my agents and manager sent via email. I must have sent in to at least 100 self-tapes during that time."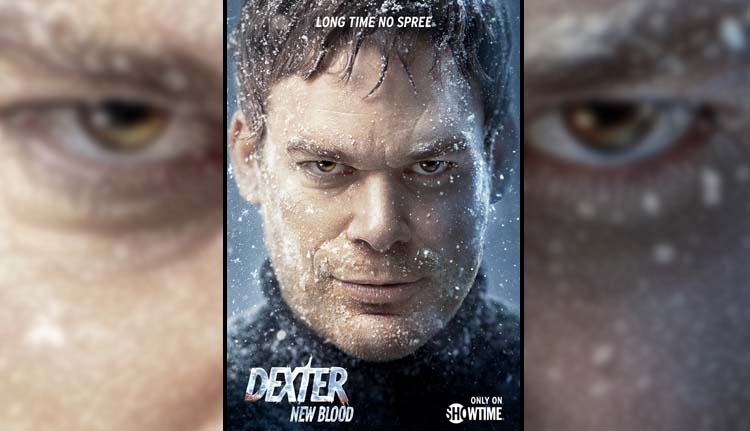 About Dexter: New Blood
One of those self-tapes led to Dexter: New Blood, the Showtime revival of the long-dormant show. "The process starts with an emailed attachment of the script and/or audition scene, information on the creative's involved and a character description. It's our job as actors to interpret that character. Once you're on set, you're expected to lift the words off the page and bring them to life."
As Tess formed, the process continued. "Marcos Siega, who directed mostly all of the episodes that I'm in, was great to work with. I absolutely adore him. And I love his most recent work on the Netflix series You and HBO's Flight Attendant. He's the kind of director who trusts his actors. So I got on set and he really just let me go for it."
"After he allows the actor to play," she adds, "he decides how he wants to sculpt us; to maybe take some air out of a line or adjust blocking. He was time efficient, direct, down to earth, with a great sense of humor. I soaked up everything from him. His level of trust brought out my confidence and allowed me to trust him right back."
Wrapping Up
Many creative souls inspire Gizel. "Rita Moreno is one of the OG people who inspired me. When I learned that for many productions her skin had been darkened because she wasn't 'dark enough' to be Hispanic," I thought to myself, "She is a warrior and a survivor."
"Meryl Streep is another one," she continues, "I study her. She's an actress that pays attention to every detail. She's so specific. Which I find key in creating a character."
The third of many inspirations is "Anya Taylor-Joy" of Queen's Gambit and, more recently, Last Night In Soho. "She is another one who is so subtle, with so much depth in her eyes. It's the kind of depth I seek as an actress and hope to carry in my work."
Gizel took a shot at one of her dream jobs when she tried out for the role of Maria in Steven Spielberg's remake of West Side Story. "I didn't get it but I got so many other opportunities during the time. Everything happens for a reason, and I really believe that."
Acting on camera brings me such joy." She says, and her new goal is clear: "I want to continue my journey with television and film."
Gizel became "obsessed with the subtlety of acting for the camera."
"I'm a fan of horror, so I'd love to be a vampire," she muses, "or one day have superpowers, maybe do a badass gun scene or fight scene with a few tricks. I guess I'm a kid at heart. I also grew up reading comics and watching lots of action and superhero shows."
Is Dexter: New Blood on your watch list?
Thanks to Gizel Jimenez and Rhapsody PR
for making this interview possible.
Find more interviews from Ruben R. Diaz!