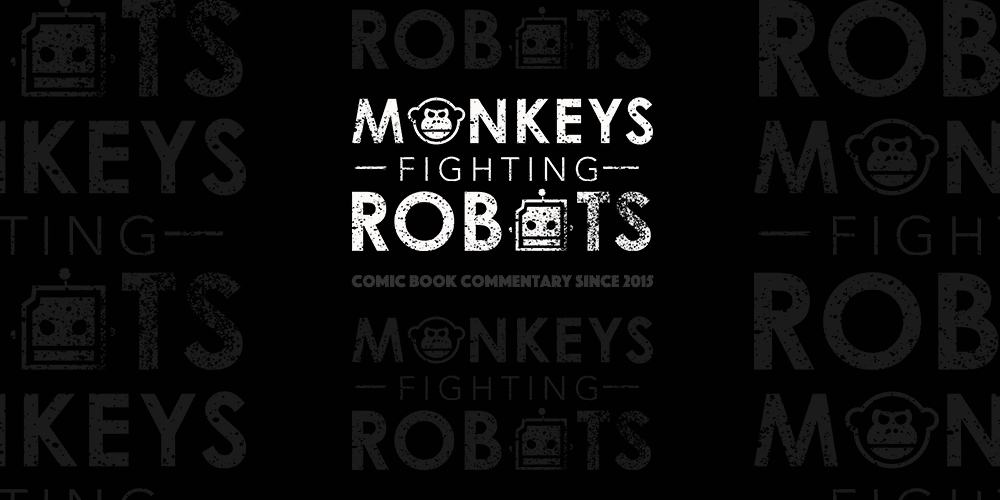 Dead Rabbit, by creators Gerry Duggan and John McCrea, is a brand new on-going crime title from Image Comics. The book tells the tale of Martin, a legendary masked thief/criminal who ran in the Boston underground in the '90s. Much like Robin Hood, Rabbit gained fame by stealing from the rich and giving to the poor. When Martin finds himself in need of caring for his ailing wife, he once again puts on his mask.
Duggan and McCrea both took time from their hectic schedules to talk to us at Monkeys Fighting Robots about this exciting new title.
MFR: Gerry and John, thanks for taking time from creating like a zillion comics to answer a few questions for us at Monkeys Fighting Robots!
Duggan: It's nice to be taking a break from writing to answer a few questions, and the name of your website is outstanding!
McCrea: A pleasure!
MFR: Can you tell us a bit about the story and world of Dead Rabbit?
Duggan: It's a crime noir romance about a thief that is forced to come out of retirement to help get rid of medical debts. It's set both in Boston in the 90s and in the present day, post-middle class America.
MFR: Dead Rabbit feels like such a fleshed out idea. Where did the story and concept come from?
Duggan: John and I had been threatening each other with a collaboration for a long time, and this began to take shape over the last year. It's a combination of things we love: noir, action, comedy, crime. And we haven't forgotten the romance. John will make you care for Martin and Megan Dobbs. He even made my heartbreak when we had to whack one of the early villains.
MFR: John, your line work in Dead Rabbit, seems to be a slight departure in terms of your usual style. What made you choose a more 'realistic' look for this title?
McCrea: It's more that the story chose the style, to be honest, the story is fantastic but not fantastical… Very rooted in our world and the problems we all face as a society now.
MFR: Dead Rabbit is also very sleek and instantly classic looking character. How did you arrive at such a cool look and design for your protagonist?
McRea: Gerry wanted a mask, cap, suit, and gloves… I threw everything I could think of at it, and then just chiseled away at it, removing all the unnecessary details. The best design is usually the simplest. Rabbit's silhouette with the 2 red xs looks cool and scary; also I stole the gloves from the Octopus from the Spirit, I am a huge Eisner fan, and this is my little tip of the hat to him.
MFR: So you had specific influences?
McCrea: Eisner, Miller, EC Comics, Toth, Wrightson, crime noir films…
MFR: Gerry, Dead Rabbit also features the long storytelling/cultural idea of the 'heroic thief.' What makes this archetype so endearing?
Duggan: I think readers will see regardless of their cultural background or political lean that corporations have the most power, free-speech and reach in today's America. Unions have been curtailed, and unemployment is low, but so are wages. Dead Rabbit is undoubtedly a thief out to take what is not his, but he will rarely be the biggest crook in his stories.
MFR: There's also a bit of a historical connection to the whole Gangs of New York period in history. Have you always been interested in this part of America's past?
Duggan: I have. I've read GODS OF GOTHAM, THE ALIENIST, and Chris Elliot's THE SHROUD OF THE THWACKER. I think that's all I need to know. How he got, that name will be revealed in our second arc. It's one of John's ideas.
MFR: Did you have to do much research into this period of history?
Duggan: Well, it's a contemporary story, with flashbacks to 90s Boston which I lived through if only just barely, so I'm really revved to write this.
MFR: The dichotomy between Rabbit and Martin is pretty different. You introduce Rabbit as a sleek bad-ass criminal, but when we meet him as Martin, he literally has a hand up his ass dealing with a very real and relatable situation: hemorrhoids. Was this introduction always going to be the way to reveal the man beneath the mask? Why did you choose to humanize him in such a unique way?
Duggan: Character introductions are so important. Dobbs' entrance is definitely a statement on the current state of the human condition, but when Dobbs puts on that mask, he's free of mere mortal concerns like hemorrhoids. There's no justice that you don't reach out and grab. John's really done such a great job with the visual storytelling. We have a lot of corpses in this book, but the remains of the middle class are being picked clean throughout. If that's not your thing, we have a fight scene with a full uncorked tank of laughing gas. Good times will be had, even when the times are bad.
MFR: What's it like working with the legendary John McCrea?
Duggan: I've been so lucky in collaborators for so long, but this feels like I'm one of those assholes you hear about that manages to keep winning the lottery. I'm so thrilled that I could coerce John into this partnership. Look at the pages that he and Mike are creating — they're putting on a clinic. Co-creating with John has been a dream.
MFR: What made you choose John for Dead Rabbit?
Duggan: I think Dead Rabbit chose John and I to be honest.
MFR: And what made Image Comics the perfect home for this book?
Duggan: Image was the first place to publish me, and they did that twice before anyone else wanted to roll the dice me. I'm proud to publish my creator-owned comics at Image. The whole Image team makes us look great. I'm very grateful. I have more Image creator-owned collaborations on the way in 2019.

MFR: John, What's the process with Gerry like? What kind of scripts do you get?
McCrea: Full script, but I have had a wee bit of input to the story, especially when we were still figuring the character out…aside from a gritty noir thriller, there is a strong love story at its core. Martin and Meghan are such grounded and enjoyable characters; it gives the drama so much more gravitas.
MFR: Gerry how much of Rabbit's world and story do you have planned out?
Duggan: A couple of years worth of comics. We can always pull the cord for our exit whenever we need to, but we have a compelling story to tell, and lovely characters to introduce.
MFR: Can you tease anything to get us stoked?
Duggan: John McCrea and Mike Spicer make gorgeous, horrific and hilarious comic art. We have a lot of fun stories planned for the next few years.
MFR: What do you guys want comic readers to get from Dead Rabbit?
McCrea: A fully rounded comic experience, to be immersed in story and art and to fall in love with the characters.
Duggan: They get to come along on a ride that I want to experience myself. We are just trying to make the comic that wasn't on stands that we wanted to add to our pull lists. We appreciate everyone that gives us a shot this October. And much thanks to Will Dennis for the edits and Joe Sabino for the letters!
---
Dead Rabbit #1 hits your local comic book store on October 5.
What did you think of the conversation with Duggan and McCrea, are you going to add Dead Rabbit to your pull list? Comment below with your thoughts.