Lyndsey Little would like to welcome you to Yokai-Jima High School, a school where monsters must learn to blend in with human culture. This is the setup for her webcomic OniGirl featured on Webtoon. The comic stars Dez, a half-human, half-oni (a type of japanese demon) who attends the school and must learn to figure out both the worlds and the duality of her own heritage.
To allow her series to be more widely available, Little has launched a new crowdfunding campaign for OniGirl in order to publish a physical release. To get a bit more info, we sat down and discussed the campaign and the comic itself.
Monkeys Fighting Robots: For those who have never read your series before, what is OniGirl?
Lyndsey Little: OniGirl is a fantasy, shojo comic. It takes place in a school for monster school children who have to learn typical subjects but also the appearance and behaviors of humans so they can live in a world dominated by humans. The real conflict of the story is the journey to self love. I use monsters as an allegory for anyone who feels like another. Anyone who feels like they are outside of a societal norm or group.
MFR: What series influenced you to create OniGirl?
LL: I don't know if I can think of any specific series. I will say, the one that comes to mind is the Scott Pilgrim books. I love the balance it strikes with tougher subjects and with humor. I really enjoy that balance. I think I try to bring a similar balance to my work.
MFR: What is your personal favorite moment you have written for the series?
LL: I think it's all the moments with budding friendships. I have multiple characters that deal with loneliness to some degree and when I write those moments when friendships start to build I find that feeling, even for myself and I really hope that readers have that feeling when they come across these moments.
MFR: If any of your characters could have a spin off, who would it be and why?
LL: They're so many to choose from. Possibly my character Cade. I hinted at his backstory a bit. How when he was a child, he started living with his grandparents who own an herbal shop for monsters. Even though he and his grandparents are humans. I think it'd be interesting to see his backstory and that kind of dynamic. It might be too similar to Dez's story of going from a human dominated world to a monster dominated one but I think it's different because Cade grew up with monsters at a much younger age and had to live amongst monsters and a different dynamic for him and his family not only live amongst monsters but also contribute and help them with their needs. That one would be fun one.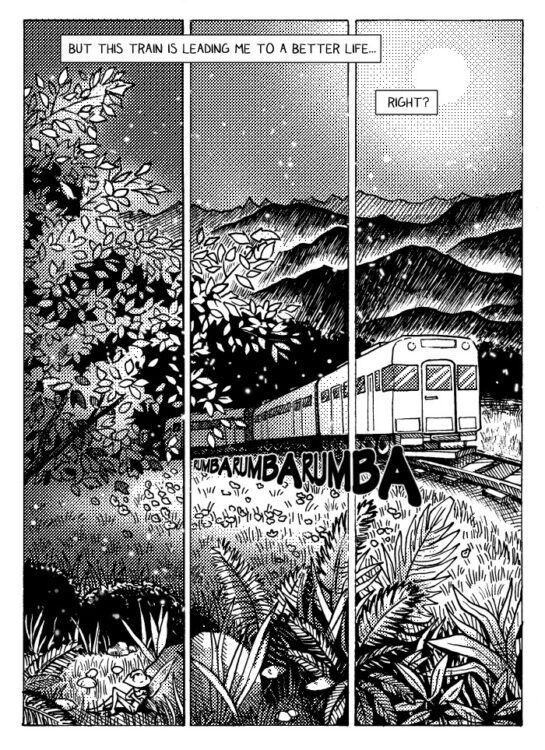 MFR: Why did you decide to go with crowdfunding for the project?
LL: So I have been on hiatus for nearly a year now. I was able to work on OniGirl initially because I had the stability of a full time job. I left it due to it being a toxic workplace and while I have had better mental health ever since, I haven't had the stability I had before that allowed me to create OniGirl pages. This Kickstarter would give me the stability I need to not just bring the comic to its full potential, bringing the pages into full color but also, help me to create new pages. Ultimately that's what I really want to do.
MFR: Where would you like to see OniGirl go from here?
LL: Definitely have it published in graphic novel format and available in store shelves but if it were able to make it on film, I would want Sony to do it. Similarly in the style they did Spider-Man: Into The Spider-Verse and Cloudy With A Chance of Meatballs. I feel they would be the perfect ones to transfer OniGirl to screen.
MFR: You are stuck on a desert island and can only have one comic/manga/graphic novel, what do you pick?
LL: Maybe Watchmen. I feel there is so much depth and layers I could just read it over and over and find something new to think about. Just because there are so many comics I love but Watchmen I feel I would get more longevity out of.
---
At the time of this article, the Kickstarter is still running for a physical copy of the first issue. You can follow Lyndsey Little on her Twitter.