Get ready to paws and grab your copy of CAT FIGHT #1, hitting your local comic book store on May 31. Thanks to IDW Publishing, Monkeys Fighting Robots was able to sneakily chat with the creators of the series to get a behind-the-scenes look at the heist thriller. And don't worry, no actual cats were harmed in the making of this comic…unless you count the artist's scratched-up couch.
The series is written by Andrew Wheeler with art by Ilias Kyriazis, inks by Auguste, colors by Dennis Yatras, and you will read Hassan Otsmane-Elhaou's letter work.
About CAT FIGHT #1:
Caught up in the glamor and excessive lifestyle of an international career criminal, Felix Lamarr lives only for the thrill of the next big score. Suddenly contacted by his estranged and wealthy grandmother, he is shocked to learn that she is a storied career criminal herself—the lithe and legendary burglar Kitty Midnight—and that she wants him to partner with her cat-themed associates on a lucrative upcoming heist. Unaccustomed to collaboration, Felix declines Kitty's offer…but a shocking incident sends his life into a sudden, chaotic tailspin. Framed for murder and on the run from a mysterious syndicate, he leaps at full-throttle from one international hot spot to the next in a deadly game of cat and mouse!
Enjoy the interview below.
Andrew, CAT FIGHT #1 is a fun, sexy adventure that sets the stage for the series. How did you keep the story well-paced without overloading the issue with exposition?
Andrew: Thank you so much! One of my favourite things about comics is their ability to convey a lot of information without overloading the reader. I'm not a decompression guy, I like a rich page, and there are so many ways to convey information on a comics page. Body language, dialogue, lettering, composition, captioning, colour theory, time travel, even the choice of a location and how it's framed. There are a lot of ways to tell the reader what's happening without slowing the action down. In working with Ilias, Auguste, and Dennis, I'm blessed to have collaborators who can deliver nuance and bombast on the same page!
Ilias, the panel layout keeps the story moving quickly. What was your goal for the first issue?
Ilias: Thank you! Cat Fight, from Andrew's pitch even, has a very specific tone. It was clear that it needed to be fun, fast-paced, glamorous, and exciting. Playing with the panel layout is one of my favorite things when doing a comic, and here I tried to have a balance between it being quirky and being quick to read.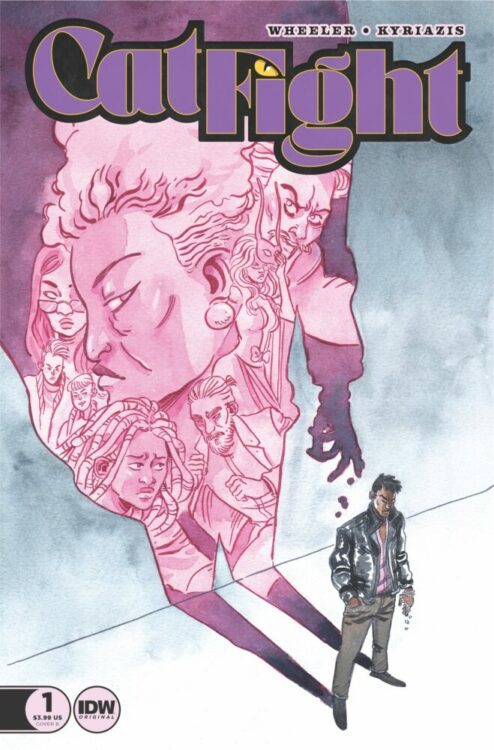 Ilias, the POP! with the champagne on the third page, has such a cinematic quality. What were your influences on the series?
Ilias: Truth is, I'm never much aware of my influences. I set a goal as to the feeling I want the comic to evoke and I try my best. I like to believe there's a mixture of many different artists in my work.
Andrew, why do we love the heist genre so much? What's the writing process like? Do you have to work backward?
Andrew: Backwards, forwards, upside-down. It's a headache, and I should stop writing thieves, but they're so damned sexy.
One thing that's explicit in Cat Fight and Sins of the Black Flamingo and in a lot of heist stories is that the thieves are the little guy and the people they're stealing from deserve it. Now more than ever, I think that makes thieves appealing, even heroic. And so sexy!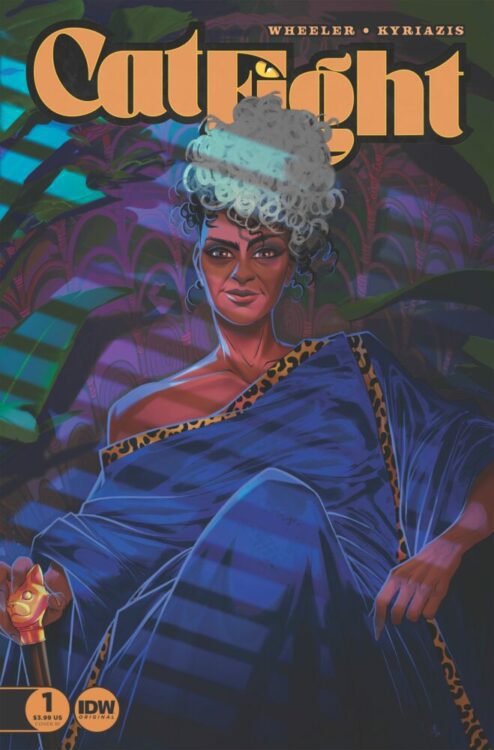 Ilias and Andrew, what were your conversations like with colorist Dennis Yatras? The purple pops so well; what was it like when you saw a finished page from Dennis for the first time?
Andrew: I'll let Ilias field this one!
Ilias: The funny thing is, I approached Auguste and Dennis as a duo and I was more or less "you pick how you'll divide the work." So it was Dennis who opted for the coloring.
In my experience, having a very specific idea for how you want another artist to color (or ink) your work and trying to direct them always leads to disappointment. It's much better to just pick collaborators that you already like what they do and just step aside and let them do it. The three of us went over every page before sending it to editorial, and my only notes were about moments where my pencils were misinterpreted. "Oh that drop isn't blood, it's sweat," that type of thing. We all know that pencil-ink-color collaborations in comics often happen for scheduling reasons and I'm very happy that our approach for this book was "let's make something that'll look different than the comics we each make on our own."
Andrew, the heist genre, has been done well in cinema. What can you do in CAT FIGHT on a comic page that you can't do in a film?
Andrew: I think heist movies actually borrow one of their favourite tricks from comics, which is the use of split screens. Norman Jewison's Thomas Crown Affair is the most famous example, but also Jackie Brown, Snatch, the Ocean's movies.
In comics, the visual juxtaposition of mood, of moment, of idea is our bread and butter, and I think it works so well for capers because it's like a card trick. We show you the cards; you create the relationships between them.
Ilias, when creating Felix, how do you give him his swagger with a static image?
Ilias: Well, I did live with a cat while I was drawing the book. Paying attention to how a cat moves gives you all you need to know about how to depict a sexy, acrobatic thief. Felix has two modes: posing and leaping.
Ilias and Andrew, since you give almost every character a full-page introduction, what will your reaction be when you see someone cosplay as Felix or Tabitha Post?
Ilias: Boy, that'd be amazing! If they find me at a con they get a free character sketch.
Andrew: Ooh, I hadn't thought about that, but there's no higher compliment than cosplay! I've seen a couple of examples of people cosplaying as Sebastian Harlow from Sins of the Black Flamingo, but never in person, so now I'm wondering if I'll see a Sebastian or a Felix first!
The whole team is very invested in making these characters look distinctive and memorable, so I hope we've given cosplayers some fun source material to work with!
---
About the creators:
ANDREW WHEELER BIO
Andrew Wheeler is the critically acclaimed writer of the GLAAD-nominated Sins of the Black Flamingo, the feminist fantasy comic Another Castle, the queer sports comedy Love & War, and the gay superhero series Freelance. He's also a contributor to the groundbreaking DC Pride and Marvel Voices: Pride anthologies and the hugely popular Dungeons & Dragons Young Adventurer's Guides. Wheeler was born in the United Kingdom but makes his home in Toronto, Canada.
LLIAS KYRIAZIS BIO
Ilias Kyriazis has been writing and drawing comics all his life. Since 2008 he's been working mainly for the U.S. market. He's worked for DC Comics, Image Comics, IDW, Dark Horse, Dynamite Entertainment, and more. His work includes Collapser, Manifesto, Elysium Online, The Crow: Lethe, Dirk Gently's Holistic Detective Agency, Falling for Lionheart, Harpe, and more. His latest comic is Chronophage. He's currently writing and drawing a graphic novel for Humanoids.