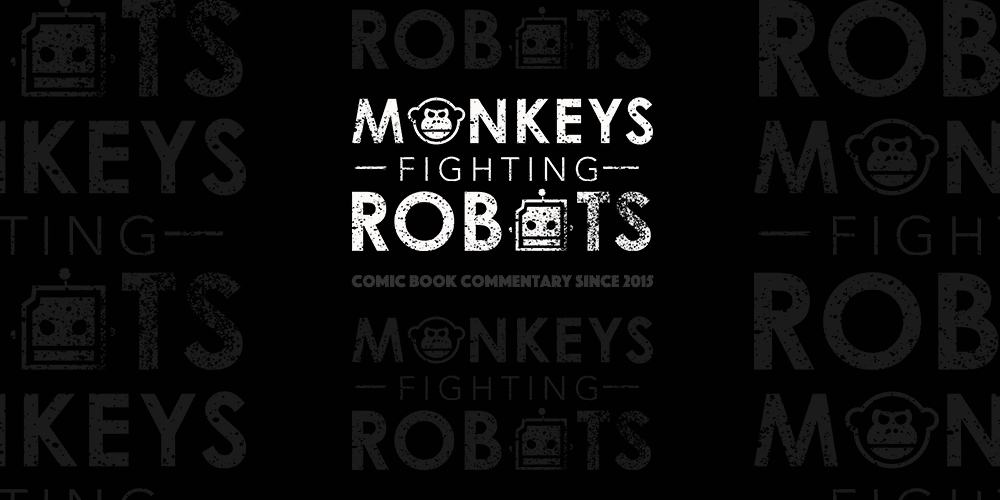 They call themselves 'Indie Art Attack' and their mission is simple, recruit fellow Indie creators, block off a section in conventions and festivals and help each other succeed. The three-headed monster behind this movement include J.R. Mounts, Christopher Collins and both Lee Jiles and Eric Dotson of About Time Comics. We caught up with them at Heroes & Villains Fan Fest in Atlanta, Ga., to learn more.
Mounts is the creator of 'Scairy Tales', 'Fried Pickle Noir', 'Stuck in My Head' and, along with partner Chris Garrett, co-creator of 'The Finleys'. Collins is a horror writer and invites you to his 'World of Horror' at Harrowscape. He just released his first novel this year, 'The Raggedy Man', published by Bloodshot Books. Lastly, the creative duo of Jiles and Dotson, both founded their company, 'About Time Comics', because well, it was about time. Jiles is the creator of 'Godsend' and also 'In-Flight Service', while Dotson helms 'Dreamer' and serves as the primary inker for all the company's titles. About Time also publishes 'The Legend of Everett Forge', a title by creator and writer Scott Wilke.
J.R. Mounts
His mom told him that he could be anything he wanted to be, which he said he wanted to be Godzilla. That didn't happen, but becoming a comic book artist and writer is pretty cool too. He is the driving force behind the 'Indie Art Attack' movement. The former musician had always loved sketching and writing songs, but it was after an office party, where he was asked to draw something for Halloween, that people really started to notice him, giving him an idea of what he could do next.
"People would see my art in the office and feel as if they should know it," Said Mounts. "That convinced me that I should start creating comic books. It was a scary thought, but writing music is no different than writing comics. You're essentially telling a story."
He grabbed a sketchpad and told himself that if he could not, at-the-very-least, come up with one good idea in one of its pages, that he would scrap the idea. He started to think about the cartoons that he loved as a kid. Stuff like, 'Calvin & Hobbes', 'The Far Side', 'Looney Tunes' and 'Peanuts', and came up with his first book, 'Scairy Tales'.
"I wanted kids to meet scary monsters, but it not be scary," Mounts stated. "That's why there's an 'i' in 'Scairy Tales' because it's 'not-so-scary-fairy tales'. I didn't want to do gags, rather have the gags be part of the story. Look, ultimately, every artist wants to be paid for what they do, but still love what they do. When you are a creator, you can't not draw, write, perform, act. You always feel a need to keep producing."
His series, 'Scairy Tales', is about a group of misfit kids that dress up all year long as superheroes and monsters. They discover a town of monsters with characters just like them.
"They get picked on regularly. They're basically outcasts," Mounts said. "They discover this town of monsters, at the same time, the monsters discover them and the adults of both towns start to figure out what's going on."
Mounts enjoys still incorporating his music into his stories. In fact, one of his graphic novels, 'Stuck in My Head', which claimed Second Place in the 'Best Graphic Novel' contest at DragonCon, comes equipped with a two-CD set for you to listen to while you read. It is a tale of comedic gore and meant to serve as a love letter to his wife.
"It's about a guy that is just trying to find the answers," Mounts said. "He's unhappy at his job and starts to daydream about murdering his coworkers. He doesn't aim to act on the thoughts, but rather, the story is inside the story, which is in his head. It's meant to be a humorous look at adult life."
Keeping it in the family of zany cartoons and, above all else, incredibly original, Mounts has numerous other books, but the one that he is now known for is 'Fried Pickle Noir'. He credits his friend and the first  time he ever tried fried pickles as his inspiration for the book.
"We were out to lunch, my friend suggested that I should turn a pickle into a character," Mounts said. "I was watching a lot of noir at the time and it just came to me. He's a detective, named Q. Cumbersome, living in 'The Pits' and goes up against gangs like the, Potatoheads, Meatheads, Eggheads, among others. It's basically 'Sin City' meets 'Veggietales'."
'Fried Pickle Noir' is a pun-heavy series, but Mounts prides himself on having never used the same pun twice in over 525 pages of ongoing story.
"You have Eggheads, Doughboys, Melonheads, etc., all coming after Q. Cumbersome, who is the last real detective in the city," Said Mounts. "All the mobs have moved into the city and it takes this detective to fix the problem. He's above the law and will take out anyone with a gun."
He also cowrites a comic called 'The Finleys', which is about a character, Wyatt Finley, and serving as sharks that are cursed to living in chum buckets, while trying to adjust to human life. He's currently working on a new book called 'Silver Linings', which is set for a 2018 release. It's about an old man, a widower, and an alien. The man has essentially given up on life until an alien crash lands onto his car, giving him a newly found reason to live again.
Christopher Collins
This upcoming creator is not only a horror writer and artist, but a fan of the genre as well. His first novel, 'The Raggedy Man', just came out back in June. It is a supernatural horror story about a man whose son is kidnapped in a town where children seem to be disappearing at an alarming rate.
"The adults and caregivers band together to try and track down the kids, believing there is a supernatural entity behind the vanishings," Collins said.
He is also working on his next novel, the title is still a work in progress, but the premise is about Charley, whose father dies, his mother can't handle the pain of losing him and takes the family to live with an abusive grandfather at his home.
"The grandfather dies while the family is still in his home," Collins said. "Though he somehow communicates with the children of the house and ends up infecting Charley with something dangerous."
Collins grew up sketching, but loved to read. He remembers his father telling him that 'he could read before he could tie his own shoes'. His father had a box of books in their outdoor room and allowed Collins to rummage through and that is where he found Stephen King's 'Carrie'. From there, he knew he what he wanted to do.
"I've always had a love affair with words and language," Collins stated. "After reading 'Carrie' and some other works, it was off to the races from there."
He credits Stephen King's 'Salem Lot' and 'IT' as works that he could read repeatedly, but credits the horror-writing master as one of his most-favorite authors. He also loves Robert Jordan's 'The Wheel of Time' series and enjoys novels from both Bentley Little and Robert McCammon.
When asked if he preferred sketching to writing, he didn't have a favorite, but some of his sketches would make for some great comic book characters. He does yearly sketches of pumpkin head figures every October and is currently working on a character called, 'EYEvy'.
"She's a woman whose eyes are in the leaves, hence the name," Said Collins. "She will be in a comic book I'm working on. So, to answer the question, as a creator, what you're currently working on is always going to be your favorite thing."
Lee Jiles & Eric Dotson (About Time Comics)
For Jiles and Dotson, creating a publishing company was a longtime coming. The two had been friends since 1994 and worked together on occasion, but after launching 'Godsend' in 2012, their publishing company was well on its way. For them, it is important to keep their titles creator-owned.
"We like it the way we have it," Jiles said. "We have standards that we try to meet, as far as quality and content. Now, don't get me wrong, if the right publisher came along and wanted to work with us, we'd absolutely consider it, but we're happy right now with how things are."
The publisher has roughly four main titles going right now, with Godsend serving as the company's flagship comic. The series is an ongoing, currently sits at four issues and will get a trade at the completion of the first arc, which is at issue No. 6. The story is about a normal guy that leaves a small town for a big city and, along the way, encounters a strange man that leaves him in possession of a sword, which turns him into a supernatural hero.
"At that point, his life starts to spiral a bit," Jiles said. "He's being pursued by demons and the modern incarnation of the Knights Templar. He also has a new job and met a girl, along with new powers, so he's got a lot on his plate right now."
As far as 'IFS: In-Flight Service', Jiles' other title, the comic's backstory is unique as it contains a splash of his personal life as well. The story follows a recruit of a 'shady' government organization having recruited its main character, that also serves as a flight attendant.
"My wife is a flight attendant," proclaimed Jiles. "That is how I came up with this idea. What a great way for a secret agent to cover-up as a flight attendant. It's a revenge story. Her best friend was killed in a terrorist attack, joins this agency and keeps her job as a flight attendant to travel to missions."
Dotson spearheads the company's sci-fi title, 'Dreamer'. The premise includes a man, having inherited powers from his grandfather, can manifest portals, including the ability to travel to different worlds.
"The powers were handed down to him from his grandfather, whose DNA was infused with that of an alien race," said Dotson. "All the while, he's being pursued by aliens that are on his tail and trying to figure out what makes him different from them."
The company also picked up a title via Scott Wilke, who is the creator and writer of 'The Legend of Everett Forge'. He was brought on a year ago after approaching About Time with his Kickstarter campaign and it fit well with what the publisher was already doing. The company is also a bit of a worldwide organization in its publishing efforts as it has creators from all over map.
"I cowrite 'Godsend' with Peter McLeod, who lives in Australia," Jiles said. "The artist is Osky Yanez, from Argentina, and our colorist is Bryan Magnaye, who lives in the Philippines."
Dotson added, "Miguel Puerta is from Mexico, he pencils 'Dreamer', and 'IFS: In-Flight Service' is by two different artists, Youmin Park, from South Korea, and Mark Marvida. We also have Ken Hunt who did the cover for Godsend No. 1, who has previously worked with DC Comics."
Keep up with these three upcoming creators as their original works are surely to make some noise over the next few years. If you see them at any conventions or festivals, be sure to stop and greet them. Tell them their biggest fans, the folks over at Monkeys and Robots, sent you!