Since the early days of the medium, graphic novels have proven to be well-suited to non-fiction storytelling. But among the glut of superheroes and other more popular fiction, we can find something to love in every insightful biography or educational graphic novel. Here are five books that deserve more attention.
SUPER CHILL: A YEAR OF LIVING ANXIOUSLY
Adam Ellis' 2018 solo work isn't strictly a graphic novel, but we can stretch the rules to fit this funny and relatable book. Super Chill collects fifty-plus short comics full of absurdity and personal embarrassment. From a story of an awkward psychic reading to the scene of a wildly shaking leg causing the world to explode, expressive lettering, bright coloring, and a cartoonish style make us cringe and laugh in equal measure. So, if you've also imagined an Autumn leaf reminding you of your mortality or had anxiety dreams at all, then this is the book for you.
FUN HOME: A FAMILY TRAGICOMIC
Alison Bechdel made the mainstream with her eponymous feminist media "test." But, if you want to know the art behind the name, Fun Home is an excellent place to start. As it was published fourteen years ago, it's had plenty of time to make many top ten graphic novels lists–and rightfully so. Bechdel employs a classic comic strip style to tell her tragic family story. Divided into seven chapters, the balance of humor, drama, and the objectivity given by time make this a highly readable book.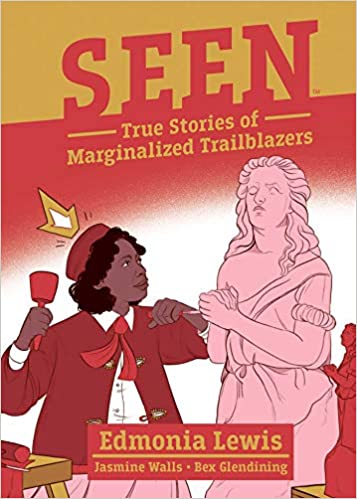 SEEN: EDMONIA LEWIS
To escape the pandemic's steady upheaval of our lives, we've had plenty of new works to soothe our wounds. Some have been pure escapist entertainment, while others are more politically poignant. In the latter category, Seen: Edmonia Lewis is the first in an original series entitled "Seen: True Stories of Marginalized Trailblazers" from Boom! Studios' Boom! Box imprint. Written by Jasmine Walls and illustrated by Bex Glendinning, Edmonia Lewis' story is told in a straightforward manner using short captions and quotations from Lewis herself and other historical figures. To complement the writing, the artistic style is relatively unadorned except in Glendinning's renderings of Lewis' sculptures. However, colorist Kieran Quigley and letterer DC Hopkins have their chances to shine in adding pastel color to a time period we've mostly seen in black-and-white and in breaking up blocks of text into easily read bits. Another feature of the book is panels in the form of scraps of old paper, a choice that adds a touch of flair and highlights the time period. This book is a must-read of 2020. Pick it up in time for the next installment titled Seen: Rachel Carson, which will be released in March of next year.
THE COMIC BOOK STORY OF BEER
Let's face it; if all our history texts from high school were in comic book form, we'd all have loved the subject more. While beer as a subject is interesting through any media, its ancient history comes to life, and its complicated modern economic journey becomes easily digestible in graphic form. Illustrator Aaron McConnell contributes dynamic and animated art, while Mike Smith and Jonathan Hennessey provide insightful, clear, and gripping prose. Merge your love of beer and graphic novels with this book.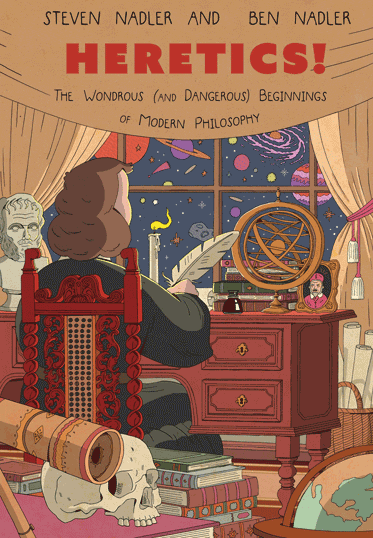 HERETICS! THE WONDEROUS (AND DANGEROUS) BEGINNINGS OF MODERN PHILOSOPHY
I don't think I'm alone in saying that philosophy as a subject can be intimidating and overwhelming to any layman feeling ill-equipped to tackle life's big questions. Have no fear fellow laymen, Heretics! is an extremely accessible introduction to important modern philosophers and their ideas. Written by philosophy professor Steven Nadler in collaboration with his illustrator son, Ben Nadler, their humor and whimsy make philosophy seem surprisingly cool. Ben's fun illustrations, including a panel of the Devil working on his MacBook, hilariously contrast his father's summaries of Spinoza and Locke's grand concepts. Soon you'll be talking about "pre-established harmony" and "empiricism" with the best of them. I also defy you to read this book and not want it to be reimagined as a series on Adult Swim.
---
End your year on a high note by picking up a graphic novel or two. Which graphic novels would make your own list?