From page one of Dark Horse Comics' Black Hammer: Visions #8, we witness a story that is laced with doom. Last Views Rest Home sits in a rocky landscape, with a beat up pickup truck, sagging power lines, and dozens of crows surrounding it. It's 1955 in Arizona, and writer Scott Snyder and artist, colorist, and letterer David Rubín want us to know that this is a land of death. Black Hammer: Visions #8 is a darker chapter than we've seen before. And that's exactly where this creative team shines.
Writing
Snyder tells us a story about the Horseless Rider. From a graverobber, destined for the gallows, to an avenger of the dead, the Horseless Rider comes a long way in a short amount of time. But Snyder fits the information in well. In another issue, Snyder's script would feel heavy-handed. Yet this is a typical ghost story. One where the rules are laid out clearly for the protagonist. "Don't do this, or else." So when he breaks those rules, the mystical fallout can ensue.
Snyder writes in a way that is joyfully predictable. He wants you to know where it's going from the start. Each story beat gives you a moment to scream at the page, begging the rider to turn back while he still can. But it's already set in stone.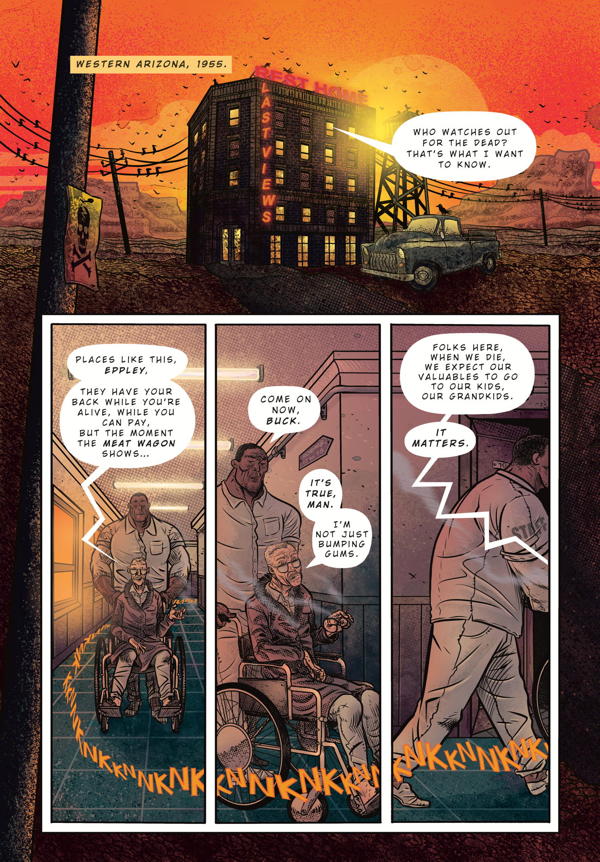 Art
Rubín's characters are vibrant and full of life, while his backgrounds are barren and dead. It's a fantastic juxtaposition. These are characters who are fighting desperately to stay alive in this land of the dead. They sweat in front of lifeless linoleum. They wrestle and rage in dark, twisting forests. Every act these characters do is an act of rebellion against their mortality.
But it's also Rubín's page layouts that draw the reader in. He uses small panels to focus us in on little details. When one characters is caught hiding behind a headstone, the panels follow his dive off of a cliff and into a river. The sheriff's angry face, noticing the graverobber, is in a small panel in the middle of the page. It's front and center. Small, but a powerful force for setting things in motion.
Coloring
Death lurks in these pages. Rubín's coloring makes a point of showing us that. When we see the orange and red sky over the old folks home, it's the same sky as the one we see over the cemetery in the old West, two pages later. And as we follow the graverobber down the cliff and through a dark forest, the red in each scene intensifies. But we also see it in the story of our other protagonist, the old man in the rest home. A soft red glow is outside his window, almost guiding us into the next scene of the graverobber in the forest. Rubín manages to connect these storylines together seamlessly, while also giving them a color palette of their own.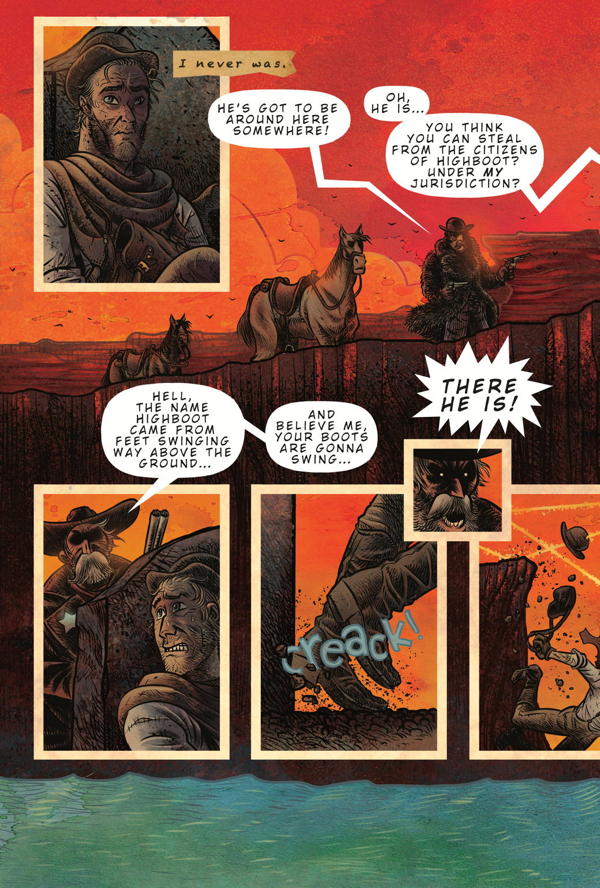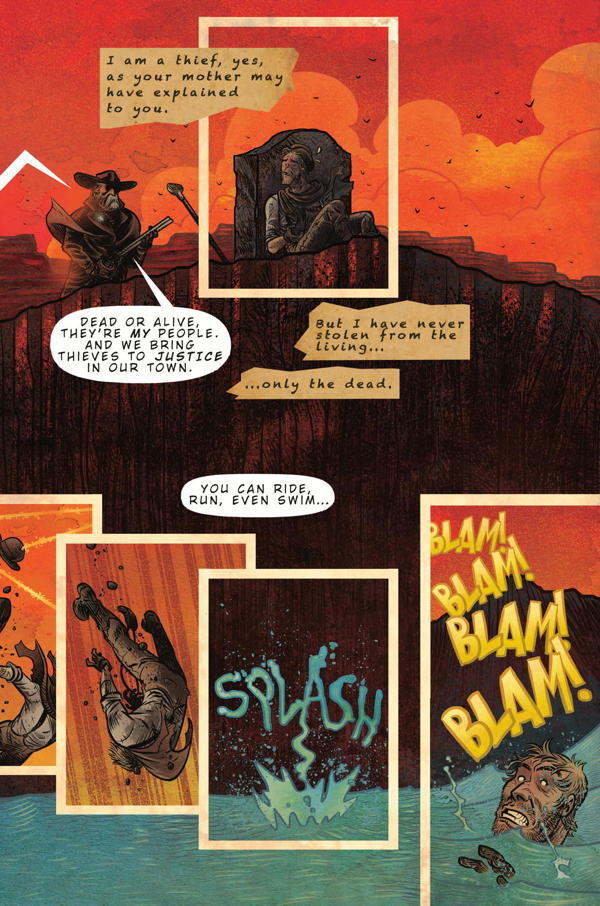 Lettering
Rubín's biggest struggle is his lettering. While his page layouts are dynamic and brilliant, his word balloon placement makes some of them hard to read. The order of dialogue isn't always clear on the page, and some chunks of conversation feel like they have no rhythm or separation of story beats. Throughout the issue, Rubín shows a letter from the Horseless Rider to his boy. The lines from the letter show up as captions, pictured as pieces torn from a piece of paper that's been browned with age. But one of these captions is actually the Horseless Rider addressing a character in the scene, yet it's still shown like torn paper. The captions resume their way through the letter on the next page, with no reference to the interruption. It's confusing and unclear, causing the reader to go back for a second try at figuring it out.
Yet Rubín's sound effects are fantastic. The "CLOP! CLOP! CLOP!" of a horse walking through the woods is shown in small blue lettering on the bottom of a panel. The "M" in the "BLAM" of a gunshot actually traces the trajectory of the bullet. His sound effects work seamlessly into each scene, making every moment pop.
---
Snyder and Rubín are the right creative team for a story about the Horseless Rider. They tell us an old fashioned ghost story with plenty of style. Pick up Dark Horse's Black Hammer: Visions #8, out from Dark Horse Comics September 22nd, at a comic shop near you!