There were many highly anticipated spin-off stories to come out of Marvel's 2015 Secret Wars event, but AMAZING SPIDER-MAN: RENEW YOUR VOWS (2015) #1 rocked the comics landscape unlike any other. Released in June of the same year, the inaugural issue paid service to Spidey fans by presenting a married version of Peter Parker and Mary Jane Watson, along with their daughter Annie. However, the the disappearance of the world's superheroes led Peter on a fact-finding mission to protect his world and family.
Story
Our friendly neighborhood hero finds himself living the dream. With his marriage to Mary Jane, this narrative gives Peter the life he's always wanted. But it's not all pie in the sky. The interactions between the family is just what readers would expect in a Spider-Man marriage: arguments over Peter's responsibilities.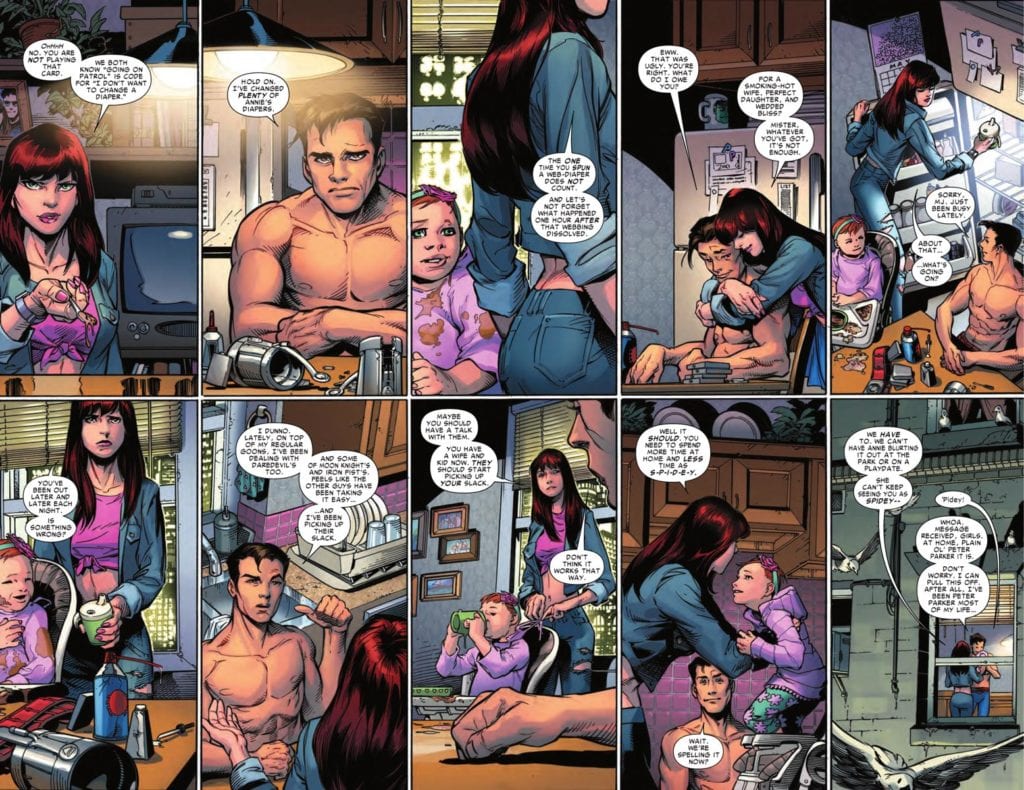 Dan Slott presents readers an engaging portrayal of family life in one of the most popular comic couples. We see the highs, lows, and all-round average days anyone would expect. However, as their version of New York happens to find itself in Battleworld from the Secret Wars event, their peace cannot last for long. And readers find it begins with missing superheroes.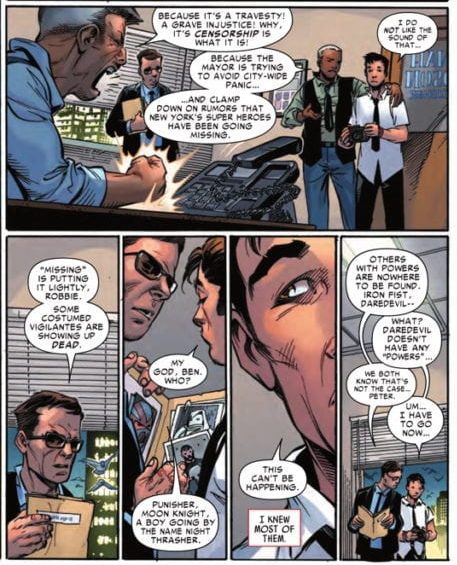 Peter finds himself unraveling this mystery while trying to be present for his new family. But when one of his most ferocious villains threatens their safety, will be cross a line in order to protect them?
Artwork
Pencils and Inks: Adam Kubert's penciling and John Dell's ink work work beautifully together in this issue. The details of Peter and Mary Jane pay homage to their classic designs over the years.
Colors: Justin Ponsor's coloring work fits well with the tone of this book. The tones of even our colorful heroes are darker, reflecting the harsh realism revealed as the story progresses.
Letters: VC's Joe Caramagna's lettering helped frame the scenes of each panel, giving readers a place to focus their attention.
Conclusion
AMAZING SPIDER-MAN: RENEW YOUR VOWS (2015) #1 was one of the most beloved alternate Spidey stories. Seeing Peter and Mary Jane in a happy marriage once again is enough to encourage fans to pick this one up!
Did you enjoy seeing Peter and Mary Jane as parents? Let us know in the comments below!