MANIAC OF NEW YORK: DON'T CALL IT A COMEBACK #1 hits your local comic book store January 18th, but thanks to AfterShock Comics, Monkeys Fighting Robots has an exclusive four-page preview for you.
About the issue:
Maniac Harry, the seemingly unstoppable killer, has finally been stopped. The city celebrates, the Mayor takes the credit, and Maniac Task Force Director Gina Greene — last seen slicing the Maniac's head open — has disappeared to parts unknown. Now NYPD Detective Zelda Pettibone must pick up the pieces of a life that's suddenly so empty she almost wishes the Maniac was back. And unfortunately, sometimes wishes are granted.
THAT'S RIGHT, THERE'S A NEW MANIAC, BUT NOT THE ONE YOU'RE EXPECTING! Stay out of Central Park and stay away from cable news, 'cause something terrifying is on the loose!
Writer Elliott Kalan and artist Andrea Mutti return to the acclaimed horror-satire series for a tale of horrifying gore and even more horrifying cultural relevance!
The series is by writer Elliott Kalan and artist Andrea Mutti, with letters by Taylor Esposito. The main cover is by Mutti, and the incentive variant is by Jonathan Luna.
Check out our MANIAC OF NEW YORK: DON'T CALL IT A COMEBACK #1 preview below: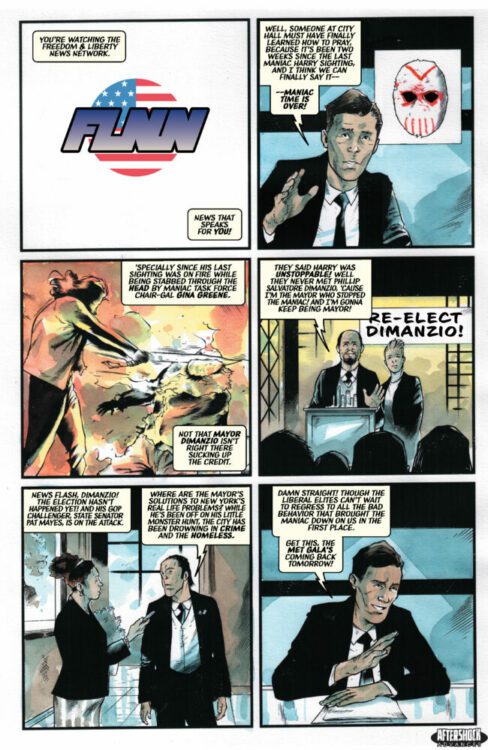 ---
Have you been reading MANIAC OF NEW YORK? Sound off in the comments!