CHICKEN DEVILS #1 hits your local comic book store October 12th, but thanks to AfterShock Comics, Monkeys Fighting Robots has an exclusive four-page preview for you.
About the issue:
The world's FIRST (and perhaps only) hot chicken sandwich-inspired vigilante is BACK…and this time he's not flocking around!  
See Mitchell Moss thrust in the middle of a new gang war! Watch Mitch battle his family as they actively thwart his efforts to keep them safe! And let out an exasperated SIGH alongside Mitch as he is forced into teaming up with the kill-crazy bad cops!
Written by Brian Buccellato (Injustice: Gods Among Us, Detective Comics: Endgame) and illustrated by Mattia Monaco (KNOCK 'EM DEAD), these are the further adventures of a regular guy plucked out of obscurity by destiny to deliver justice with all the fixins.
The series is by writer Brian Buccellato and artist Mattia Monaco, with letters by Hassan Otsmane-Elhaou. The main cover is by Hayden Sherman, and there is an incentive variant by Francis Manapul.
CHICKEN DEVILS is the second volume of the AfterShock series CHICKEN DEVIL which began last year. It retains the same creative team, except Monaco is taking over interior art duties from Hayden Sherman.
Check out our CHICKEN DEVILS #1 preview below: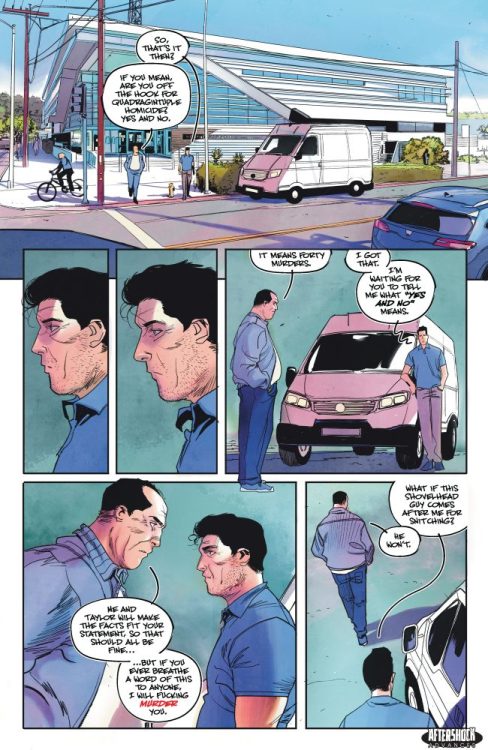 ---
Did you read the first volume of CHICKEN DEVIL? Sound off in the comments!