The Unthinkables #1 is the beginning of Unlikely Heroes Studios' newest series. After its digital release on January 6, 2021, the series' physical edition is also available on Unlikely Heroes Studios' website. Writer Paul Hanley crafted this black comedy, supervillain draft ensemble in a tribute to UH Studios' late co-founder Zack Dolan. Penciler and co-inker Ian Richardson, co-inker Julien Hugonnard-Bert, colorist Simon Gough, and letterer Thomas Mauer bring Hanley's vision to life. Kate Colors and Matt Krotzer respectively contribute additional colors and letters to the book.
Whichever format one chooses, buyers will not be disappointed. The book will make readers laugh with its odd comedy and gasp at its perilous plot. From start to finish, this book is a lot of fun.
The Unthinkables #1: Meta Dramedy
In this new series, Hanley shares his tribute to Dolan by hitting similar beats to the late co-founder's series Super!. Over-the-top characters decorate The Unthinkables #1 from the first page to the last. Seeing a Superman pastiche get to say clichés with his super breath in space is a bizarre, fitting parallel to Super!.
The Superman pastiche's surprising death adds some unexpected gravity to the story and meta-commentary. The silence on the page after this development is deafening, as it signals the hero's death better than any narration ever could. It wouldn't be an exaggeration to compare this scene to UH Studios' reaction to Dolan's death in 2019.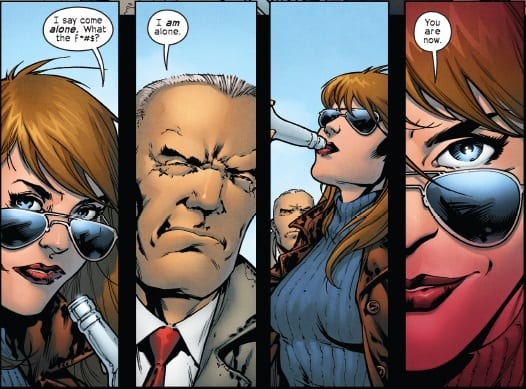 With all of the good guys down and defeated, the Earth's government takes a page out of the Suicide Squad's playbook and recruits supervillains instead. This mission is filled with desperation, as each recruitment is more visibly dangerous than the last. If this stress is what UH felt after Dolan's death, it shows. The company's experience facing this tragedy echoes the story, where the UN tries to get a giant fish kaiju under control.
Most recruits, like the drunken poster child Riotgirl, are nothing the UN can't handle; then there's the team's lead tactician, Bloody Mary. As an experienced ex-KGB spy that evaded counterintelligence for decades, she's always a step ahead. She takes out a UN sniper as if she was fully anticipating his actions. With all the action coming off-screen, Bloody Mary is the most uneasy supervillain to be around, as she makes the reader feel like something bad is about to happen. With the blatant similarity to the Suicide Squad, you can't help but think that this situation will get worse before it gets better.
The Art Is A Riot!
The pages of The Unthinkables #1 feature art by a team that's giving it their all. Richardson, as the penciler and co-inker, gives each character a design to match their distinct personalities. The White Devil's costume change from his cowboy-like attire to his origami style costume is a huge display of showmanship. In juxtaposition with his earlier cuff trick, this shift shows off his sneaky mind and his wacky capabilities.
Look at Riotgirl; at first glance, she looks like a rebellious schoolgirl. But this appearance is deceiving, as her psionic abilities make her a powerhouse on a team that's full of people with remarkable powers.
Hugonnard-Bert's influence as a co-inker is clear, as the fact the talking characters have bolder outlines demonstrates their importance to the narrative in each scene.
The colors by Gough give each of these characteristics enough room to stand out, too. Riotgirl's red hair naturally draws the reader's eye, and the accessories on her uniform, like the four-leaf clover and Scottish flag buttons, serve as ways for readers to identify her.
Finally, the lettering by Mauer and Krotzer gives every voice a reverberating feel. The screeching sound effects of White Devil's origami pterodactyl stunt feels sudden and unexpected. Meanwhile, every conversation has a pulpy touch in how it is presented. A UN officer getting kicked in the crotch by Riotgirl before he finishes making fun of her name makes the reader chuckle. These are just a few ways that the lettering adds to the story.
The Unthinkables #1 Earns Its Name
The Unthinkables #1 is a hilarious action-comedy that's flying under the radar. The book's worst downside is that readers will have to wait awhile for the next issue. For now, readers can find the first volume on digital platforms like the company's store, Comixology, DriveThru Comics, and Global Comix, and the physical copy is also available.
---
What do you all think? Is this the start of something that will keep your interests?