WYND #5, available from BOOM! Studios on October 28th wraps up the current storyline with a fatal confrontation between Wynd and the Bandaged Man. Written by James Tynion IV and drawn by Michael Dialynas, this final issue in the current volume punctuates the general theme of self-acceptance with an act of sacrifice.
Cover Art
Dialynas' cover, consistent with the entire series, ticks all the boxes for a solid cover. The Bandaged Man's one visible eye stands out in stark contrast to the soft swirl of bandages and feathers. Those same falling bandages subtly hint that the Bandaged Man's identity will be revealed, and falling feathers imply that somebody is headed for a fall.
Writing
Tynion IV wraps up the current arc neatly and with a fairly predictable outcome. The final confrontation builds tension through the Bandaged Man's threats because it shows you he's not above maiming and killing to prove a point, making you feel nobody is safe. Up to now, the Bandaged Man has always been in the background, but here he's brought forward as a truly ominous and cruel villain to keep you on the edge of your seat.
There's a rescue scene toward the very end, and it has a "wow" factor. Tynion IV provides a nice change of pace when the series has largely been overwrought with a frightened, desperate chase. The end of the story works as it gives the reader a deserving emotional payoff, all while Tynion IV sets up the next volume.
Pencils/Inks
Dialynas' art has been consistently solid throughout the series, and this issue is no exception. The Bandaged Man's true form design is monstrous enough to be intimidating, and Wynd's appearance in the final battle is whimsical and epic. Dialynas' style was a perfect match for this material, and I'm looking forward to more from him in the future.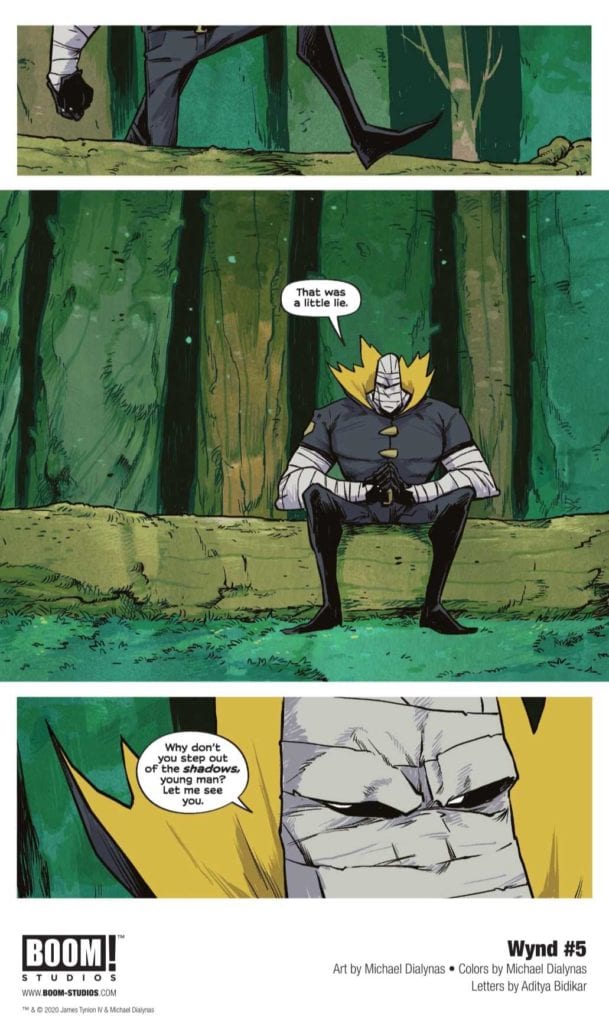 Coloring
Combined with the artwork, Dialynas did an excellent job of coloring in the uniquely magical creatures that are so prevalent in this issue. The woodland spyrtles practically glow and bubble with a rainbow of magical energy. For this reviewer, the highlight was the collage of dreamy hues in the epilogue's dream sequence. This was a strong, standout coloring job by Dialynas.
Lettering
Aditya Bidikar's lettering work is top-notch in this final issue. This is a conversation-heavy issue, aside from the final battle, and the Bidikar bolded the right words to give the conversation's more energy. The word balloon place was excellent to guide the reader's eye and keep a brisk pace.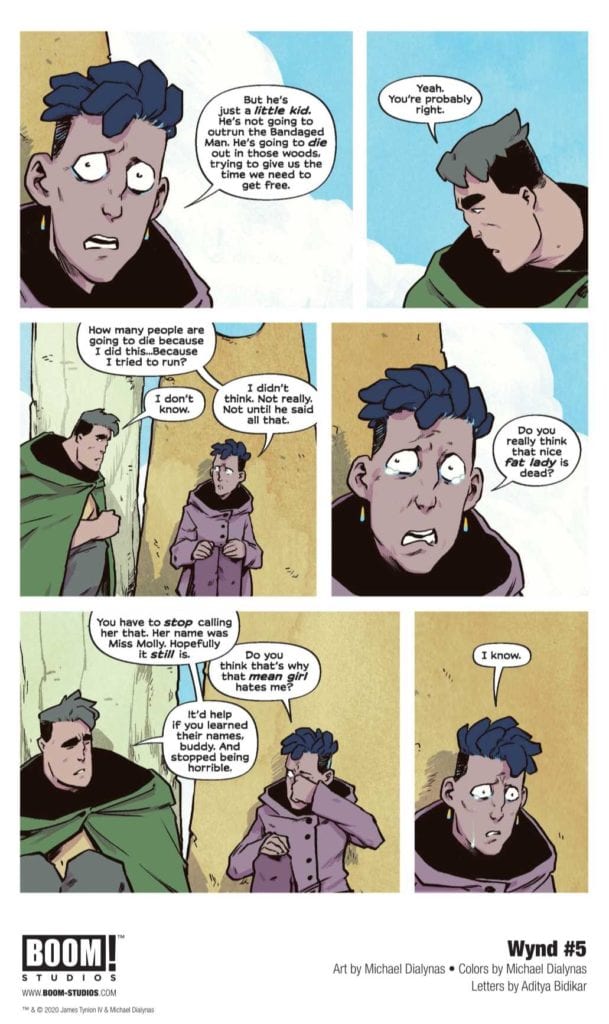 Conclusion
WYND #5, available from BOOM! Studios on October 28th, is a sound and satisfying conclusion to this original series from Tynion IV. The story hits all the right "feel good" notes in conclusion, and the art is a perfect marriage with the subject matter. I strongly recommend this series for fans of YA fantasy.