You can always trust Vault Comics to produce thrilling and thought-provoking work. THE RUSH, or This Hungry Earth Reddens Under Snowclad Hills, is no exception. Writer Simon Spurrier, artist Nathan Gooden, colorist Addison Duke, and letterer Hassan Otsmane-Elhaou put us into the shoes of 1899's gold miners. They tap into the desperation and exhaustion of what's been a very tough year.
About the Plot:
THE RUSH #1 takes place during the Gold Rush, in 1899. Out in the wilderness, a monster stalks those who are desperate enough to still be searching for gold. One such poor soul is Caleb Bridger. THE RUSH #1 follows his mother as she travels out to find him and bring him home. God only knows what she'll run into along the way…
Writing
Spurrier begins this story with a monster. But it's not a monster with tentacle arms or red eyes. It's a monster that wears a bowler hat and tie. As the monster approaches, another character is distracted by a lump under his skin. He takes a knife to it and, after maiming himself, finds a nugget of gold. The subtext to these moments is immediately clear. Spurrier wants us to think greedy, well-dressed men, taking scraps away from the poor. It's so easy to look back on the Gold Rush and just pass it off as a time of greed. But now, we know better. We've lived through a year where we've had nothing to do but sit and think about all the ways that our systems are broken.
And Spurrier wants us to draw those connections. He wants us to remember the desperation of 2020, a desperation that still lingers. "My darling boy," the main character, Mrs. Bridger, writes. "I believe I would consider the hardships of this year quite insuperable, had I not endured them directly." It's a distanced, polished way of saying she's surprised she's made it this far. Spurrier is re-contextualizing the Gold Rush. It's a quiet and slow start to this series, but it promises so much more to come. Spurrier is in no rush, himself. He's going to tell this story right.
Art
As we start the issue, and first meet our monster, there are several moments that bleed past the panel borders. Birds fly out into the margins of the page, the loud noises of gun fire burst past the edges of the panel. Gooden is immersing us in the world, but also showing us that some moments are too big to be contained. Soon after, though, we get Mrs. Bridger's letter to her son. Very big moments seem to happen in her letter. We see men stab each other in the face, another man vomits all over himself, and two men are in a gunfight. But these scenes have a thick, white margin around them. They are utterly unremarkable to Mrs. Bridger. Gooden shows us that death and violence are just a norm in the time of the Gold Rush.
Gooden's character designs are beautiful. He can make a character look charming on one end of the page and have them looking sinister two panels later. But it's all done with great subtlety. Gooden is a master of the human face and manages to drive this story onwards with the emotions of the characters, all while keeping the characters generally stoic. It's small tells like a shift of the eyes or the tightening of a jaw that gives us all the emotion we need.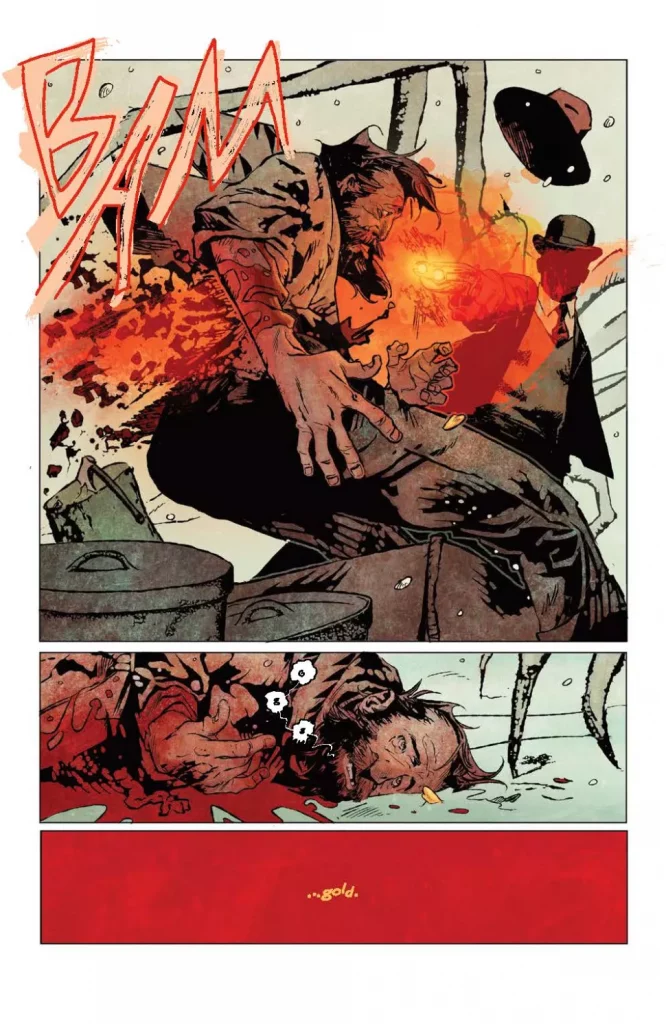 Coloring
In the world of THE RUSH, every scene has an ambience. Duke doesn't stop at just coloring the scene, he gives each scene a feeling. As the issue opens, everything is quite neutral. There are browns, blues and whites, but it mostly looks pale. One of the characters, however, has a reddish hue. Then, as the monster shows up and violence rears its ugly head, Duke shows why the red was there in the first place. Soon, it's all we see.
Then, we see Mrs. Bridger's letter. Duke colors it in a light brown, throughout. This adds to the normalcy of these scenes. There's violence and death, but Mrs. Bridger barely notices. It's all par for the course. But as we see her and her chaperone enter Dawson City, a city built on the riches found in the initial Gold Rush, the pages are given a golden tint. When they venture out into the wilderness, where all this gold supposedly came from, color drains from the page again. Not only does Duke show us what to feel in each scene, but he points to the pointlessness of the Gold Rush still going on. The gold is gone and the wilderness is a desolate and empty place.
Lettering
There's an incredible amount of energy to Otsmane-Elhaou's letters. From the moment the monster first attacks, the "BAM" that tears through its victim is messy and looks scribbled on the page. It perfectly sums up the senseless brutality of that moment. The same can be said of the "HRRKK" of vomit, spewing from a character's mouth, or the "HAW! HAW! HAW!" of a bunch of drunks laughing at Mrs. Bridger. Each sound is perfectly tailored to each situation.
But it's the dialogue of THE RUSH #1 that feels downright magical at times. When Mrs. Bridger finds her husband has returned home without saying anything, she's furious. His response is spirited at first. He stumbles along his words, but it's with gusto that he lays down his defense. But at the end of one of his word balloons, his lettering becomes tiny: "I couldn't take it no more," he says. The size of the font tells us everything we need to know about his shame. Otsmane-Elhaou's lettering is some of the best in the business, and Vault Comics' THE RUSH #1 is a textbook example of why!
---
THE RUSH #1, from Vault Comics, is a story of hardship and desperation. It's about people who are stuck in a vicious cycle of poverty, while those who hold the purse strings do nothing to help. This creative team brilliantly ties these events to real life, connecting 1899 to the present day. With a slow and methodical start, this series promises to be a subtle and entrancing horror-show. Pick up THE RUSH #1, out from Vault Comics today, at a comic shop near you!