THE ORVILLE #4: HEROES PART 2 OF 2, available in stores on Wednesday, December 2nd, concludes the two-part story highlighting Talla Keyali and her fight to protect the Okudum people. Readers have enjoyed watching the young Lieutenant embrace a role as the legendary hero Xandia. But will this choice come back to haunt her?
Story
After shocking the Okudum with her appearance as the fabled  last issue, Talla shows she's back in action with a fresh costume. Thanks to 's engineering, our hero now sports a bulletproof outfit complete with a sword made from their ship's strong hull.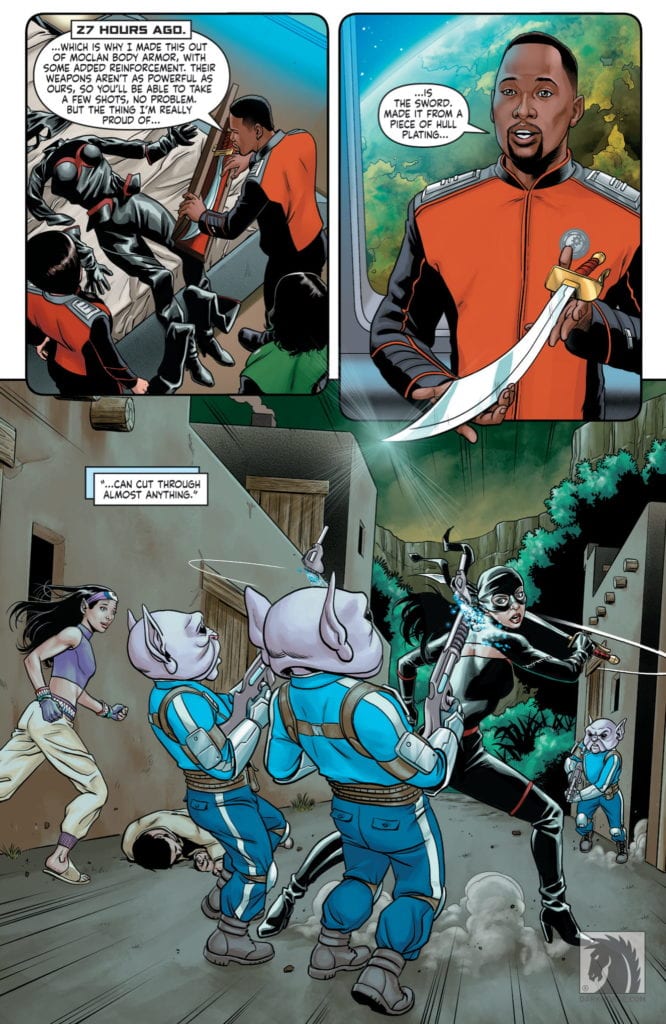 This bit of detail helps readers see the strong bond between Talla, Dr. Claire Finn, and Lieutenant John LaMarr. The fact that her crewmates didn't hesitate to offer assistance in her idealistic plan proves the strength of their friendship.
But despite her assortment of advanced weaponry, it seems even Talla's prowess won't place her in multiple places at once. And it's that key factor that leads to a tragedy that could escalate the fighting further.
David A. Goodman's writing helps readers feel as if they're a part of the story. The way he guides us through each scene gives the impression we are in the panels with our favorite characters.
Artwork
David Cabeza's penciling and ink work, Michael Atiyeh's coloring, and Richard Starkings and Comiccraft's Jimmy Betancourt's lettering capture the essence of The Orville in this issue. The protagonists are drawn with a stunning realism that almost rival their real world counterparts. Each scene uses colors effectively to keep readers focused on the action scenes. And the word balloons are placed strategically so as to outline these sequences.
Conclusion
THE ORVILLE #4: HEROES PART 2 OF 2 concludes the Heroes arc in dramatic fashion. Readers will be on the edge of their seats as they follow Talla through the most heart-wrenching fight of her life.
Do you think it was right for Talla to impersonate Xandia? Let us know in the comments below!