Writer Sydney Duncan and artist Natalie Barahona bring their Civil War-era quest for vengeance to a close with "Kill Whitey Donovan" #5. This final chapter raises the usual stakes and tension to an intense high and crafting the most intense conflicts in this mini-series thus far. It all ends in a state of brutal satisfaction with a promise of more retribution to come.
"As Atlanta burns around her, Anna finally tracks down and confronts "Whitey" Donovan. But men like him aren't easy prey, as she and Hattie will soon discover. Blood will be shed and their lives forever changed–all in the name of revenge."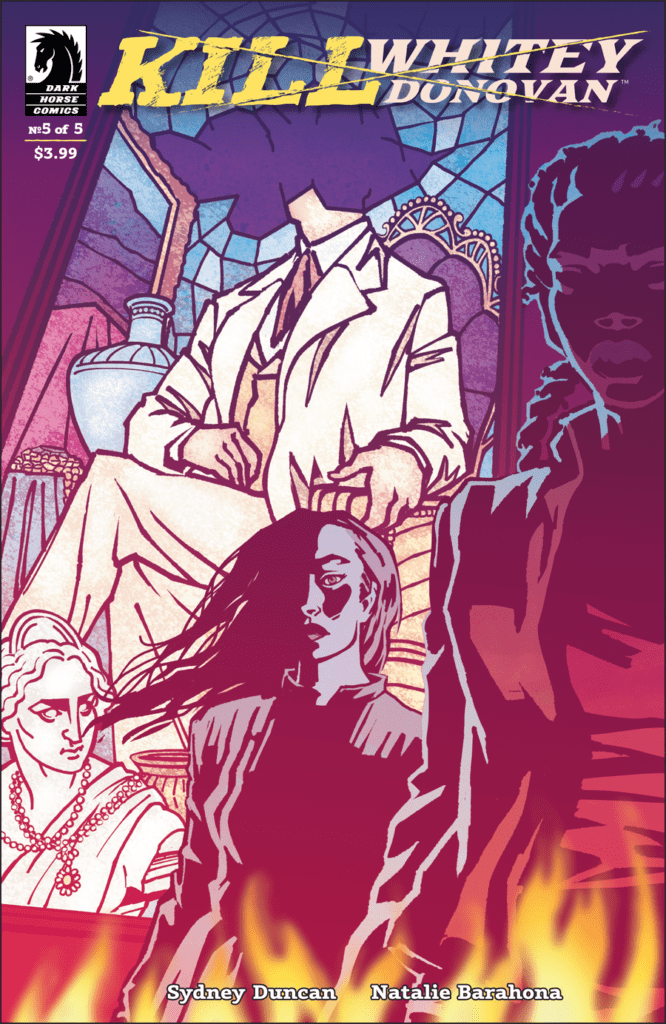 Writing & Plot
Sydney Duncan's intimate characterization and concise plotting throughout "Kill Whitey Donovan" culminate in a satisfyingly intense final issue. The plot that weaves from Anna and Hattie's past explaining the journey they've taken and back to present creates the perfect emotional tension to end this revenge tale. The complexity of the relationship between the two leads, with Hattie being a slave and Anna the daughter of a slave-owning family, is never forgotten and continues to be an underlying pressure point in the plot. The backdrop of the American Civil War has been a brilliant atmospheric tool for the series that plants the reader firmly in the time period this comic takes place in. This is especially true for the finale, as Hattie and Anna face off against the man who took their lives from them while Atlanta is besieged by Union forces. The setup for the final conflict utilizes the facts and features from each character that have been detailed to craft a crowning moment that feels naturally focused while offering satisfying conclusions (?) for all characters involved. Duncan's willingness to write scripts that make full use of comics as a visual medium creates stellar pacing and tension through this chapter's climactic moments, especially in standoffs when all the cards are on the table. This is as fine an ending as any revenge story could ever hope for, and a fitting finale for the excellent character work in this mini-series.
Art Direction
For one last time, artist Natalie Barahona crafts a crisp and gorgeous visual experience for "Kill Whitey Donovan" in its final chapter. Her focus on character detail makes the protagonists easy to interface with as a reader while the villains are just as hateable and slimy as they should be. The gloomy, humid conditions of Civil War-era Georgia are met with the almost southern-gothic views of a burning Atlanta under by mortar fire. The stunning color choice not only fills in the details of the characters and environments, but saturates the story in a chaotic and opressive tone. The visuals of this series are rounded out by the crisp and concise lettering of Troy Peteri, whose more traditional font choice is cleverly varied with subtle changes in size and bolds to indicate volume and emphasis. Barahona's ability to take Duncan's script and turn it into such an intense and well-directed visual story is some of the best work of its kind in comics this year.
"Kill Whitey Donovan" #5 is a tension-filled, emotionally cathartic, and wholly satisfying end to this gripping mini-series. "Sydney Duncan's script that focuses on the characters' traumatic experiences and intense escapes finishes with a smart and rewarding bang. Natalie Barahona's gorgeous and atmospheric artwork captures the audience in the story's captivating final moments. This is a fitting ending to stellar comic, and one that may promise more on the horizon. Be sure to head to your local comic shop to grab this issue or pre-order the trade paperback!