TEENAGE MUTANT NINJA TURTLES: BEST OF SPLINTER is available in comic book stores on Wednesday, May 19th, bringing together the most popular Splinter stories in TMNT history. The collection contains four stories, ranging from pre-IDW continuity to the series' current iteration. Readers will be thrilled to explore the talented works within each issue.
Story and Artwork
TMNT ADVENTURES #45
Steve Murphy's narrative retells the origin of the martial arts master from his own perspective. This origin details Splinter's life as Hamato Yoshi, a ninjutsu student in training. Murphy places our protagonist in mid-century Japan, detailing his experiences of hope and despair in the midst of World War 11.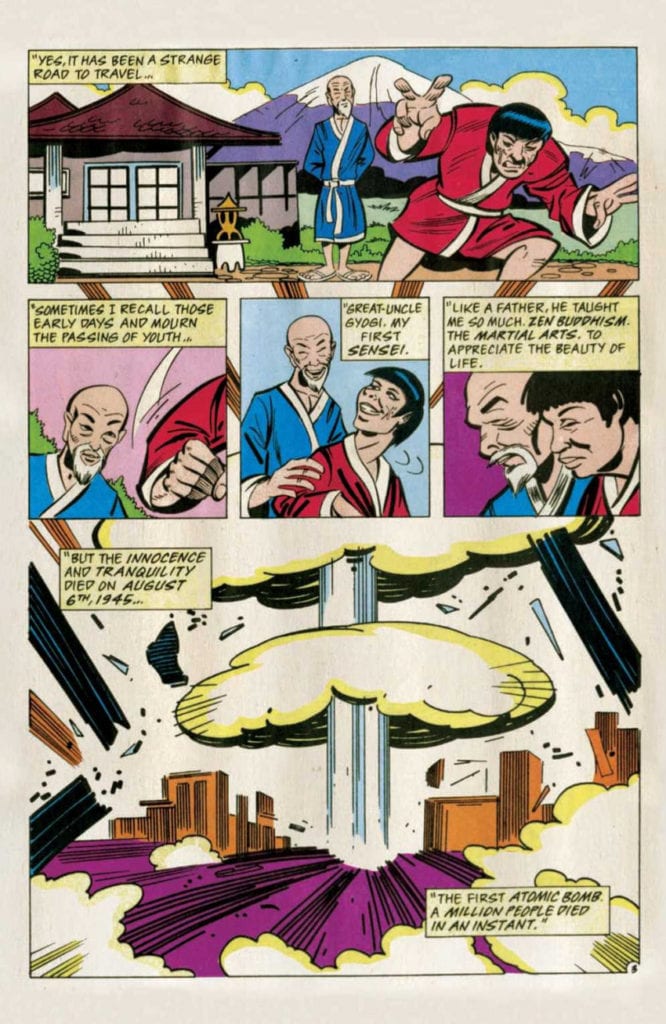 Ken Mitchroney and John Beatty's penciling and ink work is reminiscent of classic animated cartoons. With Barry Grossman's coloring and Gary Fields's old-school lettering, readers will experience strong feelings of nostalgia.
TALES OF TMNT #2 (VOL. 2)
Murphy offers readers an intriguing look at Splinter's mystical abilities in TMNT #5. The old master finds himself in a challenge of willpower when a nefarious spirit enters the Turtles' domain.
Jim Lawson and Eric Talbot's penciling and ink work, combined with Digikore Studios's coloring, craft images that look like they're straight out of an anime production. The bright colors and bold outlines help highlight the action sequences. And Peter Laird's lettering makes effective use of onomatopoeia, adding a sense of sound to these effects.
TMNT #5 (IDW)
Writer Tom Waltz crafts yet another Splinter backstory for IDW continuity. But instead of rehashing each and every detail from the original, Waltz adds a dynamic historical and mystical flair. Casting Splinter and the Turtles as reincarnated humans from Japan's past answers long held fan questions.
Dan Duncan and Mateus Santolouco's penciling and ink work, alongside Ronda Pattison's coloring, created realistic tones and figures for the characters' past selves. And Shawn Lee's lettering placements are spaced out well to draw attention to the somber scenes.
TMNT: SPLINTER MICRO-SERIES
The final story featured in this collection is Erik Burnham's Splinter micro-series, which serves as an alternate version of Splinter's backstory based on IDW continuity.
Charles Paul Wilson III's penciling and ink work, Jay Fotos's coloring, and Lee's lettering provided fantastic panels for this issue. The pastel colors help generate a dreamlike quality as Splinter remembers his past. We also enjoyed the unique character designs and effective use of font sizing.
Conclusion
TEENAGE MUTANT NINJA TURTLES: BEST OF SPLINTER is the perfect collection for fans wanting to learn more about the Turtles' beloved sensei. We hope to see more of these special books published in the future.