Speed Republic #1 from Mad Cave Studios presents readers with an all-too-relatable world about feeling helpless amid excitement. This issue releases February 2, 2022 and is available for pre-order now.
Series Synopsis
From the official press release:
In the future, Europe has united under one man, The Autocrat. He rules the apocalyptic landscape from corporate monopolies with a vision of unity that is gospel to some, but hollow to others. To distract the 99% from their poor and empty lives, they are given the opportunity to compete in the Grand Race. A marathon street race through Europe where only one driver can make it to the end and win a life of luxury. Our hero, Sebastian Valencia enters with the hope that winning this race can make up for his wasted past, but along the way he starts to question what kind of future he is actually buying into.
You Can't Outrun Your Feelings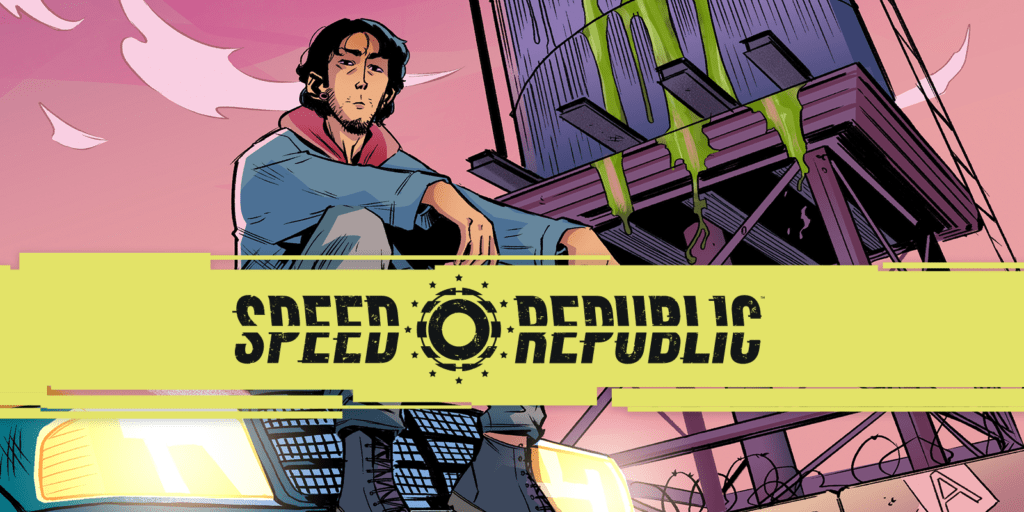 Speed Republic #1 introduces writer Ryan K Lindsay's Europe in a dystopia that can feel close to home. This series looks at the entrepreneurial escapism that pervades our modern world. So it makes sense that our protagonist Sebastian Valencia is a burnout like some readers. Sebastian's situation presents a most compelling look at hustle culture; imagine if you had the chance to get a dream job but had to cut yourself off from your old life. Sebastian's father is sick and wants Sebastian around, but Sebastian wants to find a stable way to provide for him. But this has also caused Sebastian to lose out on relationships with his ex-girlfriend and older sister.
Then there's the bigger conflict in Speed Republic #1, on whether it's even worth winning the central race at all. Sebastian knows that his situation won't get better by winning the race. There are too many larger systemic issues to fix, all because of an unnamed Autocrat whose policies strangle the life out of the citizens of Europe. This all means some people aren't too fond of the racers because they're part of the problem. A significant few people are even ready to tear drivers to pieces. Tensions are high all around as readers wonder what will happen with Vincent going forward.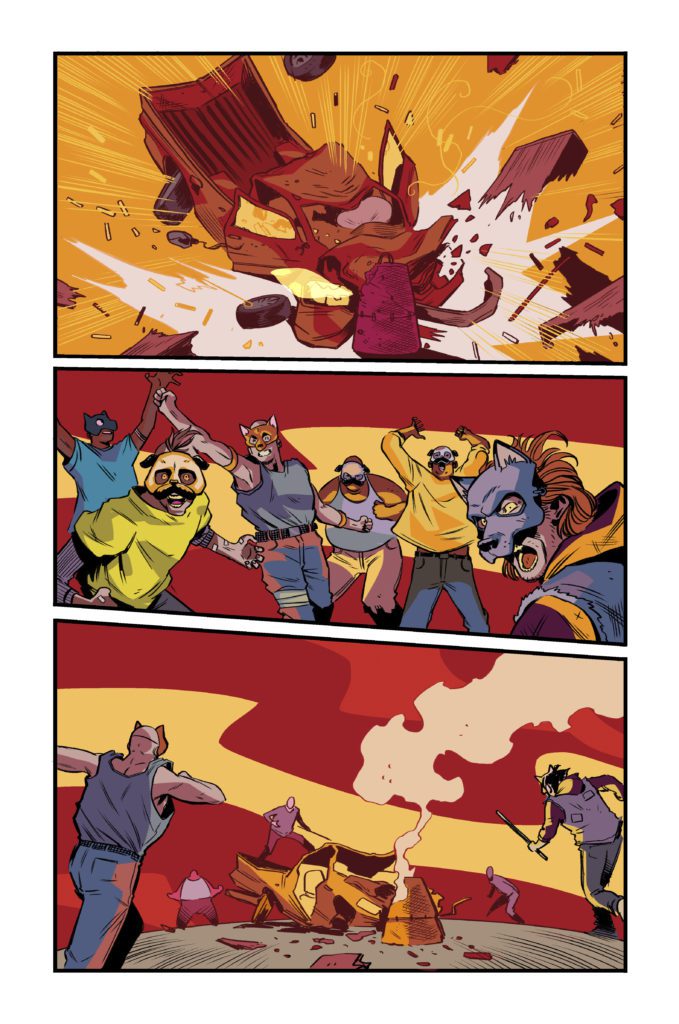 Eye-Catching Traps
The art by Emanuele Parascandolo presents simple yet highly expressible designs in Speed Republic #1. In addition to the facial language of every character that helps set the mood, the cars show off plenty of personality. The way some vehicles are driven and the equipment they come with says a lot about their drivers. A pickup truck driver moving fast and recklessly works just as much as seeing the driver's face high on adrenaline. Readers can find just about any character to latch onto depending on their personalities.
Most of the coloring of Speed Republic #1 by Michele Monte is in an enticingly colorful if muted display. Despite the amount of costumes, cars, and settings, they feel devoid of life which evokes the series' actual tone. It gives readers a strong sense of empathy for almost every character on display; especially after they look at one page that has brighter colors along with a news banner. That page serves as an enticing ad for readers to get excited over the race in the preview catalogues, obviously belying the depressing content. Readers connect to people struggling with all of their might in this neo-noir atmosphere.
Finally, the lettering by Joamette Gil provides the appropriately designed SFX for some intense moments. Each one allows the reader to feel the event as it happened. Some feel like extensions of actions like a gunshot to signal the start of the race. A truck crashing into a piano meanwhile has a very attention grabbing SFX in bright white colors. This makes the event stand out to the reader with how surprising it is.
Subscribe With Speed Republic #1
Speed Republic #1 has just about everything to entice readers amid workplace burnouts. Something as out-of-this-world as a race to survive just can't cover up the depressing situations every character has to face. And yet this is something readers refuse to look away from because of how it tugs at their heartstrings.