Written by Jeff Lemire, with art by Tonci Zonjic and letters by Steve Wands, Skulldigger and Skeleton Boy #4, out this week from Dark Horse Comics gives us the Gotham City we always wanted. This creative team reminds us over and over again that in Spiral City, anything can happen. Without the safety of being a big-two superhero comic, this issue of Skulldigger and Skeleton Boy is guaranteed to have you on the edge of your seat.
Writing
Lemire's whole Black Hammer universe straddles the line of homage and parody. But in series like Skulldigger and Skeleton Boy, he makes these mirror images of DC and Marvel's characters his own. GrimJim, Lemire's Joker-esque character, doesn't just kidnap people and monologue. His promises pack a punch. So when Tex is at GrimJim's mercy, we are genuinely worried for Tex's safety. Lemire also shows us the inherent dysfunction of a vigilante's world. "Let's make them hurt," Skulldigger says as he and Skeleton Boy head out for the night. They're in it for the catharsis, not for righteousness. Their sheer joy in beating up thugs is proof. Lemire humanizes these characters by making them sadistic. Yet their troubling upbringing makes them impossible to hate.
Art
Zonjic focuses us in on everything that matters. When Detective Reyes is being chewed out by her chief, Zonjic focuses in on their eyes. The chief's forehead is bulging with a vein, his eyes are wide, and his nose is flared. Reyes looks bored and slightly annoyed. This shows us how used to being chewed out Reyes is. She's the underdog, and she can't be bothered with working within the system anymore. These men who think they hold all the power mean nothing to her.
Later, as Skulldigger and Skeleton Boy enter a bar full of thugs, Zonjic sets up three panels on a black background. Each panel is a picture of a thug getting beaten up. One's head is being pushed through a window, and another is having a cue ball shoved in his mouth, with the last having his teeth knocked out with a board. Each is from the perspective of Skulldigger and Skeleton Boy. They aren't in frame, they're the ones causing the pain. By placing this on a black background, and giving us their point of view, Zonjic shows us that they're savoring each moment. They're enjoying each swing of their fists.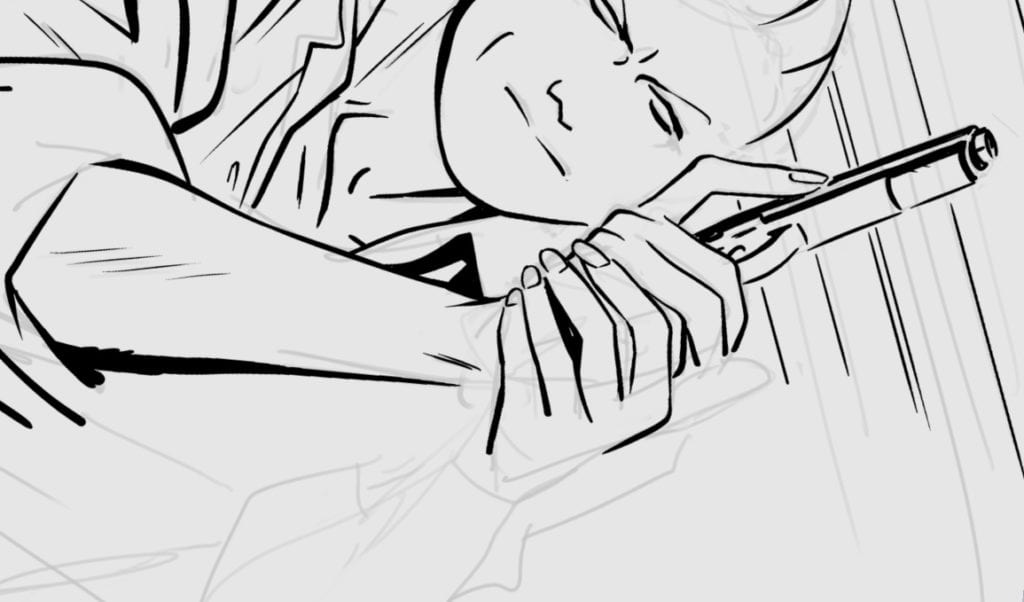 Coloring
As Tex and GrimJim talk about the early days of Tex's time with Skulldigger, back when Skulldigger was the Alley Rat, Zonjic shows us these moments in a light red tone. Tex and the Alley Rat, are just silhouettes jumping over rooftops. The simple imagery makes it look as though those were simpler times. But the red haze Zonjic has colored those scenes in, interplayed with the red blood of Tex at GrimJim's mercy, shows us it wasn't so simple. Tex found Skulldigger in a closet; he was born into a world of violence and blood.
When we see Skulldigger back at his hideout, it's colored in the same tone. He hasn't escaped his past; he just lives on in the ways Tex taught him, for better or worse. But when he and Skeleton Boy hit the road, as they're jumping across rooftops, suddenly all color drains from the page. Everything is black and white. This is what makes sense to them. This is simple. It's as though blood has become a norm for Skulldigger. He lives in a butcher shop, and he beats the crap out of thugs. But in those brief moments, running over rooftops between punches, he's clean.
Lettering
At one point, as Skulldigger and Skeleton Boy chat in their hideout, Wands gives us a sense of the dynamic between them. When Skeleton Boy asks to go on patrol with Skulldigger, Skulldigger asks him why. "What do you mean?!" Skeleton Boy's response is high above his head. But Skulldigger's lines follow, coming down from his mouth. It points out his height in that moment, and Skeleton Boy's lines that reach upward point out how short he is in comparison. This highlights the difference between them. Skulldigger is a man, a big man at that, while Skeleton Boy is still just a boy.
Wands fills this issue with noise. The thud of a head hitting a table, the slam of a door, the honk of a car horn. He makes the lettering for each sound effect large and emphasized. But as the issue comes to a close, a couple sound effects are noticeably missing. As guns go off, there's no "blam" to mark the noise. As a result, the moment feels deafening. It's like the guns are so loud you can't hear anymore. It also allows us to focus on the damage they've caused, more than the sounds of them going off.
---
Dark Horse's world of Black Hammer has always been a joy to read. Every issue is an excellent chapter in that universe's history. But Skulldigger and Skeleton Boy is proving to be the best series yet. With a sense of danger on every page and an incredible feeling of high stakes, this creative team delivers on every issue. Dark Horse's Skulldigger and Skeleton Boy #4 is the strongest issue yet! It's definitely a must-read. Pick it up, out from Dark Horse Wednesday September 23, from a comic shop near you.