Savage #3, from Valiant Entertainment, comes to comic stores on April 14. Max Bemis writes a teen trying to connect with people in his absurd life. Artist Nathan Stockman creates such strange creatures, with eye-catching colors by Triona Farrell, it's hard not to chuckle at the weirdness. Hassan Otsmane-Elhaou as letterer embraces the insanity.
Savage #3: The Teens Are Not Alright
Our title character Kevin Sauvage is able to get away from the limelight, but he still has trouble balancing his life. On the one hand, he's the freely living Savage, but on the other he's ultimately lonely. The only contact he has are "covert" butlers who don't even like him. It's a tragic, if funny, way of looking at a wayward teen. Thankfully last issue's guest character, Mei, is going down her own arc of finding values in Savage #3. Between these two odd teens, they might just get what they need.
Teen Life Is Strange
Stockman employs a number of strange designs in Savage #3. Kevin's makeshift segway vehicle shows he's trying to fit his modern life and island life together. Then there are the more surreal designed monsters showing up with colors by Farrell. The purple Geckopus with smaller insect winged yellow leopard geckos accompanying it are absurd enough to match Kevin's mindset.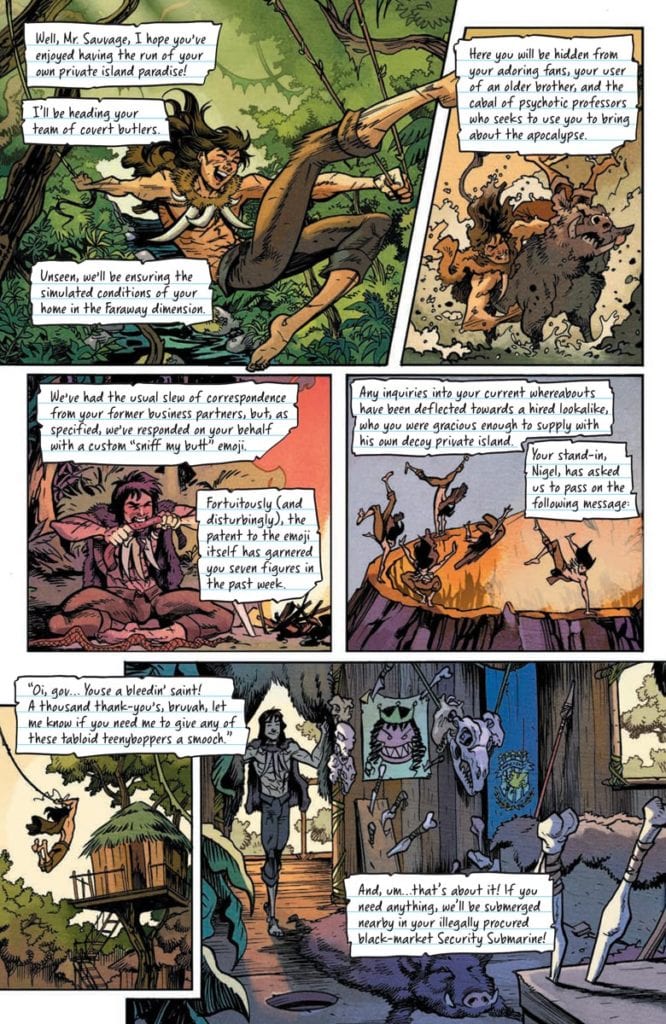 Thankfully, the way some characters speak through Otsmane-Elhaou's lettering makes these situations feel normal. The first pages have a charming look with the paper-esque captions, showing the professional butler writing his log in an impersonal manner. It says a lot about his character and his relationship with Kevin. Kevin's word balloons and the fonts in them warp to match his self-conscious interactions. It makes the more odd parts, like the Geckopus, a part of Kevin's ordinary life.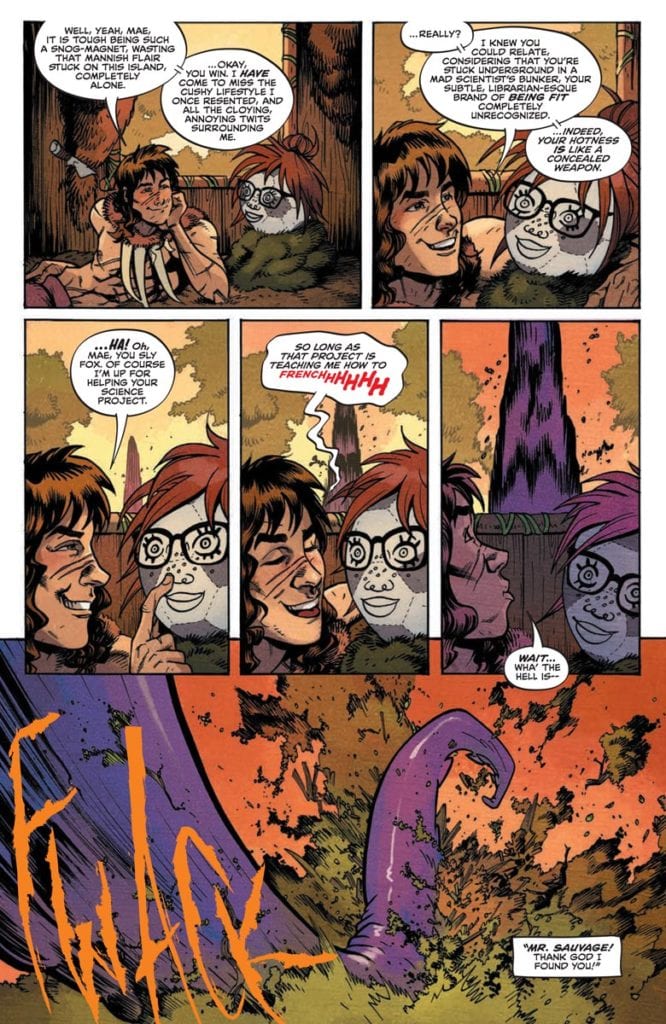 Savage #3: Time To Resubscribe!
Savage #3 is a delight with its unapologetic absurdities. This issue captures the growing pains of adolescence. Best of all, these wild instances are treated as mundane in the Valiant Universe. No awkward teen shaming in this run.