DC Comics' Nightwing continues to be a glorious love letter to fans of Dick Grayson. Writer Tom Taylor, artist Bruno Redondo, colorist Adriano Lucas, and letterer AndWorld Design continue to celebrate all the different facets that make Nightwing who he is. Nightwing #88 focuses on Dick Grayson as a team member and leader.
Writing
This issue centers around a public appearance Dick Grayson has to make. Grayson has promised Bludhaven that he's going to use his newfound wealth to start the Alfred Pennyworth Foundation, which will work to give back to the citizens of the city of Bludhaven. But for once, it's Grayson who has a price on his head, not his alter-ego Nightwing. Taylor sets the stakes up early and mysteriously. We get glimpses of the characters that are contracted to take out Dick Grayson. But once the stakes are in place, Taylor amps up the fun. We get to see a ton of brilliant cameos, lots of bombastic action, and a final page that will make your heart drop.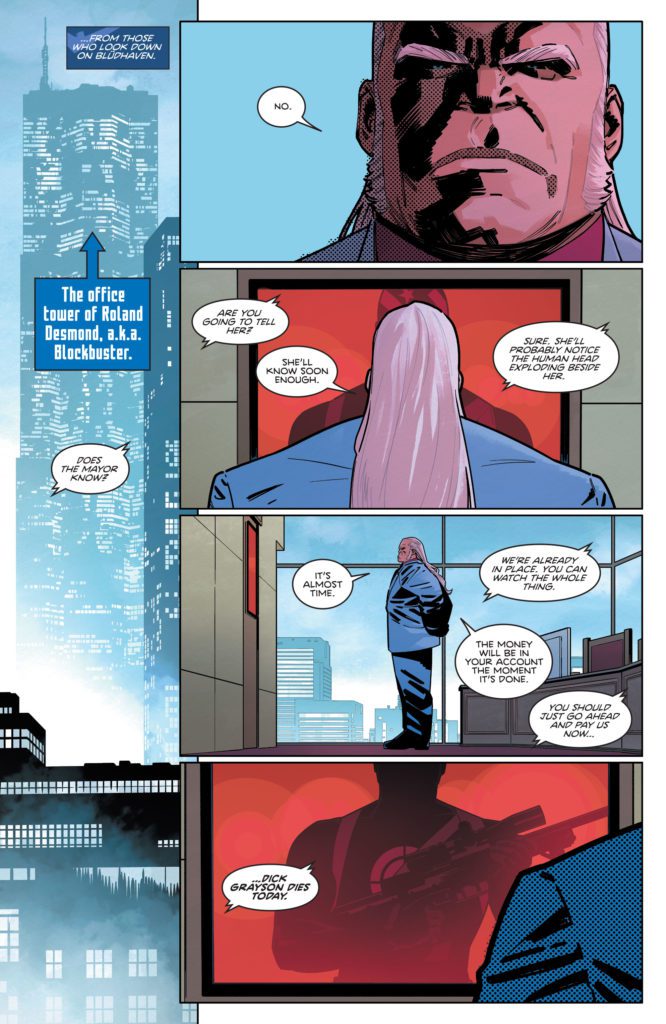 Art
In any comic drawn by Bruno Redondo, there's just way too much to talk about. There's beauty in the page layouts, in the minute details, and in everything in between. Many of Redondo's layouts work to give us a sense of space. We see characters walking through separate panels stretched over one background. It feels like we're strolling alongside the character, matching their speed. And then there's the wonderful details of every character's costume, too. Redondo shows all the seams and creases in every dramatic pose. Redondo's enthusiasm for drawing costumes is so clear. He even draws Grayson as an awe-struck cartoon character when he's presented with his new Nightwing costume. Redondo's love of the craft drips from every page. It fills the panels and the gutters alike.
Coloring
Much of the first few pages of this issue are colored primarily in shades of blue. Lucas makes it clear: this is Nightwing's town. But as the issue progresses, things get a little more colorful. We see the red and yellow of a gun going off. On the next page, Lucas uses those same colors to color the person who finds the shooter. The character's fury is a force to be reckoned with and is as intense as a gunshot. By the end of the issue, the color scheme has changed quite a bit. The vibrant colors give way to a muted red. The juxtaposition from the first few pages, all shown in a cool blue, tells us that danger has come to Bludhaven. There's going to be a shift in the status quo.
Lettering
AndWorld Design's lettering is playful and fun. The word balloons ping pong us back and forth across each panel. Occasionally, a few word balloons take a double take to figure out the reading order. But one of the best gags from the comic is thanks to AndWorld Design's letters. When we see Blockbuster's office from an exterior establishing shot, there's a caption box with a short arrow that points more specifically to where in the skyline his office is located. Later, when we get a similar shot of Nightwing's apartment, there's another caption box to point out where it is. But the caption box now has a long arrow, stretching way down. It's a brilliant way to show the disparity between how Blockbuster and Nightwing live.
---
DC Comics' Nightwing #88 is so freaking fun. It's heartwarming, action-packed, and full of great laughs. If you love Nightwing and you love Dick Grayson, you'll love this series. Pick up Nightwing #88, out from DC Comics January 18th, at a comic shop near you!