RED SONJA: AGE OF CHAOS #4, available from Dynamite on June 17th, follows Red Sonja and the day-walking vampire, Chastity, as they search for a way to resurrect Kulan Gath. Erik Burnham's story and Jonathan Lau's art deliver a tale of monsters and wizards competing to be the first to find the source of Gath's power.
Cover Art
Lucio Parillo's art consistently excels with the collection of Dynamite's female heroes. Chaos takes center stage on the cover as the titular character. Parillo's attention to life-like anatomy is outstanding, and his use of deep shadow for dramatic effect takes the cover to a grand artistic level.
Writing
Let's take roll call: Red Sonja (warrior), Chastity (day-walker, punk rock vampire), Evil Ernie (magic-wielding zombie), Purgatori (winged, vampire goddess), Jade (vampire sorceress). Whew! That's a lot of characters to juggle for one issue, and that doesn't include the assorted sorcerers, warriors, and townsfolk they meet along the way.
With all those characters to pack into one issue, Burnham deftly keeps all the threads moving in the right direction. Red Sonja and Chastity's journey takes up the lion's share of the story, with a battle between Evil Ernie and Purgatori taking up a close second. With all that story going on, I never felt lost or confused about who was doing what.
Most of the vampire characters were transported from other times and locations to Red Sonja's setting, and Burnham took the time to give each character, especially Chastity, a fish-out-of-water moment without overplaying it. The story was amusing, exciting, and engaging. Of all the Red Sonja books out this week, this is the easily the best of the bunch.
Pencils/Inks
Jonathan Lau's artwork is the top highlight of this issue and of all the books reviewed this week. The characters, costumes, and backgrounds are rendered in fine-grained detail that looks closer to the type of work you find in a graphic novel that's been poured over for months.
The fight scene between Purgatori and Evil Ernie is face-paced and explosive. I was riveted with every single panel as the two monsters traded escalating attacks with a mix of brute strength and magical blasts. This issue is worth the purchase for Lau's artwork alone.
Last but not least, Lau made an artistic change to Red Sonja that I don't think I've ever seen before. Usually, Red Sonja is drawn with a long, full-bodied head of hair. Here, Lau changed it up to give Red Sonja a rude bushel of hair, almost akin to a lion's mane. It makes all the sense in the world for a barbarian warrior who wanders the wastelands to have hair that looks that way, and it gives her status as a warrior a bit more credibility. It's amazing to see a seemingly innocuous change generate a completely fresh take on a character.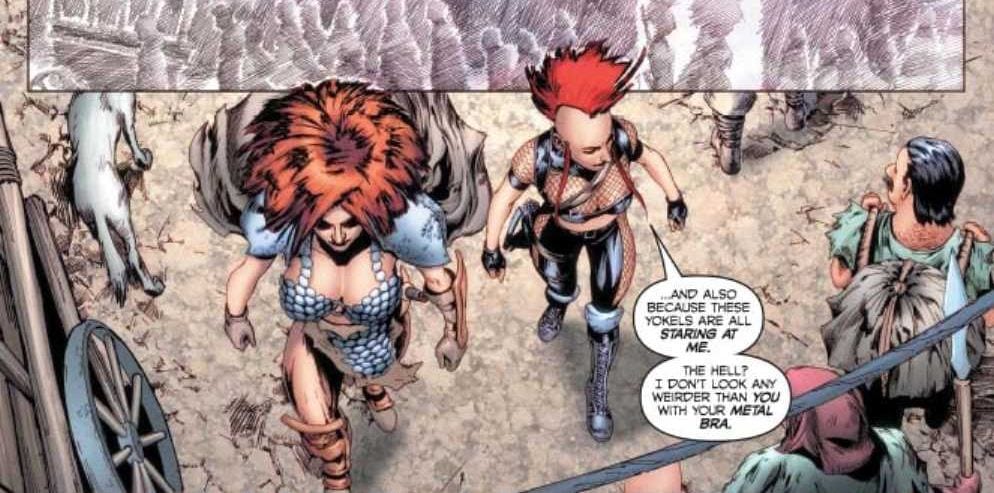 Favorite Panel/Page: The battle between Purgatori and Evil Ernie steals the show for this issue, and page 19 is the best panel of the entire scene. It's a full tier panel where (No Spoilers) one character deals a "death" blow to the other, effectively eliminating some of the competition…albeit temporarily.
Coloring
Andrew Dalhouse's coloring is a perfect match for Lau's art style, particularly with the execution of red. Red Sonja has a red lion's mane, Chastity has a red mohawk, Purgatori is, well, all red, so it would have been easy enough to select an acceptable red tone and leave it at that. To Dalhouse's credit, if you look closely, even the color selection between Red Sonja's hair and Chastity's hair is subtly different to give each character a little bit of distinction. It's that kind of attention to detail that makes this book the winner of the week.
Lettering
Similar to Burnham's fine work juggling multiple plot threads, Carlos M. Mangual's lettering does an equally great job finding a way to keep multiple voices in multiple languages easy to read. You have English dialog, native tongue translations in the town Red Sonja and Chastity are visiting, the voice of a disembodied ghost head, mystical zombie voices, a talking smiley face lapel pin, and a screeching wyvern. Lots of voices. All of them made clear and distinctive with the artistic use of word bubble borders, fill colors, and custom fonts—fantastic work by Mangual.
Conclusion
RED SONJA: AGE OF CHAOS #4, out this week, is a masterclass in ensemble storytelling combined with next-level art. The entire creative team brought their A-Game with this issue, I highly recommended.