From comics legend Mike Mignola and artist Rachele Aragno comes the follow up to their delightful vampire story from earlier this year with Leonide the Vampyr: A Christmas for Crows. Featuring frequent Mignolaverse collaborators Dave Stewart and Clem Robins on colors and letters respectively, this yuletide follow-up is a spooky and endearing second chapter following out new young vampire and the priest charged with protecting the world from her misdeeds. With a surprisingly deep script and outstanding visuals, this is the perfect night before Christmas comic for readers of all ages.
"When good and honest mountain folk come upon a small coffin among a carriage wreck, they find themselves among darker company than they bargained for."
Writing & Plot
Mike Mignola has always been able to seamlessly blend suspense and creeping terror with light-hearted wit, and Leonie the Vampyr: A Christmas for Crows is no different. The Hellboy creator brings his Victorian horror story narrative tone and mixes it with that of a classical children's storybook to make a comic that is delightful regardless of your age or tastes. Following up the previous and first chapter of Leonide, this issue sees our young vampire taken by carriage to a old manor, where she is still pursued by the skeletal priest sworn to vanquish her. From here, a sullen and bittersweet tale of a spooky Christmas night takes place. It's a fairly simple story, made memorable by its distinctly "Mignola" characters and nods to Christmas-y ghost stories of old. Mignola's dialogue is endlessly clever and fun to read, mixing that serious, stoic tone with sharp humor that always lands. If you're a fan of Mignola's creations and how his writing in stories like The Amazing Screw-On Head and various Hellboy projects, then this book will be a surefire hit for you.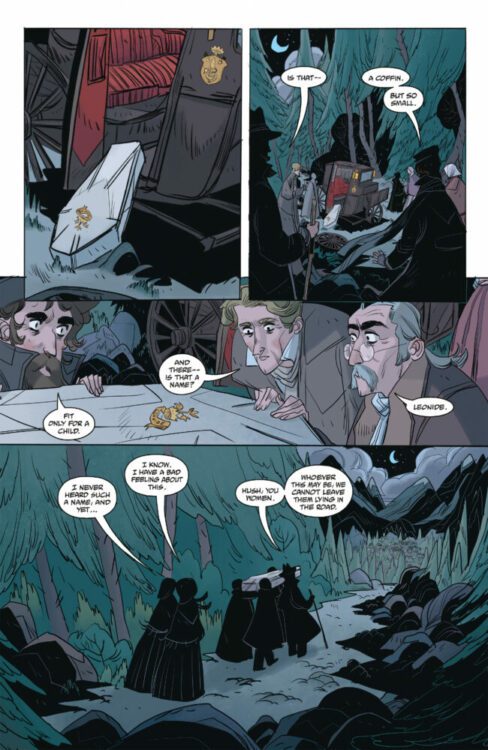 Art Direction
Every Mignola project needs visuals that are up to par with those of the creator himself. Fortunately, Rachele Aragno is on hand to deliver an experience that looks and feels like a true Mignola comic, but is also something wholly unique. Aragno's work in Leonide the Vampyr: A Christmas for Crows is as atmospheric and unique as any Mignola book, but with a specifically lighter charm that works perfectly for the tone. Her character designs and animations feel like something out of an illustrated storybook, but with sequential direction. Every page is so charmingly drawn it's impossible not to feel endeared to Leonide, the Priest, some sharply-dressed crows, and this spooky world as a whole. Her excellent panel direction and transitions give the comic an even pace for this sauntering Christmas tale, making for a comic that is a perfect chemical mix of its script and visual storytelling. The colors from longtime Mignola collaborator Dave Stewart are perfectly atmospheric, with heavy shades leaning towards the darkness that encompasses the book. Stewart makes this comic feel lighter than other Mignola affairs with his use of lighting in his colors. Elements such as light reflections off of the moon and fires help make Aragno's artwork shine with a fun and spooky tone. Clem Robins' letters finish off the reading experience with his consistent and unique font he's always used in Mignola comics. His dialogue and narrative bubbles are full of his hand drawn, naturalistic fonts. His SFX lettering provides the perferct punctuation for every page, with a bold style that makes itself seen without getting in the way of the panels. Overall, A Christmas for Crows is a standout comic among a stable of great looking books in the Mignola library.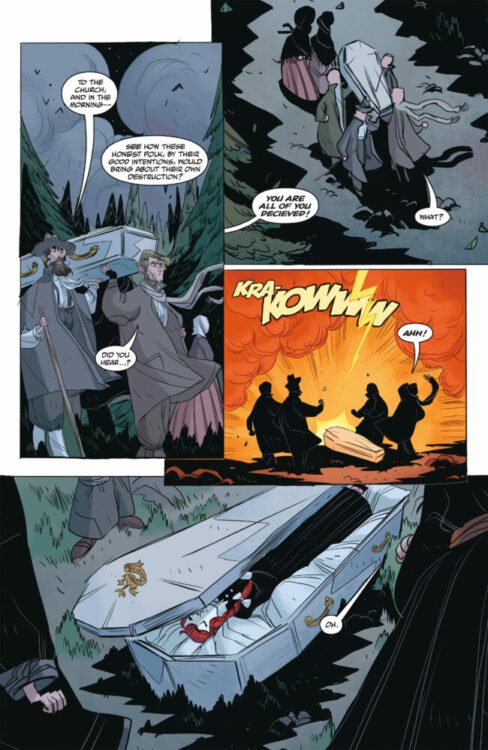 Verdict
Leonide the Vampyr: A Christmas for Crows is a delightful Christmas follow-up to a new surprise hit from Mignola's stable. The Hellboy creator spins a script that is pure spooky delight, with hints of melancholy and storybook charm that will undoubtedly win over anyone who partakes in its tale. Rachele Aragno, with help from Dave Stewart's colors, stands out among Migonla's collaborators with brilliant character animations and sequential design. Be sure to grab this new Christmas comics classic (and its predecessor) when it hits shelves on 12/14!