King In Black: Iron Man/Doctor Doom #1 out this week from Marvel Comics is one lat glass of holiday cheer to enjoy. Iron Man and Doctor Doom find themselves having to defeat a symbiote controlled Santa Claus. Yes, you did read the previous sentence right and it's thanks to Christopher Cantwell, Salvador Larroca, GURU e-FX, and VC's Travis Lanham.
As Iron Man and Doom fight as temporary allies, their unexpected encounter both with each other and a horrifying inversion of yuletide joy may ultimately reveal to them the true meaning of Knull-mas.
Writing
This issue truly is hilarious. Two of the most bitter rivals who find themselves having to team up far too often must face off against an enemy whose very mention causes one to smile. Try it for yourself. Iron Man and Doctor Doom face against an alien-controlled Santa Claus. See, you are smiling already, aren't you? This is the level of entertainment this issue has at its disposal.
The issue is not without its serious moments. Writer Christopher Cantwell takes the time to allow Tony to reflect on what has happened in the King in Black event. It weighs on him but doesn't bring the story down but instead adds a perfect balance between comedy and tragedy.
Artwork
The artwork by Salvadora Larroca adds to the concept of mixing the dark elements with the comedy. The environment is shown as being desolate and corrupted by what has occurred in the King in Black. Yet throughout the issue, Iron Man and Doctor Doom are drawn with great detail ready for whatever Knull Santa can throw at them.
The colorwork by GURU e-FX offers visual striking contrast from page to page. The metallic gold aspects of Iron Man's armor and the green of Doctor Doom's cape stand out well against the dark setting in each of the panels. Also, the lighter colors on the first-page flashback help to showcase a more light-hearted period of Iron Man's life.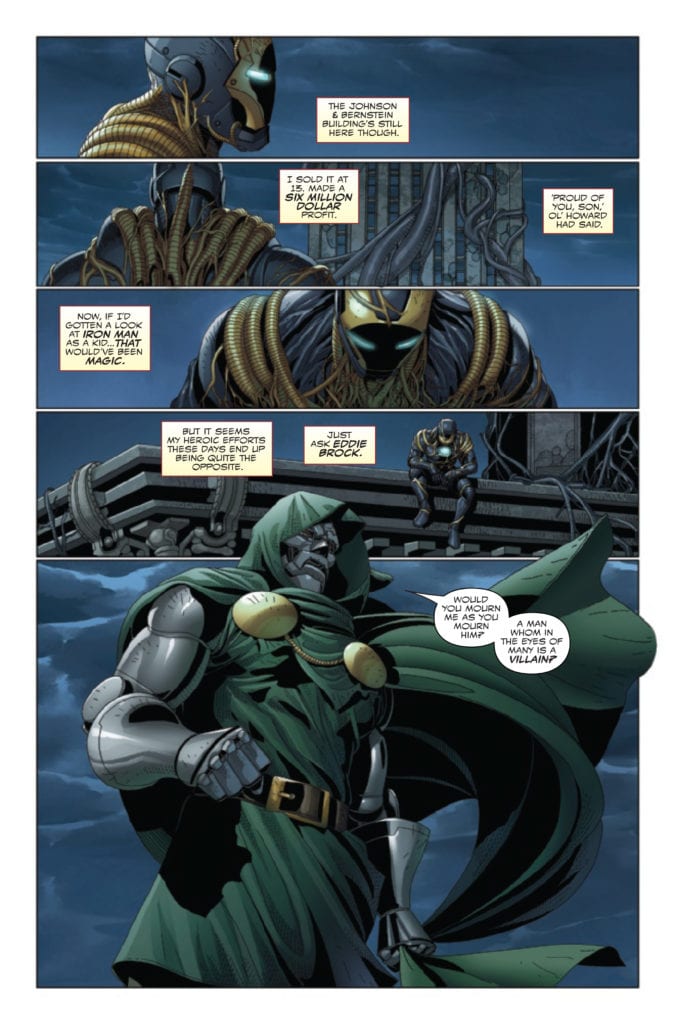 Thanks to the lettering by VC's Travis Lanham this issue is able to maintain its mix of humor and drama. The font used allows for the Knull Santa to seem unnatural and a near legitimate threat. At the same time, the use of a very unique font creates one of the most entertaining jokes in the whole issue. No spoilers here, you'll have to read the issue for yourself.
Conclusion
King In Black: Iron Man/Doctor Doom #1 is a side story of a much larger event but is so entertaining it's worth the purchase. It's all thanks to the over the top premise being hilarious. Even if you aren't following the King In Black, you owe it to yourself to read this issue.