A good rule of thumb for me is that if Geoff Johns name is attached to any DC book, you buy it. Johns is responsible for great stories like Blackest Night, Doomsday Clock and Flashpoint. He rarely misses his mark as a writer. As he returns to write Justice Society of America, any fan of DC comics has to at least be intrigued. Joining him on this story is superstar artist Mikel Janin, Jordie Bellaire on colors and Rob Leigh on letters.
WRITING
Geoff Johns starts this issue off with a time line for readers. The death of Batman's parents, Catwoman leaving out of a window and the birth of Bruce and Selina's daughter. This sets the tone for the rest of the issue. Helena Wayne has taken up the mantle of Huntress and she has her own running crew. Johns gives us enough of these new characters to get a feel for them and have an interest in them as well. Power Girl and Solomon Grundy are also on the team, so they aren't all completely unknowns. What Johns does that works best for this issue is the internal monologue from Huntress. Johns allows us to see and feel everything she's going through and his dialogue for her is intelligent, just like her parents. When there is action in this issue, it hits fast and hard. Johns keeps readers on their toes as we get punched in the gut with a shocking event in the issue. Johns continues to be one of the best writers with story structure and ideas, especially with his DC work. Justice Society of America #1 is an issue that twists and turns. It will keep your attention and interest while making you wonder what will happen next.
ART
Mikel Janin is a phenominal artist. This issue packs a lot of emotion, so the panels that work best are the ones that visually display that. Power girl getting upset with Huntress is effective because of the emotion we see coming off of both characters. Janin also makes this an aesthetically pleasing issue. Panels where Solomon Grundy and Huntress are leaving a building seems like a simple enough task. Janin silhouettes both characters in white so we only see their outline while the city is fully pictured behind them. This type of artistic gamble pays off and becomes one of the most memorable moments in the issue.
The colors by Jordie Bellaire are fantastic. Bellaire doesn't make anything in this issue too vibrant to stick out, which works. This is a dark time in the DCU and Bellaire uses tones that reflect this. Huntress has a gorgeous purple outfit that doesn't leap off the page at you, and it shouldn't.  As characters get picked off, Bellaire uses a red to mask the panel. This is effective because it signifies death. It encompasses the whole panel and draws the attention of the reader. Bellaire continues to be one of the most innovative colorists in comics.
The letters are done by Rob Leigh. As far as lettering goes in this issue, the thing that sticks out the most is Huntress' internal monologue. Leigh is very careful to place all of these thoughts in the appropriate spots. Nothing runs into any of the pencils on the page and Leigh has them stashed on the right side as Huntress attacks a goon. Sound effects are crucial on an issue like this, especially when people are getting shot. Leigh goes with the classic "BLAMMM" as characters meet their end. The placement of the sound effects is key and Leigh places it out of the way of the action. Letters are crucial to a book, and Leigh does good job of making sure his work compliments the art work.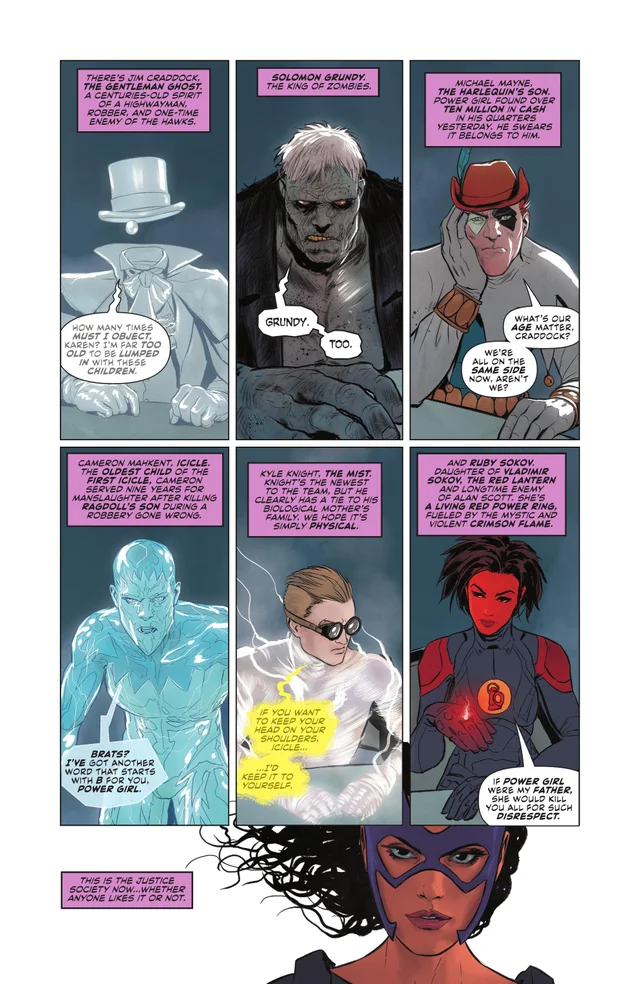 CONCLUSION
Justice Society Of America #1 is an excellent read. Geoff Johns crafts an excellent introductory issue that should engage readers and get them excited for what comes next. The art work is second to none this week. Janin, Bellaire and Leigh all give great effort to make this book look spectacular and they succeed. Justice Society of America #1 is the real deal and hands down the book of the week.