JUSTICE LEAGUE DARK #28, available in stores on Tuesday, November 24th, wraps up the The Cost arc in fantastic fashion. Last issue Zatanna used her magic to infuse her very being within the villainous Upside-Down Man. But will this ultimately hold him? The resulting story is full of suspense, horror, and hope.
Story
Faced with a now merged Upside-Down Man and Zatanna, readers will wonder whether the threat is abated (though at great cost). The heroes lost so much recently, so it would feel like the ultimate gut-punch to lose the sorcerer.
Unfortunately, the villain has the ability to counter Zatanna's magic. What was thought to be the final blow actually turned into a seemingly equal war of wills.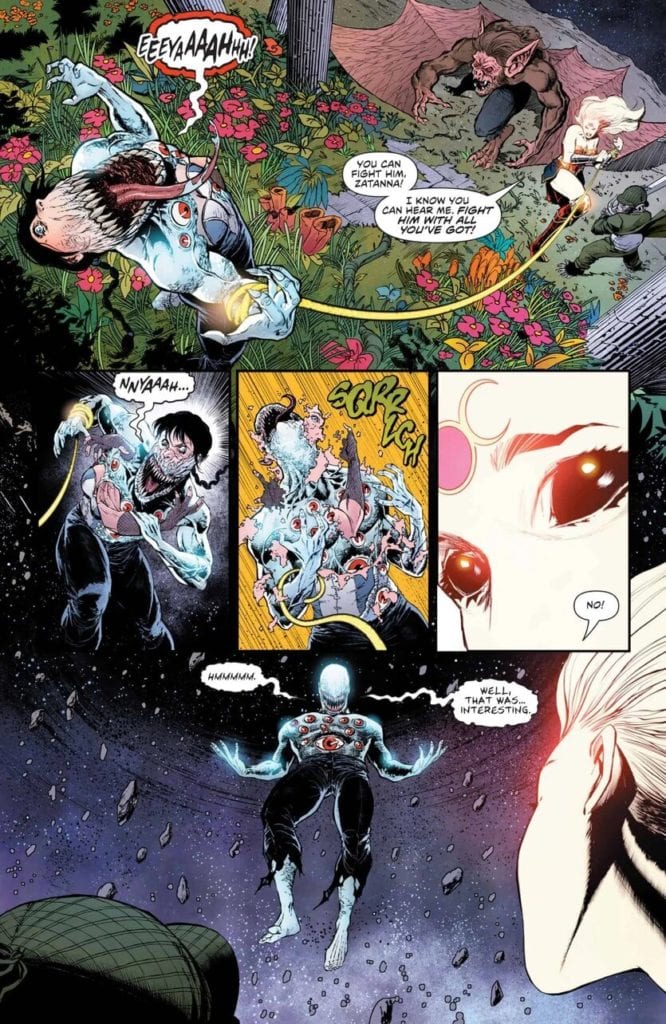 Fortunately for our favorite magician, the lessons of paying the price for magic applies to the Upside-Down Man as well.
Ram V's writing brilliantly conveys the trials and tribulations Zatanna and the protagonists experienced throughout the past arc. And the final clash is an incredible sight to behold.
Artwork
Amancay Nahuelpan's penciling and ink work, June Chung's coloring, and Rob Leigh's lettering came together wonderfully in this issue. Zatanna's transformation contains a grotesque surrealism that keeps readers' eyes glued to the pages. The peach toned pieces of her face are stitched to the Upside-Down Man's pale skin, which adds to the story's eerie vibes. And the fonts complete the effect with squiggled styles featured in the villain's word balloons.
Conclusion
JUSTICE LEAGUE DARK #28 ended an engaging storyline in one of the most satisfying ways possible. We are anxious to see what new horrors await our heroes.
What terrors do you think lie in store for our heroes going forward? Let us know in the comments below!