HOME #1, available in comic book stores on Wednesday, April 14th, is the first installment of a brilliant new series honing in on the injustices facing immigrants. Readers will join in the travels of people fleeing for their lives. The American Dream purports to offer opportunity for everyone, but this groundbreaking issue reveals a harsh truth most of us already know: some people are barred from our country's promises.
Story
The story introduces us to an unnamed mother and child making their way to what's presumed to be the United States. We see them catching bus rides and sleeping outside in the hopes of finding a better life.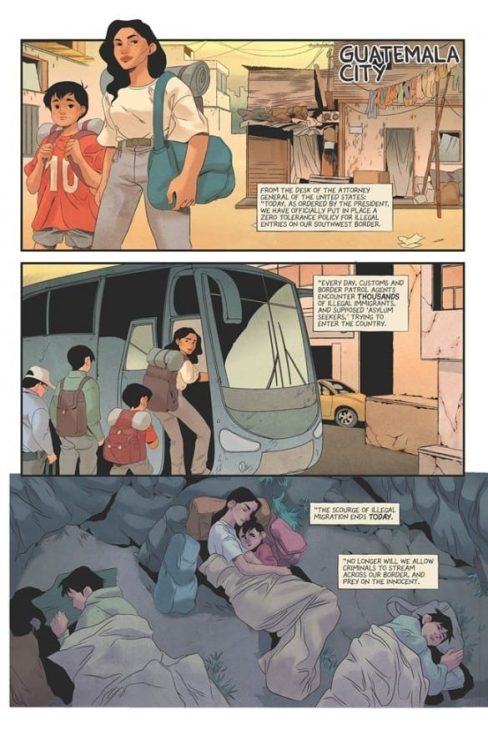 Rather than detailing the characters' dialogue, the story relays what appears to be a speech from an official of the former President's administration. The language is thoroughly xenophobic, filled with a hatred and fear of immigrants. This contrasts with the images of the refugees simply seeking safety.
The most scathing indictment of the administration's attitude toward immigrants and refugees comes from the former President's words himself.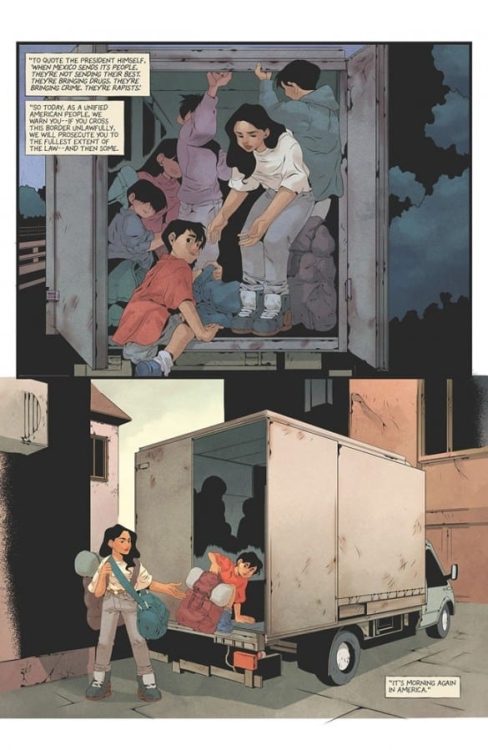 The family eventually arrives at the border to the U.S. where they prepare to meet with border police officers. What ensues is a horrific process of separation that will change the young family's life forever.
Julio Anta's powerful story weaves together elements of hope and terrible circumstances. His ability to depict the harsh realities faced by immigrants is eye-opening—even for those who claim they're aware of these human rights violations.
Artwork
The illustrations within this issue tell a story of hope and heartbreak—arguably more so than the written narrative. Anna Wieszczyk's penciling and ink work detail the traumatic experiences of the protagonists. Fleshed out with Bryan Valenza's coloring, the reader sees the red flushes on their weary faces to represent the hardships experienced. In addition, Hassan Otsmane-Elhaou's lettering does a brilliant job of differentiating between the Spanish and English dialogue using alternating red and black fonts.
Conclusion
HOME #1 is the story we need right now. It's great to see a tale told from a marginalized group's perspective in the comic book medium.
Do you think more real world traumatic events will be featured in subsequent issues? Let us know in the comments below!