From series creator Mike Mignola, writer Chris Roberson, and artist Shawn Martinbrough comes a simple yet exciting one-shot of cryptid-hunting in the woods with Hellboy and the B.P.R.D. 1957: Falling Sky. Featuring colors by Lee Loughridge and lettering from Clem Robins, this single-issue is a fun shot of monster hunting and character banter that excels in just making an entertaining and well-made short story.
"Cryptozoologist Woodrow "Woody" Ferrier joined the B.P.R.D. to find exciting and previously undocumented cryptids, but unfortunately most of his cases end in disappointment. But a trip with Hellboy to small town Virginia where a huge and mysterious creature stalks the woods might provide him with just the opportunity he's been waiting for!
Writing & Plot
Mignola and Roberson take a break from ancient conspiracies and eldritch threats to take readers on a simple cryptid hunt in Hellboy and the B.P.R.D.: Falling Sky. Here, a new cryptozoologist and researcher to the Bureau joins up with Hellboy for some field work hoping to find some mysterious and exciting new species – but ends up dealing mostly with the usual suspects. Mutated animals, demons, and science experiments gone wrong are the normal Monday through Friday business for Bureau agents, but unfortunately not at all what Woody is looking for. His frustration seems to be close to an end with a seemingly dead-end call to a town in Virginia that ends up being more than either he or agent Hellboy bargain for. The inherent simplicity of this issue ends up being its greatest success. Mignola and Roberson have never lost sight of the fact that Hellboy's core consists of cool monsters. That's what this comic is all about. The discovery of a mysterious cryptid combined with a simple yet effective theme are a winning formula for this entertaining one-shot. The banter between Woody and HB is naturalistic and fun, with the latter retaining his usual sense of humor and casual tone while dealing with massive monsters and dangerous mysteries. While it won't be the most impactful or memorable Hellboy read, it has enough charm to be worth a pickup.
Art Direction
Mike Mignola created the visual standard that all Hellboy universe comics follow, and Shawn Martinbrough follows it while still adding his own style in Hellboy and the B.P.R.D. 1957: Falling Sky. Martinbrough still utilizes that Mignola-esque approach with thick lines and heavy shadows, but with notable differences that make this comic feel appropriately lighter than standard HB fare. There's a focus on animated expressions here that isn't so common in other comics in this universe. Martinbrough clearly puts considerable time in making character banter a clear focus, with his detail in these animations being clear and very engaging. His sequencing and panel direction are indicators of this approach as well, as he primarily uses close-ups and character reaction shots through the course of the comic. When the main monster does appear, he keeps the creature mostly out of focus and only on the page for a brief time. There's only one panel that has the whole monster shown at once. This is a clever reflection of this comic's focus and keeps the attention squared on Woody and HB.
Lee Loughridge's colors are clear and vivid, making for one of the cleanest and most high-fidelity feeling Hellboy comics in recent years. The bright palette of a small town in Virginia noticeably clashes against the barren landscaped and settings of tombs, abandoned labs, and arctic wastes we get snapshots of in this comic. HB himself sticks out like a fire truck in the dark green woodland foliage where he and Woody are investigating. This is stellar work that makes the comic have that lighter feeling outside of the horror-oriented fare we usually get in the Hellboy universe. Clem Robins returns as letterer, and his work here is as sharp and easy to read as always. He still utilizes the classic Hellboy  comic font, combined with naturalistic fluidity and great SFX work to make for a perfect cap off to the reading experience. Overall, Falling Sky is an excellent looking comic that nails the lighter aesthetic of its theme and subject matter.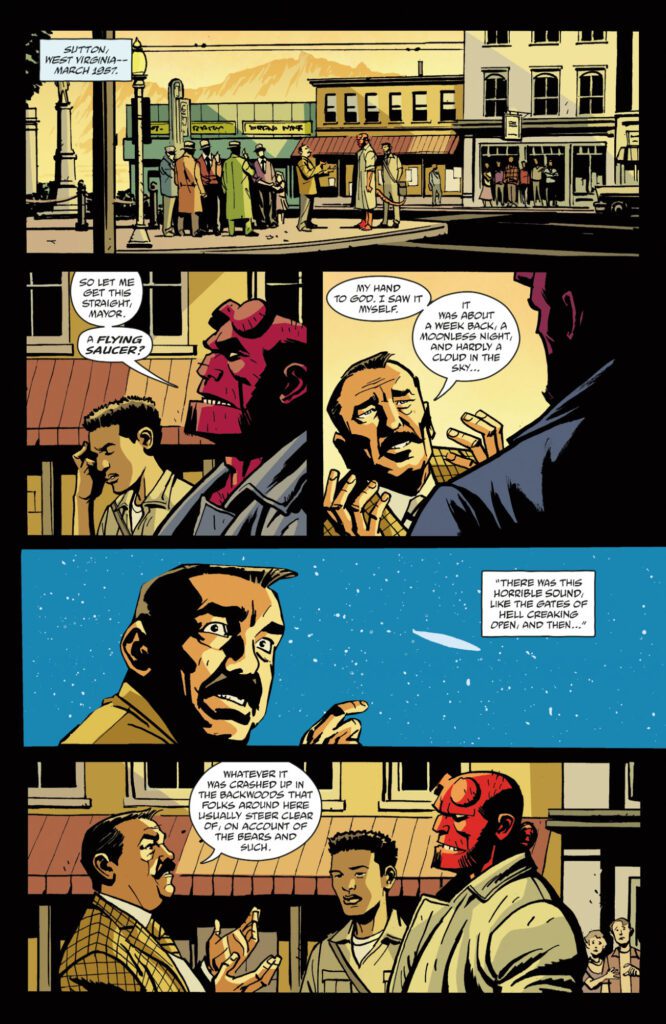 Verdict
Hellboy and the B.P.R.D. 1957: Falling Sky is an entertaining and sharply made one-shot that, while not the cosmic horror or monster-fighting romp some fans may expect, is still a worthwhile read for longtime readers and newcomer alike. The script from Mignola and Roberson is fun and witty, with expected surprises that still don't fail to be a blast to discover. The visuals from Shawn Martinbrough and Lee Loughridge are bright, well-animated, and expertly directed, making for a perfectly paced read that is a joy to behold. Be sure to grab this newest one-shot when it hits shelves on August 10th!