It's very hard to mistake a Jim Mahfood comic. Much of his comics career has been dedicated to pushing his mixed-media, psychedelic style to further heights of insanity. Grrl Scouts has been with him for most of that career, which is why the series has gone from women smuggling weed to a full-blown space opera. But, when a comic's this kinetic, and looks this damn good? You just have to get swept away in it. Swim against the current, and you might get hurt.
WRITING
Grrl Scouts: Stone Ghost continues to juggle a bunch of storylines while occasionally hinting at how this story might connect to ones before. The main plotline continues the story of shy newcomer Dio and her offbeat robot companion Natas as they travel the universe to recover the ashes of Dio's boyfriend. Their search finds them kidnapping a gangster so that they can dream-jump inside his head to find the ultimate location of the ashes, all while Dio attempts to ignore dreams hinting that she might be a descendent of "The Butterfly," first member and founder of the Grrl Scouts. But meanwhile, Dio's ghost friend Gordi expresses regret over betraying Dio to a cult worshipping a dark god named "The Teeth," whose cult leader sends a man with a kettle for a head to hunt down Dio, and… Well, there's a lot going on. Self-indulgence continues to be the comic's raison d'etre. The issue opens up with the characters declaring they've bought themselves comfortable sweaters off-panel. Why? Well, why not? This is a series, after all, that opened on a spread of band posters and Kevin Smith tapes waaaay back in 1999. Mahfood wants to make something entertaining above all else, and part of how he does that is by throwing all his influences into a blender and setting it to "liquify."
Part of Mahfood throwing what's on his mind into his comic, however, is a continuing plotline about the main character, Dio, grieving over her boyfriend's death from brain cancer. Mahfood has been open about this being inspired by the death of a real-life friend, to the point where the character's last moments with a George Harrison LP are said to mirror the real article. No one would mistake this for a fully somber comic, but death weighs a lot heavier on its mind than in previous outings. This too, is part of carrying the series through decades. While it may be as free-wheeling and kinetic as ever, this is no longer a comic by someone in their twenties.
ART
It's hard to know where to start here. Just take a look at the example pages. Mahfood is a born stylist, and knows just how important presentation can be. What's new for this comic, however, is that he's coloring it himself. He goes with a more limited palette, dominated by primary reds, blues, and yellows. Flashbacks to Dio's boyfriend are presented as scribbles on yellow notepad paper. It's a book that's willing to play with layouts, colors, character design… If there's one thing that's immediately obvious in this book, it's that Jim Mahfood had fun drawing it. And that's one of the biggest reasons this book is worth picking up. It's a jam session.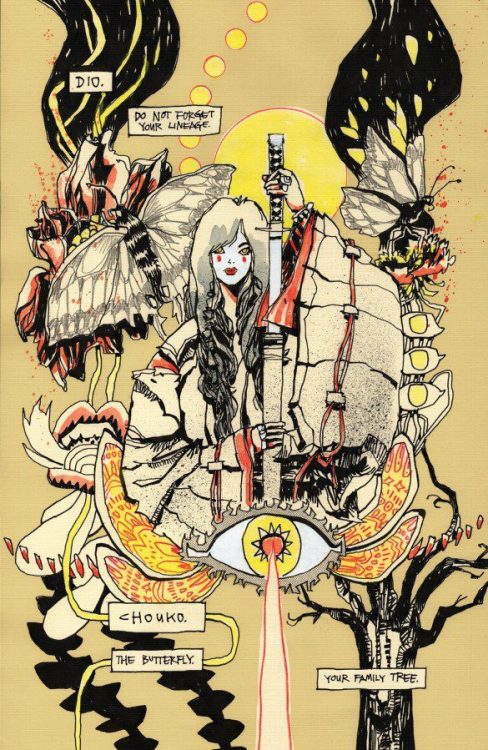 VERDICT
Grrl Scouts: Stone Ghost continues the series tradition of each installment somehow looking better than the last, and opens up the series into a wild sci-fi world. Now, more than ever, it's a vessel for Mahfood to do whatever the hell he wants. I wouldn't have it any other way.