On August 04, DC Comics released Death Metal: Legends of the Dark Knights #1, a one-shot tie-in to its ongoing Dark Nights: Death Metal event. This issue features six short stories of the origins of some of Death Metal's zany Batmen, including Batmanhattan, B. Rex, the Robin King, Castle Bat, Batmobeast, and of course, Baby Batman. The writers, including Scott Snyder, James Tynion IV, Joshua Williamson, Peter Tomasi, Garth Ennis, and others are joined by superstar artists and colorists like Tony S. Daniel, Chris Sotomayor, Jöelle Jones, Daniel Warren Johnson (who writes and draws the Batmobeast tale), and many more.
While the original Dark Nights Metal event gave us a bunch of one-shots showing us the crazy, tragic origins of the first team of Dark Knights, this issue dials the zaniness up to eleven!
Writing
Each of the writers spins a unique tale about each of the Dark Nights. Space doesn't allow for an analysis of every story in this issue. You will find out about B. Rex and Batmobeast, among others, but the standouts (because of their importance of the Dark Nights: Death Metal story) are the ones featuring "the Darkest Knight" (Batmanhattan) and the Robin King.
Joined by Tony S. Daniel on art, Snyder, Tynion, and Williamson's story takes place in the mind of the Batman Who Laughs during the surgery to transfer his brain into Batmanhattan during issue #2 of Dark Nights: Death Metal. Several DC's at times disparate narrative threads come together in this story, as the Batman Who Laughs' personal history collides with a Dark Multiverse version of Rebirth's The Button and a version Batman who tried to harvest its residual energy signature. We find out how the Batman Who Laughs killed that Batman, and what he intends to do with that power.
One also sees what appears to be another Snyder homage to Grant Morrison. In Dark Nights: Metal, Snyder builts his story off of Final Crisis, and Morrison's Batman run with references to Barbatos. In this story, Snyder and co. seem to be playing with Morrison's idea of "the bullet" and how the idea of the bullet ends up creating Batman. Snyder returns to this idea with the Batman Who Laughs, noting that Batman is ultimately a reactionary force, reacting to the bullet. The Batman Who Laughs (now the Darkest Knight) determines to do more than react to the bullet. He will BECOME the bullet that creates a new multiverse and destroys the gods that stand in his way, like Perpetua.
The "hole in things" will indeed be Batman-shaped.
Art
Peter Tomasi (writer) and Riley Rossmo's (artist) story about the Robin King is unique largely because of its art style. Joined by colorist Ivan Plascencia, they tell the story of a young Bruce Wayne, a sadistic child who enjoys inflicting pain and who ultimately kills his parents, Jim Gordon, and finally Alfred, becoming the Robin King.
Young Bruce is drawn like an evil little rascal or a demonic Dennis the Menace. Rossmo and Plascencia give the readers a glimpse into some of the evil actions of this boy, while Rob Leigh's letters narrate Alfred's regret at not having been honest about just how evil little Bruce actually is.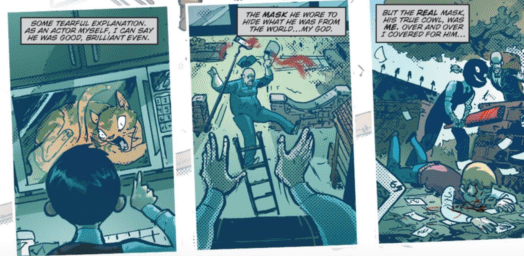 This story is unsettling because of the cartoony character design mixed with the brutal evil and horror portrayed in its pages. There is a Child's Play quality to this juxtaposition between the innocence of childhood and demonic evil.
At other times, some of the character design and coloring is reminiscent of some Tim Burton's gothic horror aesthetic, in both the depiction of characters' fear and in the image of the Robin King's final form.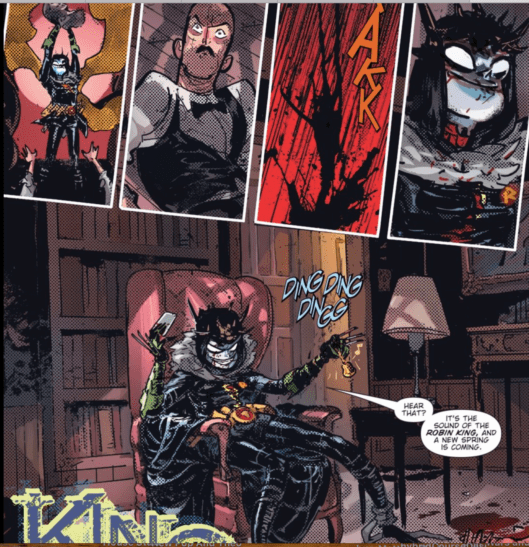 There's a spindly look to the Robin King in that final image that may remind some of Jack Skellington.
Conclusion
Critics of this series will probably complain about the continued bastardization of the Watchmen characters by DC, and they might not be wrong. Doomsday Clock, for all of its faults, attempted to be a spiritual sequel to Moore and Gibbons original work, providing commentary about Watchmen's influence on comics and superheroes, infusing them with realism and despair, and musing about how comics and superheroes might influence the world of Watchmen, infusing its world with hope.
Flash Forward, and now Death Metal, are different animals, in part being used to "fix" DC continuity and bring Doomsday Clock into continuity. While I think the Dark Multiverse "Button" explanation works, the more DC uses the Watchmen characters; the cheaper those uses are going to become.
Besides that reservation, this was a fun issue! Some of the Batmen in this event are a little silly, but that's ok. Every once in a while, it's nice to be reminded that comic book stories can be silly and well-written at the same time.
What do you think of Snyder and company's Death Metal event so far? Is it a worthy successor to Dark Nights Metal? To Doomsday Clock? Tell us in the comments below!