AVENGERS #43 hits stores on Wednesday, March 3rd, making this the fourth installment of the Enter the Phoenix run. After choosing some of the world's most accomplished heroes to compete in a tournament, the Phoenix Force decides to survey all it has brought together. And after revealing a unique connection with Thor last issue, it's attempting to forge a greater connection with him. But what purpose does it have for the other champions in this tournament?
Story
The Avengers, their allies, and a few unsavory actors have been the focus of the Phoenix's tournament for the past three issues. And while this is still the case, we see the events told by someone other than the characters themselves. The Phoenix makes it clear that it is in charge of the narrative.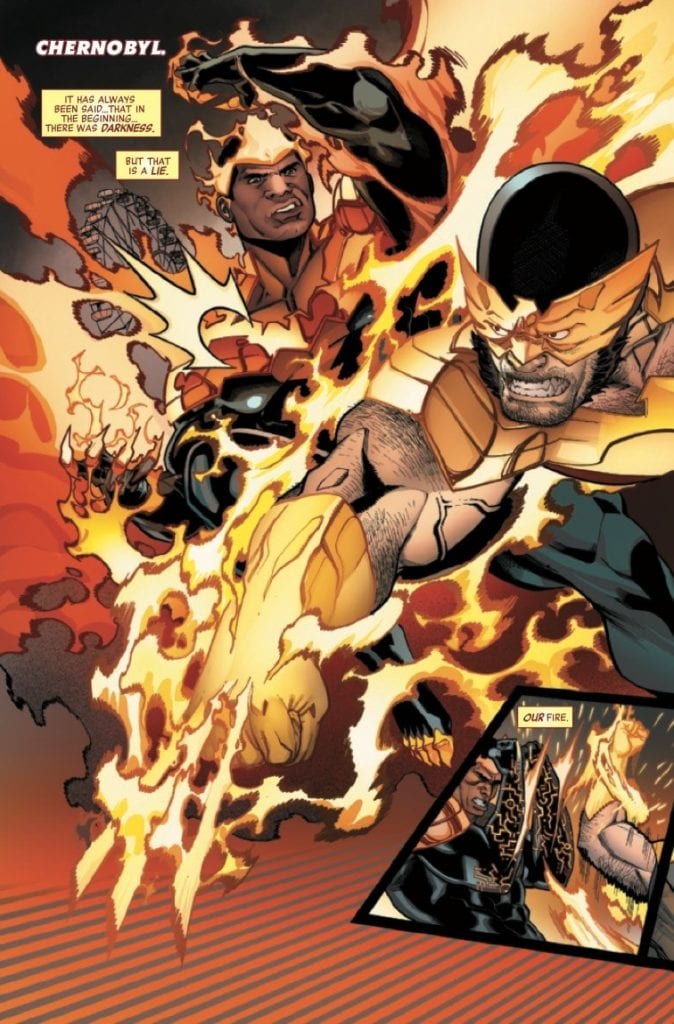 Amidst a bloody fight between Black Panther and Wolverine, the Phoenix narrates a tale of its own. It reveals that it was one of the primordial forces of creation, existing as light long before any other mortal beings. This hype up of the being's influence establishes a clear hierarchy of power. And as its narration continues throughout each individual battle, we learn more about its motivations.
Jason Aaron's narrative does a beautiful job showcasing the Phoenix's personality. The rage of the heroes fighting in its power is amplified by the sheer authority laced throughout its speech. We can't wait to see what lies in store as its might grows.
Artwork
Penciler and inker Javier Garrón's depictions of characters in combat captures the sheer brutality of this tournament. The slugs, kicks, and flames envelop each one with red, orange, yellow, and black shades, courtesy of colorist David Curiel. These aesthetics pair perfectly with the Phoenix's cryptic dialogue. Letterer VC's Cory Petit's narration boxes, cast in yellow and red, frame each scene to keep us focused on both the words and illustrations.
Conclusion
AVENGERS #43 gives readers an intriguing look into the mind of the Phoenix itself. We're anxiously awaiting the reveal of the Phoenix's chosen champion.
Do you think the Phoenix will assert more control in the coming issues? Let us know in the comments below!