DEADPOOL #7, available in comic book stores Wednesday, October 7th, dives into the relationship between Elsa Bloodstone and Deadpool. The monster hunter recently discovered that the stone embedded in her palm is killing her, putting all romantic feelings between her and Deadpool aside. But this task is easier said than done. In fact, the opening panels show readers a possible consequence of their love.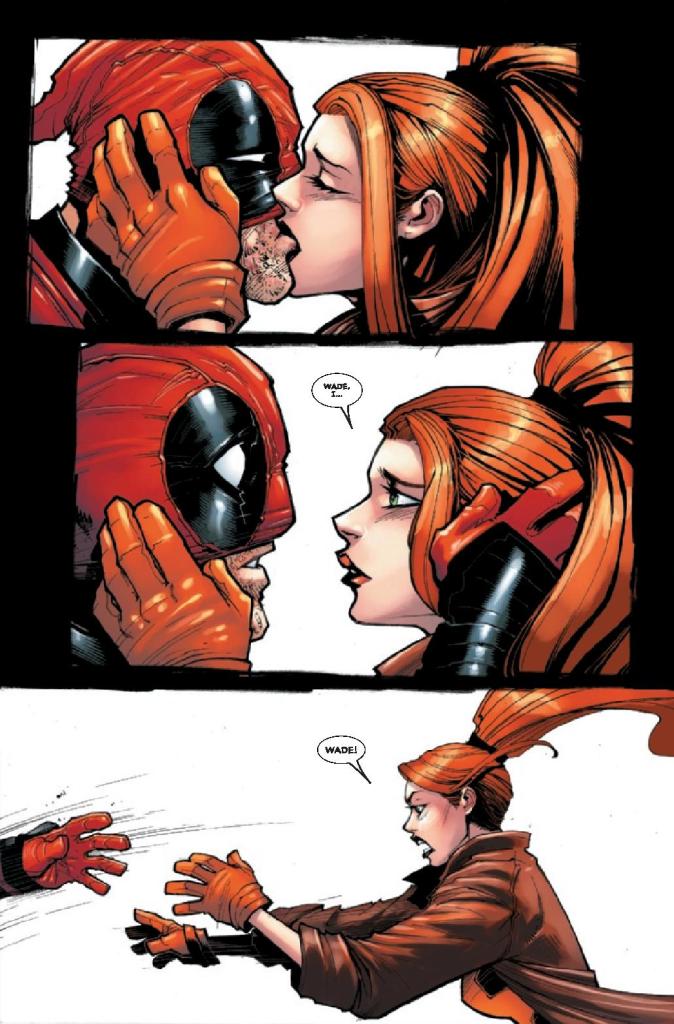 Story
Upon receiving news of his Honor Guard's return from their royal duties, Deadpool and Elsa make plans to begin their journey. Readers will find the two bickering over what travel method they should use. Watching the two argue over Barf's unsavory teleporting methods, whether or not to bring Jeff, and whether the seam's dimension will kill them or not.
Kelly Thompson's writing proceeds to guide readers through Elsa's memory of the dark dimension in fourth wall breaking fashion. We loved how much this annoyed Deadpool halfway through the tale.
Readers will enjoy following the two warriors to Greenland as they confront various monsters. The narrative mix of awkward romance and dire straits makes for an engaging story.
Artwork
Gerardo Sandoval's penciling and ink work, along with Victor Nava's penciling, cast brilliant images of the mercenary, the hunter, and the shark. Each individual is drawn with highly detailed expressions—so much so that one can tell exactly what the masked Deadpool is feeling. Alongside Chris Sotomayor's bright red coloring and VC's Joe Sabino's use of varied lettering sizes, readers enter a dimension of highly expressive scenes. The finished product captures the pure essence of Deadpool's character.
Conclusion
DEADPOOL #7 offers readers a thrilling tale of passion, betrayal, and, most of all, humor. It's issues like these that make us love the character of Deadpool.
What was the funniest part of this issue for you? Let us know in the comments below!