Predator #1 brings the iconic movie monster to Marvel Comics. After years of being published by Dark Horse Comics, the creature now arrives at a new publisher and a new era begins. This fresh expedition ensnares the audience thanks to Ed Brisson (Writer), Kev Walker (Art), Frank D'Armata (Colors), and VC's Clayton Cowles (Lettering).
HUNT. KILL. REPEAT. In the near future, a young girl sees her family slaughtered by the deadliest and most feared hunter in the universe: a PREDATOR. Years later, though her ship is barely holding together and food is running short, Theta won't stop stalking the spaceways until the Yautja monster who killed her family is dead…or she is. Ed Brisson (IRON FIST, GHOST RIDER) and Kev Walker (DR. STRANGE, DOCTOR APHRA) forge a violent, heartbreaking and unforgettable new chapter in the PREDATOR saga not to be missed!
Writing
The issue opens by introducing Theta, a character on a quest for vengeance against the Yautja who killed her family. To achieve this goal, Theta has immersed herself in the culture of the hunt in an effort to track down the creature and exact her revenge. There is a good sense of pacing as Theta's history, purpose, and mission are laid out smoothly. The audience is also able to grasp how this path is weighing on Theta.
Writer Ed Brisson achieves a lot in different areas of this issue. Attempting to both introduce the Predator mythology to Marvel Comics and tell a good story is no easy feat but Brisson is able to accomplish it. This is accomplished with Theta, a character who has submerged themselves into so much Yautja culture it is becoming dangerous to her safety. This is made obvious when Theta is attacked by the local aliens of the planet she visits, only to be attacked because she is wearing Predator armor. The possibility of where this path will lead Theta will ensure people come back for the second issue.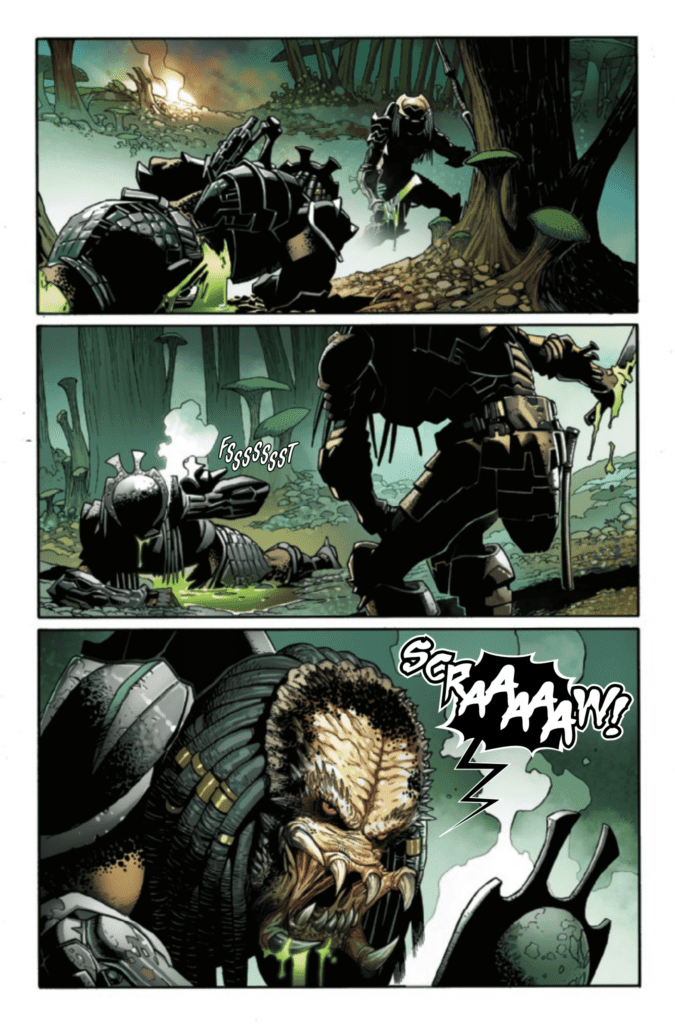 Artwork
Kev Walker achieves an impressive feat by presenting a great balance of action and emotion through the artwork. Theta is shown as both a powerhouse and a sympathetic character thanks to her facial expressions and mannerisms. At the same time, the action scenes are intense and bloody.
The color work by Frank D'Armata adds to the action and intensity of the scenes. Making sure, of course, to present them with neon green blood. The color work also sets an immersive tone, such as on the Theta's spaceship. It features a rundown look to convey how taxing this mission has been on Theta's equipment.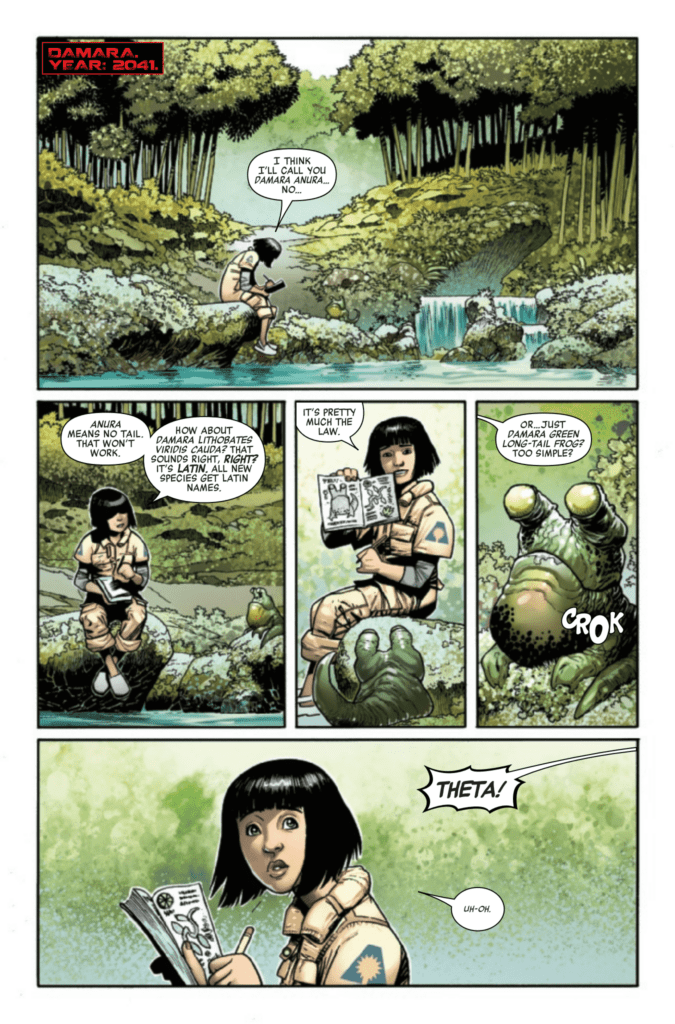 The lettering by VC's Clayton Lowles adds to the atmosphere of the issue. There is some great sound effect work present complete with the Predator removing their helmet with a satisfying "Fsssst." There also is a nice bit of work where the sound of an alarm going off carries over from panel to panel continuously, making it really feel like an alarm is going off.
Conclusion
Predator #1 is a gripping introduction to the character and an astonishing read for new and old fans. It offers a likable character in Theta and hooks the audience on her journey for revenge. One can only hope Theta doesn't get lost in the hunt along the way.