While 'Moana' As A Whole Is Amazing, The Real Star Of The Piece Is The Soundtrack
I feel bad for anyone going up against 'Moana' for Best Original Song at the Academy Awards because this soundtrack is rockin! Yes, the entire film is breathtaking but Lin-Manuel Miranda's music makes this a knockout.
I haven't heard songs in a Disney film be this important since 97's 'Hercules'.
Before getting too deep into just the music behind 'Moana', I have to talk about the movie itself. The latest piece from Disney Animation Studios tells the story of a teenage girl who journeys out on a dangerous mission to save her island and her people. Along her way, she meets a once-mighty but cocky demigod who is an important part of her destiny.
This wonderful story is adventurous and non-stop. Rarely do you get a second to catch your breath as you are on a whirlwind around the sea. Each musical number transitions you to the different set pieces or to another intricate part of the story. Everything flowed together and that's the work of veteran Disney directors John Musker and Ron Clements.
The way Musker & Clements bring every element from animation to music to performances proves why they've worked with Disney since 1986. The duo shined with 'The Little Mermaid' and 'Aladdin'; 'Moana' is about to reach that level quickly. The two previous mentioned films not only had great soundtracks and fun visuals but they are both led by great leads. The strong-willed tribe chief's daughter is another example of how amazing their central characters can be. Moana Waialiki (Auli'i Cravalho) displays so many likable qualities and has to be one of the best female characters Disney has put to screen.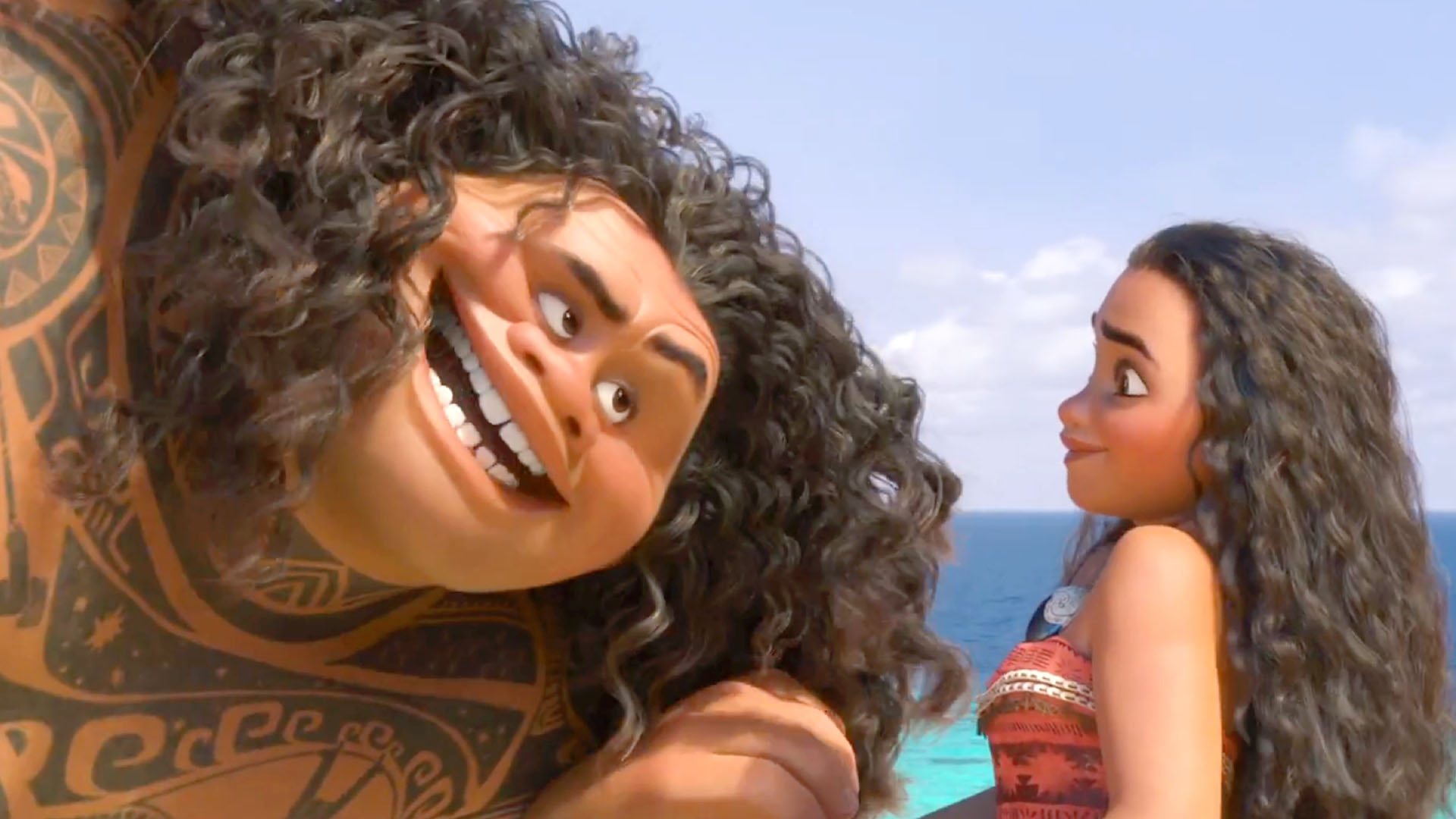 For generations this peaceful island has been home to our family, but beyond our reef a great danger is coming. Legend tells of a hero who will journey to find the Maui, and together the demigod Maui, and together they will save us all.
-Gramma Tala (Rachel House)
It isn't only about Moana though. Demigod Maui (Dwayne Johnson) is a hilarious addition who brings some brawn to Moana's adventure. Dwayne Johnson doesn't let anyone down with a memorable performance. Without a doubt, this is his funniest role to date. But every character, no matter their part, feels fully realized. Village crazy Gramma Tala is a scene-stealer. Also, actor Alan Tudyk does great voice work again with his performance as wacky chicken sidekick Hei Hei. Even the ocean water that surrounds the characters feels as if's a player in this story.
Going back to my original point, the work Lin-Manuel Miranda & Opetaia Foa'i did for the soundtrack is what makes this an instant classic. All the songs from start to finish are memorable, funny, and so bold. My personal favorite is Shiny performed by the villainous crab named Tamatoa (Jemaine Clement). You can hear many influences in the number and reminds me of the brilliant Oogie Boogie song in 'Nightmare Before Christmas'. Also, shoutout to Mark Mancina for a wonderful score. The music moments between the bold songs are beautiful.
Final Thoughts:
Walt Disney Animation Studios knocked it out of the park this year. Following 'Zootopia' was going to be hard but 'Moana' sailed right by it.
Auli'i Cravalho as the titular character makes her mark as the newest in a long line of iconic Disney heroines. Moana could be a great role model for this generation's young girls. She's backed by a strong cast all driven by an amazing narrative. All that weaved together with show-stopping musicial numbers co-created by the man who did 'Hamilton'. We are looking at instant award season gold here.
What's not to love about this movie!?
---
Synopsis: On a mystic island in Polynesia, the 16-year-old strong-willed daughter of the chief of the tribe, Moana from Motunui Island, is chosen by the ocean itself to reunite the Heart of Te Fiti. She sets sail in search of Maui, a legendary demigod and hopes to save her people.
Genre: Disney Musical Adventure
Country: USA
Director: Ron Clements, John Musker
Starring: Auli'i Cravalho, Dwayne Johnson, Rachel House, Alan Tudyk