Three X-Men books were tied into the Inhumans Vs X-Men event: Uncanny, All-New, and Extraordinary. While the three series are all by different writers and artists, they all followed the same model for the crossover event. Each issue is a focused character piece, observing how the war between the two groups of heroes affects several X-Men individually. This concept was an excellent editorial choice, as it created a sense of unison between the three books and increased the weight of the events. In fact, it's a shame that the crossover issues of Uncanny Inhumans didn't use the same model. Oddly, that series didn't even intersect with the events at all but followed an entirely different set of characters who weren't at any of the battles. The story was fun but just didn't feel necessary. But the X-Men went for pathos, and it made the finales stronger.
Because all three volumes acted more like a series of one-shots, reviewing them all at once makes it a little odd. So this review will focus on the best issues from each volume, and an overall assessment of the volume, including art and writing.
Uncanny X-Men: Superior Vol 4: IvX
(collecting issues 16-19, Annual 1)
Writers: Cullen Bunn, Anthony Piper (Annual)
Art: Edgar Salazar, Ken Lashley (#17, Annual), Anthony Piper (Annual)
This volume was probably the weakest out of the three series, but it still had some great moments. The first issue focused on Fantomex, the next on Sabretooth struggling with his inner demons as he tries to help Monet fight her own. The finale saw Psylocke in a brutal fight with Magneto, but ultimately a rushed story. The annual had a great story about Elixir coming back with immense power, and a fun story with Domino.
But the best story goes to issue #18, which focused on Xorn, who wasn't even a member of the team, oddly. Xorn spent the series protecting mutants who fell victim to the Someday organization, offering them a haven in his monastery. Then the war hits, the X-Men take over New Attilian, and someone needs to play warden. Xorn, Archangel, and Sebastian Shaw take command over the city, and the "Sleepers" that Someday exploited became prison guards. Xorn, striving for peace, is conflicted with his role and feels that he has betrayed the Sleepers by putting them into a conflict that they came to him to avoid in the first place. We don't get a lot of Xorn stories, so an entire issue dedicated to him was great to see, and it developed him nicely—especially his final decision on where he would go after the war. (SPOILER: The moon!)
Overall, the art serves well, and the writing is probably the strongest the series had in its entire run. Lashley's issue in Limbo was probably the best drawn, just for the landscape.
Overall: ★★★½
---
All-New X-Men: Inevitable Vol 4: IvX
(collecting issues 17-19, Annual 1)
Writers: Dennis Hopeless, Sina Grace (Annual), Rex Ogle (Annual)
Art: Mark Bagley, Paco Diaz (#19), Andrea Boccardo (Annual), Cory Smith (Annual)
The series had the best art of the three books. Here, we get stories from Iceman and his Inhuman boyfriend Romeo, who wants no part of this war. Best revealing to the rest of the original five that they are lost in the timeline when he brings them back in time and reveals they never left, and, one of the cutest stories yet, Idie's first date.
For this volume, it is also #18 that stands out, focusing on young Cyclops. He hates himself for what his older self-has caused. But then something happens—Mosaic takes over his body, right after possessing Magneto. Because of this, he sees what happened to Old Cyclops, that he died from the M-Pox virus and it was Emma Frost who started the war between X-Men and Inhumans. The curse he's felt for months that he would grow up to be a terrorist is lifted, and he's pissed. It was the best way to conclude Cyclops character arc for this volume. Now he can go back to being hopeful.
Overall: ★★★★
---
Extraordinary X-Men Vol 4: IvX
(collecting 17-20)
Writer: Jeff Lemire
Art: Eric Koda (17, 19), Victor Ibanez (18,20)
The series with the best writing out of all three books also had the worst art. It's inconsistent, and both artists tend to make the characters look like mushed clay. These stories deserved a lot better. We get Forge making peace with both Storm and Old Man Logan. In fact, Logan and Forge need to go on more adventures together. Magik likewise comes to terms with how she had to kill Sapna to protect X-Haven. And there's a cute adventure of the X-Men saving Cerebra after the final battle in Inhumand Vs X-Men.
Without a doubt, and the best issue not just in this book, but in all three, is #17—and the focus isn't even on a major X-Men character. At least, not directly. This story shows what was at stake for the mutants more than any other. A teenage girl goes looking for Storm as her little sister is dying from M-Pox. All her sister wanted since having to go to X-Haven was to meet Storm, and the older sister is set on making that happen, even as the X-Men ignore her, and Storm is preparing for war. It's an important moment for Storm too, a reminder that they don't have time for diplomacy. Spoiler…it's a sad story. It would have been a beautiful story if the art was better.
Overall: ★★★★
---
X-Men Prime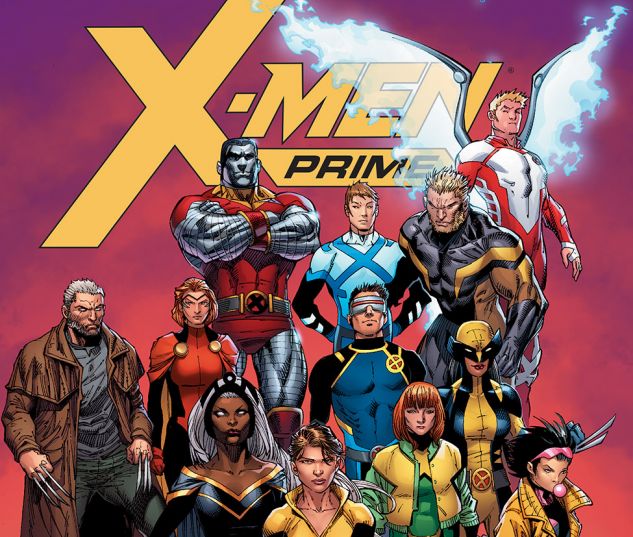 (collected in both All-New X-Men: Inevitable Vol 4, and Extraordinary X-Men Vol 4)
Writers: Cullen Bunn, Mark Guggenheim, Greg Pak
Art: Leonard Kirk, Ken Lashley, Ibraim Roberson
This didn't need to be collected in two volumes, other than maybe to pad All-New X-Men's final trade. It fit well at the end of Extraordinary X-Men though, since a lot of it dealt with Storm wanting to leave the X-Men after leading them into war (something Medusa also did in Uncanny Inhumans). Using Kitty Pryde worked wonderfully, as she was out in space during the entire conflict, and is coming in fresh, seeing the wounds that M-Pox caused, and the confusion over what to do next. Her choice, and stories teased to come is enough to make any X-Fan excited.
Overall: ★★★★½