Nyctophobic is a horror short film by writer/director Theo Francocci (Rick & Morty) about a woman battling inner demons while real demons, both human and other, run amuck. 
The film begins on a dialogue-less scene that delivers a gruesome reality through creepy camera work, great performances, and an ominous painting hanging in the background. The painting is The Nightmare by Harry Fuseli, and in the short sequence, the film delivers its antagonist, the demon inside the artwork. Alex Knell (Baker's Dozen) plays Stacy, a woman with a fear of the dark. She's spending a quiet night with her ex-boyfriend Mark played by Theo Francocci. The dark story plays out between Mark's tough love and supernatural horrors.
PopAxiom spoke with Theo Francocci about going from being an audio description writer on projects like Rick and Morty and The Royals to creating the horror of Nyctophobic.
Sound & Story

"One of my dreams was to become a singer/songwriter," filmmaker Theo Francocci begins. "So, I moved to London in 2010 to study sound engineering. While there, I discovered sound design."
Theo fell in love with creating sound for pictures. "I met the right person at the right time and had the right connections and ended up at Studio Marinelli in Rome, Italy. They were famous sound designers with a massive history working with Fellini, Antonioni, and Leone. Masters of the time. I learned the job there and so much about the history of film."
"Sound plays such an important role in making a story unique."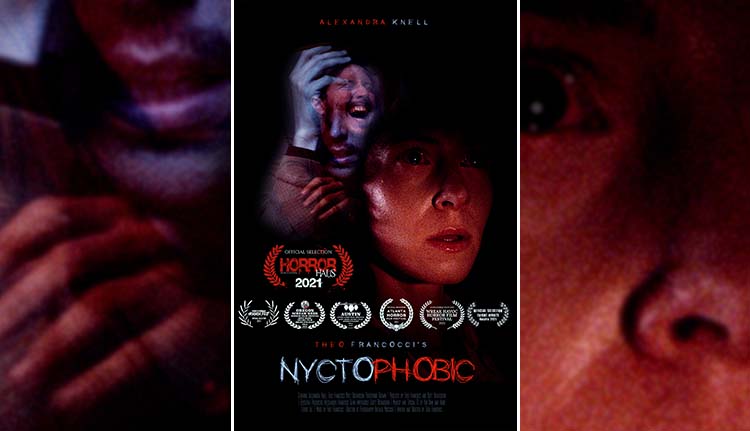 About Nyctophobic
Years, projects, and some film schooling later, Theo conceived Nyctophobic. "It connects to COVID very much. The pandemic made our fears emerge. We were lonelier and surrounded by a world that seemed more hostile. I like to get into the psychology of things, so I reassessed my traumas. That's where the characters came from; my fear of darkness as a kid. I attached that fear to the protagonist Stacy. That fear of darkness is so relatable; I think everyone had it at some point. It's profound."
"So, I asked," he continues, "'What if this character is so traumatized that it affects her life; her relationships and work?'"
The process started around October of 2020 while Theo was in school. "We had an exercise to try and describe a scene with dialogue only. No action lines. That was the beginning of their script and the dialogue while they were sitting on the floor."
The exercise was complete, but Theo "felt that dialogue could be developed more, so that's what I did. I finished it on Halloween of 2020. I made a pact with myself to start the production and have a premiere by next Halloween." Mission accomplished.
Making Nyctophobic
"I wanted that scene to be visual and live on those sound effects of the footsteps and the crackling," Theo says about the haunting opening scene. "It wasn't complicated to shoot, but it was tricky to get the sensation. So, we worked with the actors to get the movement. Then later in post-production with the sound and camera effects."
Theo says, "being on set is problem-solving from the moment you arrive to the moment you leave. So, rehearsals are so important for me because I want to get to set and just know that the actors are comfortable with what they're doing."
"Delegating and trusting your people is vital," he continues," You have to trust the people you're working with and make sure they trust you and see your vision."
Theo plays one of the two primary characters in the film. But that wasn't the plan. "I didn't want to be the lead. Being the director is already so much work. It's a lot."
So, what changed? "I had an actor that I liked, but the timing didn't work out. He got a better offer for a TV show, so we were happy for him. But it was two weeks before shooting, and I was trying to recast quickly. So, I had a conversation with Matt [Richardson], my co-producer. He said, 'no one knows the character like the writer.'
"So, I thought," he concludes, "'well, this character's going to have an Italian accent.'"
The star of Nyctophobic went to Alexandra Knell, who Theo says "was perfect for Stacy. She's got so much experience and talent."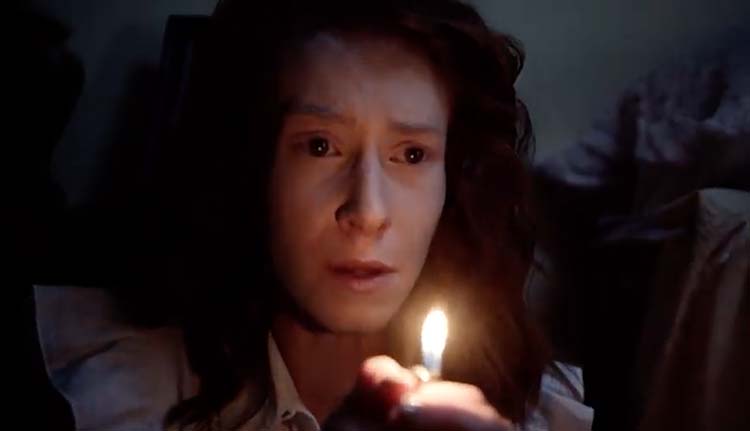 The Creeps

Nyctophobic is the best kind of horror that blends real fears with supernatural frights. It all starts with the painting. "I love that painting; The Nightmare by Henry Fuseli that was there since the script. It gives me the creeps. I fought to have that painting."
"We got in touch with the LA School of Makeup," he says about creating the demon's design, "we had a sort of casting. So we asked everyone to submit what a demon of darkness would look like. We received a lot of incredible designs. But Yun Nam blew us away."
The final look "had that Voldemort nose but was very much like a scaly reptile for Theo. She understood all that."
In Nyctophobic, there's a moment that's a clear reference to The Shining, "Why not? I love Kubrick, and I wanted to do that as precisely as possible."
Inspirational Cinema

We discuss cinema worldwide, and Theo shares his thoughts about his homeland "Italian cinema is a lot about style, especially in horror. We're able to make good movies with very low budgets. It's a necessity that I think we mastered along the way."
"Korean films," he continues, "like Parasite blew my mind. They have a huge history and tradition in films. Now they've blown everyone away with Squid Game."
As for the US, Theo says it "is the driving force of the entertainment industry. Whatever gets made here sells all over the world. I love the direction into more diversity and embracing different styles."
"It's always great to let these incredible pieces of art from these incredible places inspire you."
The art is an inspiration, as are the people creating it. "We spoke a lot about Italian masters, but Roberto Benigni is one of those actors/directors that I carry in my heart. Life is Beautiful is one of my favorite movies ever made."
"Katherine Bigelow … Strange Days and Zero Dark Thirty were so intense," he adds, "I love the realism and darkness."
"Martin Scorsese. I need to say, Jordan Peele. He's a beast. He can do comedy, horror, whatever he wants. Tim Burton. Christopher Nolan. Ridley Scott. I'll stop there," Theo laughs.
Wrapping Up
Asking Theo about a dream project prompts a quick answer. "I wrote a pilot for a TV show last year, and it's about the death of Julius Cesar. That would be one of my dream projects. I love culture and ancient Rome. Building a set that would be authentic and the costumes. At the same time, having VFX, beasts, animals, ghosts, gladiators. Make it feel like fantasy, but it's history."
Nyctophobic is making the rounds at film festivals. So, what's next for Theo? "I'm always working on something else. That's how creativity works. You're focused on this, but your brain is like, 'but what if we do that?' So I'm working on another short film called Living in Color.
Is Nyctophobic on your watch list?  
Thanks to Theo Francocci and Lumos PR
for making this interview possible.
Read more PopAxiom interviews from Ruben R. Diaz here!