Painted with Raven is a competition series on Wow Presents Plus in its second season. Hosted by Ru Paul's Emmy-winning makeup artist and right-hand wo[man] Raven, the series is all about creating beautiful work with up-and-coming makeup artists.
Drag queens are like superheroes with secret identities behind their fabulous costumes. In Raven's case, her not-so-secret identity is David Petruschin, born in Southern California. Today, Raven's flown far from her desert home and traveled worldwide, creating fabulous looks along the way. She's become friends with the queen of all drag queens, Ru Paul, and now has her own series, Painted with Raven, that opens the door for other makeup artists to show their skills.
PopAxiom spoke with Raven about becoming a makeup artist and going from David to Raven.
Inspired
"I know how to click the link. I forget that the camera is on. I don't have my microphone ready. I'm still learning." We had technical difficulties starting, all on my end.
Raven's story begins in Victorville, California. "When I Was a kid, I loved playing with makeup. I loved doing my sister's makeup. I was a boy in the 80s and was not supposed to wear that. Everything was very — blue is for boys, pink is for girls. You only saw a guy wearing makeup because he was in a rock band."
"I knew I wanted to do it," she says. "I'd watch my mom putting on makeup. Anytime anything came up like Dynasty, the beauty and makeup, it was so enthralling."
In secret, young Raven "started playing with it myself. In high school, I would do my friend's makeup. So I knew I would love to be a makeup artist."
"It wasn't until I started dabbling in glamour boy makeup, just before I got into drag, I thought, I want to do my makeup," she explains. "I like doing my own. So it went from drag to getting on Drag Race to painting the Queen of Drag Ru Paul really fast."
Raven doesn't take for granted the wild change in her life. "I went from wanting to do makeup to painting the person who inspired me to start doing drag and doing my makeup."
Journey Into Drag
What was the learning process like for becoming a drag queen? "I feel like I'm still learning. I feel like people should always be learning. You should always download new software or upgrade to a new version of yourself."
"I remember going out to clubs before I started doing drag, and I loved watching drag shows; the audience responded and how beautiful and glamorous it all looked." But back in time, things were different. For example, "… the resources there are now did not exist. You couldn't find tights in a bunch of different colors, cosmetics, wigs, costumes, or jewelry. You had to be very self-sufficient and be able to utilize what was within your radius."
Raven's early shows as a backup dancer were part of the learning process. "I would watch what everyone was doing and wanted to do it. But it wasn't until I saw Chad Michaels, who won All-Stars 1 … I knew that's what I wanted to do. In the show, I watched him go from Celine Deion, then about 20 minutes later, he came out as Cher, which is his thing. Twenty minutes later, he came out as Marilyn Manson."
"So, on my journey, it's been different versions of myself," Raven explains all those versions of herself. "There was the gothic dark princess version, the glamazon, the club kitty version. I feel like I have all that stuff, and I can pull that out once in a while. I feel like I'm not just one type of queen but a little bit of everything."
Raven's philosophy for versatility is simple. "Why not? We're playing dress up. So why not be anything you want to be? You're given this body, and on official papers, you have a certain name, but if you can spend a couple of hours dressed up decorated as something else, it's fun, it's freeing."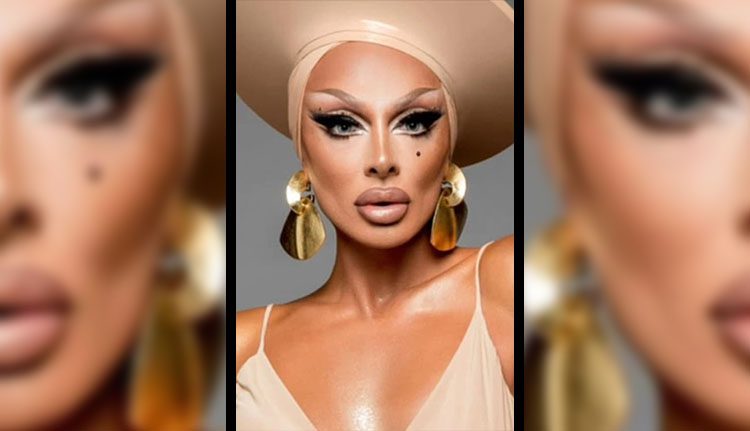 Becoming Raven
"There's not much of a difference," Raven says about herself and the man behind the mask. "It's a little bit of a character. There are different ways I carry my hands and act and walk. It's an extension of who I am. Ru always says, 'drag reveals who you are.' There's that little bit of a diva or a bitch or old lady inside of you that when you get in it, it comes out, and you exude that. I feel that Raven is not one thing; she's everything."
But there is a ritual to bringing Raven to life. "The process is the invoking of the spirit. I like to give myself four hours to get ready. I don't necessarily need it, but I just like that. I take my time. I do a little this and sit back a minute instead of feeling rushed. I can think about things. I have a formula for the way I do my makeup. I love the process of getting into it."
"It's always laying right under the surface," she says about all of us and that liberated alter ego. "Once you put on those lashes and high heels," she snaps, "it comes right out. I've seen even the straightest of men put on the costume and makeup, and there's a little 'swish' in the step. Drag gives you a sense of empowerment."
Wrapping Up
Raven's got a long list of [super]heroes. "There are so many greats. Madonna has always been. Cher, Diana Ross, Tina Turner, Liza Minnelli, Judy Garland, all of the greats."
"The reason that these people are the gay icons a lot of people say they are," she says about the super-list, "is because they are drag. They were putting up all of this gaudy stuff, lashes, heels, makeup to go out and do these shows that made a lot of drag queens say, 'I want to do that.' So to be someone that others want to impersonate, I say, makes you iconic."
Raven's inspiration draws "… from the 20s, 50s, 60s, eras from long ago. You look at them and know what era it is because it's so distinct. Everything was so polished, and it's come around again. The influx of the beauty industry where now everyone is doing a little bit of contour, highlight, lashes, and lipstick."
"Because we went through a spell where it was just sweatpants, sweatshirts, and trucker caps for everyone," she reminds us, though not disparagingly. "Not that it was lazy, it wasn't that little extra where you see every woman wearing lashes, even men. People are going out into the world and have bought themselves a couple of little trinkets they put on."
It's been one dynamic journey from mere mortal to drag queen. "I went from being a stifled kid growing up in the desert thinking this is what the rest of my life would be like to my early twenties realizing there's a whole world out there. I've become the makeup artist for the number one drag queen in the world and compete on her show. I've been given my own show now too!"
"I wanted to travel the world and show the world what I do," she adds with a big smile, "I've been able to see the way different cultures do drag. All these things we do here but in their way."
More is to come from Raven as she considers the future. "I think the next step would be collaborating with someone on a makeup line."
"Painted with Raven season 2 on Wow Presents Plus" is where you can find Raven for now. "It's an amazing ride. Eight fabulous artists from all over the country. Each brings their expertise and learning from the other along the way. It's an amazing thing to watch."
Is Painted with Raven on your watch list?
Thanks to David Petruschin and Metro Public Relations
for making this interview possible.
Find more interviews from Ruben R. Diaz!