Kids Imagine Nation is a trio of former Disney performers making vibrant, head-bobbing, visually exciting entertainment for kids and the whole family. It's equal parts educational and undeniable fun!

Seconds into any Kids Imagine Nation (KIN) video will have viewers bobbing their heads. The music is something that people of any generation can relate to, making Aaron, Rachel, and Beatz the Robot stand out as a kids entertainment troupe. KIN covers topics ranging from colors to creativity, consistently delivering it with energy fueled by the singing and dancing and thriving on a growing narrative between the characters and the world they inhabit.
PopAxiom spoke with Rachel and Aaron about the trio coming together, the process behind creating Kids Imagine Nation. Unfortunately, Beatz, the Robot, was unavailable due to the interview taking place during his recharging cycle.
Happiest Place
Aaron and Rachel have been into musical theatre since a young age. So, where did the trio meet? "We all met through Disneyland," Rachel says. "We were all performers. Aaron and Beatz the Robot were musicians, and I also performed there. We were passionate about creating our original music and show."
Aaron continues, "Beatz the Robot and I started writing music for kids. We wanted to keep that energized element because our band (Suburban Legends) is a ska band. But we wanted to make sure rock is there and musical theatre to get kids to see the love of creating."
"It's a culmination of everything we love to do," Rachel adds, "It keeps us young and in the mindset of the kids."
Kids Imagine Nation packs a lot of electric entertainment into a small package. "At the root of it, we're storytellers. We write a new summer musical every year. So, we said this year was going to be about 'saving imagination,' and so we created a great theme song for that."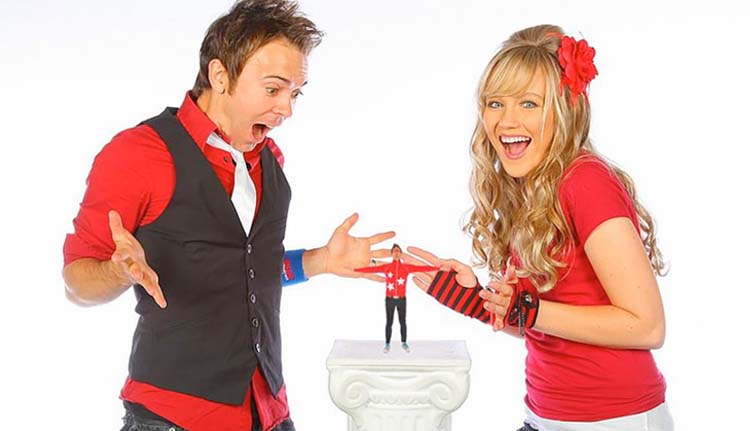 The Process
Kids Imagine Nation features original music, singing, dancing, creativity, and education for a relatively small operation. "We follow a traditional film organization with pre-production, production, and post-production," Rachel answers when asked about their process. "We try to think as outside the box for each video as possible so that they are all unique. That's part of imagination, so we want to inspire people to get creative. Whatever you can bring to the table, there's no right or wrong with art."
One video, Colors, examines the spectrum of reflected light. "For Colors," Aaron shares, "we had that idea for two years before we could do it."
"That's a big factor," Rachel affirms, "pulling all the pieces together to do the video. For Colors, we needed someone that would let us throw paint around."
Videos on their YouTube channel or website contain plenty of creative filmmaking. Aaron explains, "We do use green screen which allows you to do a lot of stuff. We sometimes build tiny sets, sort of dioramas and green-screen ourselves onto it which allows us to make some elaborate stuff."
Rachel happily declares, "We stumbled on that, but it goes so well with our theme of imagination. It shows that we can do anything with just this little box."
Creating their storylines includes a lot of magic. "We wanted magic to be such a huge part of our show. But we also wanted to sort of normalize it; it just sort of happens. We don't make a big deal about it or react because we just disappeared. It's part of our world."
Creating Music
Kids Imagine Nation has a lot of music. The group creates YouTube content but even more content on their website plus live shows. "We were writing a lot of music in the beginning just to get us going for our live shows," Aaron explains. "We decided to take that and make it our TV show. When we started writing actual episodes, we said, 'we want a song there, and it's about having a bad day, so we'd write a song for that so that it flows."
Rachel adds, "So, some of our songs already existed from our live repertoire, and some we do write specifically for episodes where it needs a 'musical theatre moment.'"
The trio sits down to write songs together, sometimes in as little as two hours. "Beatz the Robot produces all the music."
"Beatz the Robot's production is incredible," Rachel says.
The process continues when Beatz "… brings a microphone where we are," Aaron says, "We write. Beatz goes , yeah, that's me making music. That's how we musicians do it. We record the vocals and film the next day."
YouTube & Beyond
Rachel and Aaron love YouTube. She says, "It opens up what we can do. Instead of having to fill a box of what a network might require, there are so many people out there with a voice and a space to be creative."
Being a part of YouTube means understanding the state of its inner workings. "For two years," Aaron shares, "we were doing something every week because the algorithm at the time said that's what you do. We'd do a story episode that was about 7-15 minutes long, which were our adventures, then we'd do these educational vignettes. I'd teach musical instruments, and Rachel would interview guests for her tea party. Beatz was doing curriculum for ages 3 and 4."
"Those vignettes would focus on one character," Rachel continues. They were "easy to film," according to Aaron, and Rachel affirms, "We'd do three at a time sometimes."
Aaron would have musicians "… come in every hour, film [the vignette] real quick, get those out and new people in."
The trio made content in batches; Rachel explains, "… a lot of the filming, we'd do every Saturday and Sunday for a month. So we have a lot of stuff on our website."
Current fans and future fans of Kids Imagine Nation can catch them on YouTube, but the website is where even more magic happens. Both beam with the excitement to share, and Aaron begins, "The way we do our live streams on our web channel, it's all our content for kids. When we go live, it cuts into that channel. We do transitions; we go outside and inside; we play games. All the while, there's a chatbox."
"It's a sort of choose your own adventure too," Rachel joyfully adds.
Aaron ends by saying, "So, maybe someone says 'Zachary loves the trumpet' so we say 'I love the trumpet just like Zachary!'
Wrapping Up
Kids Imagine Nation inspiration in every corner of the entertainment spectrum; Rachel says, "I'm inspired by musical theatre, especially modern musicals like Legally Blonde, Wicked, or Hamilton. Anything that's a current modern pop musical we love so much."
"Also, anything that Disney does," she continues, "Their musical animated movies; the magic, joy, and positivity of that we love. We're always looking for inspiration. Canadian rock band Marianas Trench makes very story-based albums, which inspired us to do the same with our albums."
Always at work, Kids Imagine Nation has a new album coming. "Our newest album is a musical. So, if you play it from top to bottom, there's a sort of radio play that comes between the music."
Aaron adds mention of some pop-culture inspirations. "Doctor Who, Ghostbusters, Back to the Future. I love science fiction. To take that and meld it into something new for kids is what I want to put that out to kids."
What's next for Kids Imagine Nation? "A million dreams keep us awake," Rachel utters with a smile. "We're working on a few new albums and pre-production on our next web series. Then, of course, our streaming service always has the things we learn and share because we're always traveling."
Get creative with Kids Imagine Nation!
Thanks to Rachel, Aaron, and Impact24 PR
for making this interview possible.
Read interviews from Ruben R. Diaz here!