The Super Bowl is the second-biggest sporting event of the year behind the World Cup, and Carvana introduced that captive audience to the Oversharing Mom who loves everything about her car a little too much. Director Paul Trillo figured out the puzzle to create this popular advertisement.
It's entirely possible that the Super Bowl is the only event where millions of people watch the commercials. In fact, studies suggest that nearly 50 percent of viewers watch solely for that reason. In the Oversharing Mom, viewers are treated to a hilarious performance from Michelle Simms, some precision editing, and slick direction. The piece comes from ArtClass, a next-gen production and post-production company founded by award-winning director Vincent Peone and veteran producer Geno Imbriale.
PopAxiom spoke with director Paul Trillo about making the shortest short films, known as commercials, and making the Oversharing Mom.
Problem Solving

Paul's love of film began early on, when he received a video camera in middle school and began making stop-motion Star Wars toy videos. Things only progressed from there. "In high school, we'd do weird skits and Tom Green-esque kind of things. Our school had a green screen and some cameras." By the end of high school, he was learning Premiere and After Effects.
Paul went to art school for painting, but gave that up because he kept wanting to pick up the camera. His time in film school wasn't conventional. "It was very much an experimental, conceptual-based school. So I resisted that a little."
"I wanted to do comedy stuff," he explains, "while everyone else was doing their art films." That teaching started to trickle into Paul's work after college, despite the clash. He began doing experimental and technique-based short films and music videos.
His brand of filmmaking garnered attention on Vimeo a little over ten years ago. Eventually, after a lot of technical work around camera moves, VFX, and blocking, he started on commercial work. "The problem-solving aspect is very engaging. It gets stale after a while to have only technical work."
About The Oversharing Mom
Things freshened up immensely when ArtClass and Carvana came calling. "I was excited about the Carvana spot. It was part of four ads, but this one was more comedy-based."
"All four spots are so different," he explains. "The other ones have some sort of technique or production design element. For one, we built a goldmine on a stage. Another is told in an Edgar Wright sort of style. Another is VFX heavy. They all had these different ingredients. So, they were looking for a director who could adapt and have a lot of different things that they've explored in their work."
That director was Paul. "It was a competitive pitch, but I gravitated toward the Oversharing Mom. They gave me a template about a mom badgering different people with her spiel. So I found different ways to have fun with that."
"We probably had about three weeks of pre-production and eight shooting days," he shares. "That's for all four. One spot was on a stage; another was in multiple locations; we had interiors, exteriors, and night exteriors. So it was a huge puzzle trying to figure out how to shoot all these ads in just a few days."
The answer to the puzzle was planning. "We shot one vignette with the mom one day. Another day we shot on the set. So we could spread it out and shoot multiple things per day." Filming ended in November, then there was about six weeks for post-production. "It's been a long process, but the spot landed in the Super Bowl."
Working With Arne

"It was bizarre and surreal," Paul says about the Oversharing Mom ending in the Super Bowl. "I found out just at the beginning of February." Paul spent several months with the spot close and on his screen, so he had to watch the Super Bowl at someone else's house "to make sure it was real."
What's an essential part of Paul's process? "Working with storyboard artists. Some people are comfortable without storyboards. But a lot of the stuff I do is precisely timed or has some sort of shot design to it. So nailing the storyboards and animatics is vital to make sure each shot fits. You can figure out a lot of stuff later, but you have to have the bones of it ready."
"For this particular campaign," he continues, "there was a lot of production design. So, working with our production designer Arne Knudsen is also super-important to get things right. The tones, paint color, where we're putting the cameras in our 3D set design. So, it's only little surprises when you walk on set."
The Right Mom
"We were so lucky Michelle Simms came through," Paul says of the star who made the whip-camera moves and to-the-second editing all the better with her performance as 'Mom.' "This was a non-SAG shoot, so our talent pool was reduced. The whole thing lives and dies on the mom's performance. It made me nervous."
Paul admits that the auditions weren't bringing in anyone who had the right mix. "But, Michelle brought so much character to it, and she was the clear winner for all of us."
"Michelle Simms' strength," he adds, "shows how she stands out against these other ads with superstars. I hope they extend her contract and do more with her. She could carry more of these ads." Why not an 'Oversharing Mom' sitcom?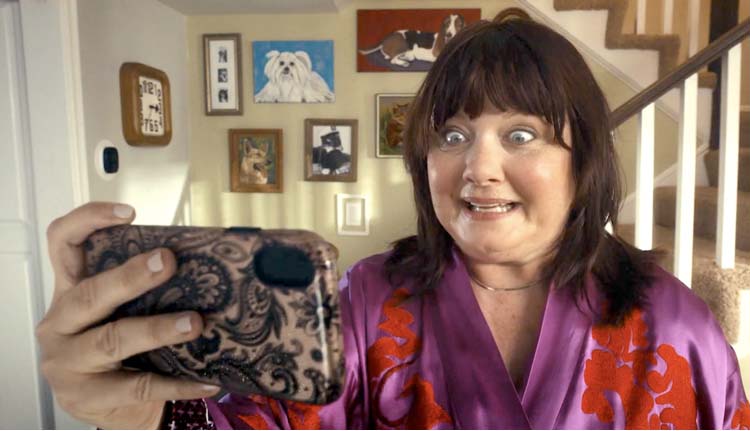 Wrapping Up
Paul's a cinephile who can rattle off a long list of influences. But he narrows it down for us. "I love the Coen Brothers. Everything they do always has such a strong tone. They're masters of tone and a huge influence on me. Early on with music videos, Michel Gondry and Spike Jones were able to do these conceptual-based music videos. I loved how what they do is very simple and very complicated. On paper, it's simple, but to execute it is where they show their strengths."
For the Oversharing Mom, Paul pulled creative energy from a particular place. "For this spot, I loved the work of Swedish director Roy Andersson (A Swedish Love Story, About Endlessness). He does these pathetic comedies with sad people in long takes. But it's sad and funny and poetic."
"I'm developing projects and taking a little break from the ad work. Last year [2021] was crazy," he admits. "It felt like two years packed into one after the near-stoppage of production in 2020."
One of those projects is a sci-fi documentary about a blind man who gets his vision back with the help of a device that's providing visual information.
What did you think of the Oversharing Mom?
Thanks to Paul Trillo and Impact24 PR
for making this interview possible.
Find more interviews from Ruben R. Diaz!