Image Comics' horror anthology series, Ice Cream Man, has been an exciting exploration of dread. Writer W. Maxwell Prince, artist Martín Morazzo, and colorist Chris O'Halloran have been delivering beautifully disturbing horror tales. In Ice Cream Man #4, we get the first real inkling of what this creepy frozen-treat vendor is actually up to.
***SPOILERS LIE AHEAD***
Our main story this time is centered around a deceased musician's estranged father and childhood friend. They're both carrying heavy guilt and regret, all coming to the surface in the wake of an untimely death. W. Maxwell Prince masterfully immerses readers into this scene of tragedy in a few short pages.
On the other side of this plot is the deceased musician, who finds himself in some sort of revolving hell. Martín Morazzo and Chris O'Halloran unleash an onslaught of uncomfortable imagery, all inspired by a cone of ice cream. The melting-face visuals and eerie transitions continue to wrap this comic up in a uniquely terrifying package.
Ice Cream Man's purposely dreadful tone comes through strongest in the art. There's an uncomfortable texture to the characters and landscapes that makes these scenes even more effective. This is a horror comic that rarely relies on gore-porn to qualify as horror, and when it does, it's more in the fun and ridiculous vein of A Nightmare On Elm Street sequels.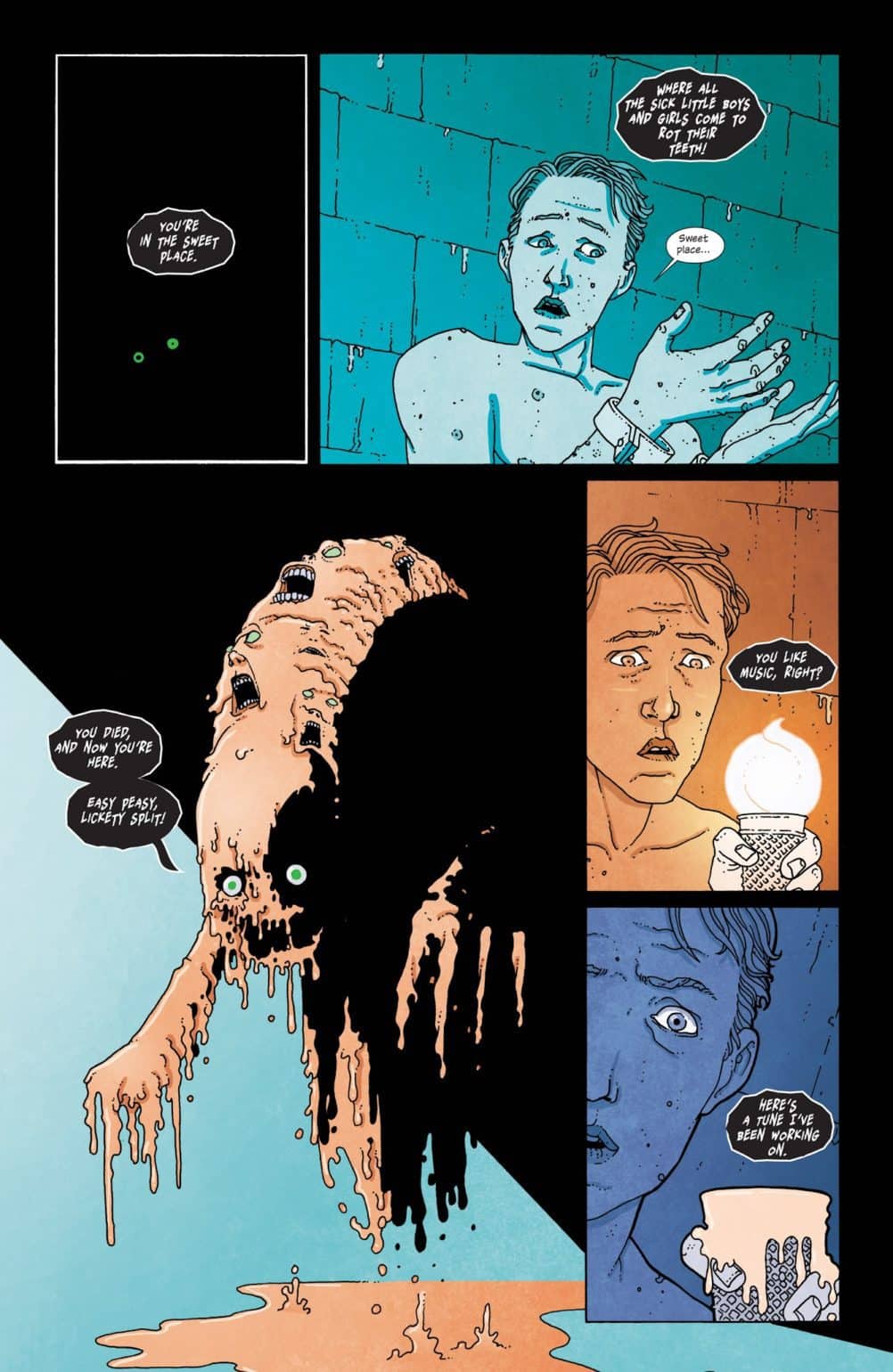 Following the scenes of hellish torture for our newly deceased musician character, somebody new pays the Ice Cream Man a visit. This "man in black" cowboy, Caleb, is familiar to the frozen-treat creep and even gives him pause. There's still plenty of mystery surrounding this star of this series, but this moment gives us enough to pose a few theories.
We may have thought that the Ice Cream Man was the Devil, but this dark cowboy's  introduction makes us think that there are beings higher on the totem pole of evil. Is this new character the Devil? If so, does that mean the Ice Cream Man is some sort of rogue demon, collecting souls and torturing the people of this small town without his overlord's consent?
Caleb says "I know what you're doing to the people of this town, friend o'mine" before promising to see him around. Perhaps Caleb's black attire is a misdirection and he's on the side of good. Could he be keeping tabs on our evil man of ice cream snacks? Maybe even some sort of authority in the realm of higher powers?
We'll have to keep reading to find out, but this issue took big steps towards this being more than just another horror anthology. Ice Cream Man #4 managed to give us all these questions and tell another effective horror story up front. The next issue isn't coming until July so we've plenty of time to theorize!