In September, Marvel Comics will launch DARKHOLD, written by Steve Orlando with artist Cian Tormey:
For hundreds of years, scholars and heroes alike have searched for the Darkhold—a.k.a. the Book of the Damned, written by the elder god Chthon. Now Doctor Doom, one of the greatest sorcerers in the Multiverse has found it, and Chthon has found him. To save them all, the Scarlet Witch recruits a group of the world's greatest heroes: Iron Man, Wasp (Janet Van Dyne), Black Bolt, Blade, and Spider-Man. But in order to enter Chthon's dimension and fight him, the heroes must read from the legendary Darkhold, which drives them utterly insane. Together, they'll have to confront their inner darkness to overcome the most powerful mystical threats the Marvel Universe has ever faced. Cover art by GREG SMALLWOOD
Today, Marvel announced Daniel Kibblesmith will write THE DARKHOLD: BLADE #1.
"Anyone who knows me (or follows me online) probably knows I've been writing this comic since the theater lights came back up in August of 1998. There isn't a single character more important to me as a Marvel fan and now creator, and it's a dream come true to put him through his own worst nightmare, said Kibblesmith via Marvel. Blade has been slashing his way down a dark path virtually since the day he was born — with his inner demons always barely held in check. When the Darkhold unleashes the greatest horrors the Marvel Universe has ever seen, we get to push Blade farther into the darkness than he's ever gone before and learn what makes a hero in a world that's already lost."
Check out Juan Ferreyra's cover art below.
About THE DARKHOLD: BLADE #1:
THE KING OF DEATH! Are you fanged, or are you food? The world is divided into humans and vampires – and Blade, the one who walks between them both…and kills with equal impunity. After reading from the cursed Darkhold, Blade and a cadre of other heroes were meant to enter Chthon's dimension and stop the ancient god from destroying the Multiverse. But reading the book has changed all their lives and histories…and for Blade, the consequences are far-reaching. Vampires rule the world, and he rules over them all. But there are some heroes left—and Blade is not as omniscient as he thinks.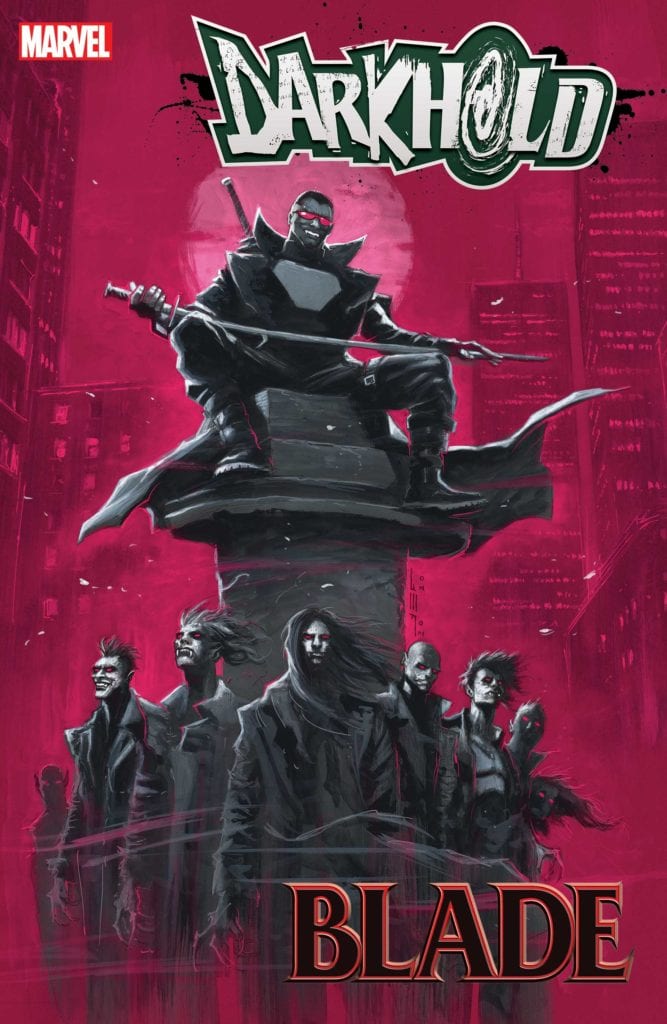 What's your excitement level for Marvel's DARKHOLD event?