CW has announced the casting for the villain in an upcoming superhero crossover event. Hot off the heels of the "Heroes vs Aliens" event, Supergirl and The Flash will have a musical event. Darren Criss, known mostly for his work on Glee, has now been cast as the maniacal Music Meister. He will be going up against Supergirl and Flash in the two-episode crossover event.
CW executive Andrew Kreisberg told TV Line about the casting earlier today, singing Criss' praises (though not literally). "With our Flash and our Supergirl being Glee alums, how could we not have them go up against another Glee favorite like Darren Criss?" said Kreisberg. "We have been blown away by his talent over the years and we can't wait to see what he brings to the Music Meister."
This event will also serve as a Glee reunion, as both heroes had recurring roles on the show. Gustin, in fact, played Sebastian, an antagonist-slash-ex-lover of Criss' Blaine. Beonist, meanwhile, played the nicer Marley Rose. Along with these actors, the episodes will also feature the voices of Cisco (Carlos Valdes), Winn (Jeremy Jordan), and Joe West (Jesse L Martin). The event has also recruited CW songbirds Dr. Stein (Victor Garber) from Legends of Tomorrow, and Malcolm Merlyn (John Barrowman) from Arrow.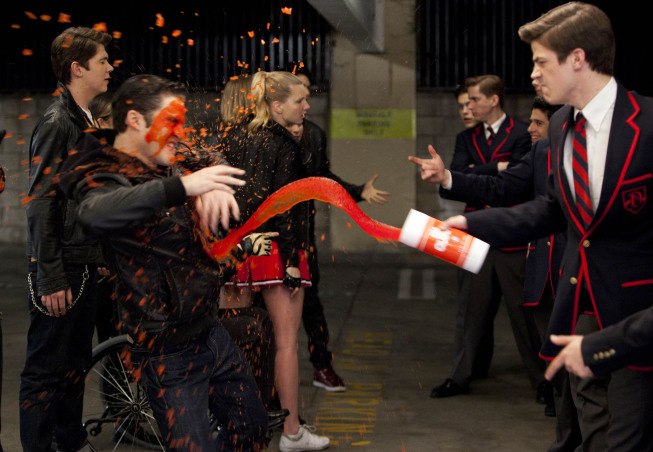 Darren Criss has been singing and acting for years, beyond his work on Glee. He's played the leads in Starkid's A Very Potter Musical, as well as the Broadway show Hedwig and the Angry Inch. Interestingly enough, Criss took over the roll from Neil Patrick Harris, who played Music Meister in the cartoon series Batman: The Brave and The Bold. While Criss has never played a flat-out villain before, he certainly has the chops for a potentially great performance.
Aside from the casting, it's hard to say what can be expected of the CW event. Much like "Heroes vs Aliens," the Supergirl episode won't be as heavily involved in the crossover as The Flash. We don't know much about the plot, or if the soundtrack will feature original tracks or pop song covers (a la Glee). The hope is that this Glee reunion won't feel like a… well, like a Glee reunion. Not to say that Glee wasn't good, but it certainly wasn't an action-packed adventure show. Regardless, it will no doubt be fun to watch these former co-stars team up once again.