Batman may be the most popular comic book character ever, but his creation has been wrought with confusion and inaccuracies. It has led to an injustice for a man who put in more work toward creating the Caped Crusader, and received nothing for it. Every Batman property for the past 76 years has had a sole credit that read, "Batman Created by Bob Kane." But, true comic book fans know that writer Bill Finger was the one who created the dark, Gothic setting and detective elements that we all know and love about Batman.
Bob Kane's original idea for Batman was a goofy concept involving a man in bright red spandex and stiff mechanical wings catching criminals. Bill Finger thought of the cape, the cowl, gloves, and the utility belt. He also created a lot of the Batman villains including the famous Joker. Without Bill Finger, we would have a very different, and bizarre Batman.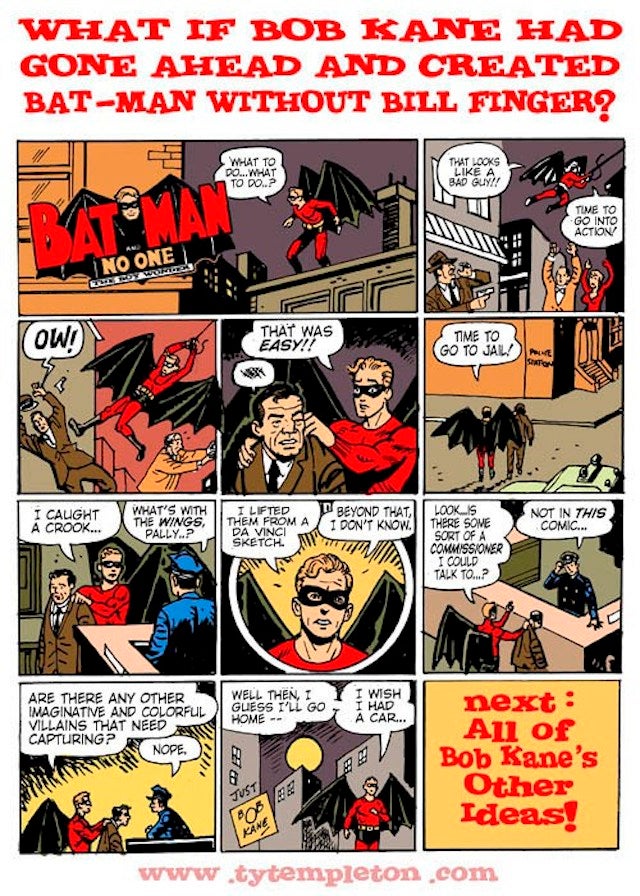 Today it was finally announced that after so many years of receiving such little credit for his contributions, Bill Finger will finally be attributed in Batman related properties such as Fox's TV Show Gotham and the upcoming Batman V. Superman: Dawn of Justice.
DC Entertainment released a statement today to The Hollywood Reporter about crediting Bill Finger.
"DC Entertainment and the family of Bill Finger are pleased to announce that they have reached an agreement that recognizes Mr. Finger's significant contributions to the Batman family of characters. "Bill Finger was instrumental in developing many of the key creative elements that enrich the Batman universe, and we look forward to building on our acknowledgement of his significant role in DC Comics' history," stated Diane Nelson, President of DC Entertainment. "As part of our acknowledgement of those contributions," Nelson continued, "we are pleased to confirm today that Bill Finger will be receiving credit in the Warner Bros. television series Gotham beginning later this season, and in the forthcoming motion picture Batman v Superman: Dawn of Justice."
This is great news to hear, as even Bob Kane stated in his autobiography, Batman and Me, that Bill Finger never got the recognition he deserved. And while it has certainly been too long, it's good to see that credit is finally going where credit is due.
It only took three quarters of a century for it to happen.