Wolverine: Black, White, and Blood #2 (of 4) hits your local comic book store on December 16, but thanks to Marvel Comics, Monkeys Fighting Robots has a six-page preview for our readers.
The book is written by Vita Ayala, Chris Claremont, and Saladin Ahmed, with art by Greg Land, Kev Walker, and Salvador Larroca.
About Wolverine: Black, White, and Blood #2 (of 4):
SHARPEN YOUR CLAWS FOR ROUND TWO OF WOLVERINE'S ALL-NEW ALL-STAR BLOODY BATTLES!
The adventures of WOLVERINE continue in the visceral black, white, and blood-red format! Legendary X-scribe Chris Claremont re-teams with the incomparable Salvador Larroca to bring LOGAN back to Madripoor as PATCH, where he and KATE PRYDE face their toughest battle yet. Then, Saladin Ahmed and Kev Walker build a life-or-death catch-22, courtesy of the maniacal ARCADE, that will force Wolverine to make a life-or-death decision! Vita Ayala and Greg Land put Wolverine on a mission to stop a "cure" for the X-gene, where he'll cross paths with his deadliest foe: SABRETOOTH!
---
Do you have Wolverine: Black, White, and Blood on your pull list? Comment below with your thoughts.
From Saladin Ahmed and Kev Walker's story: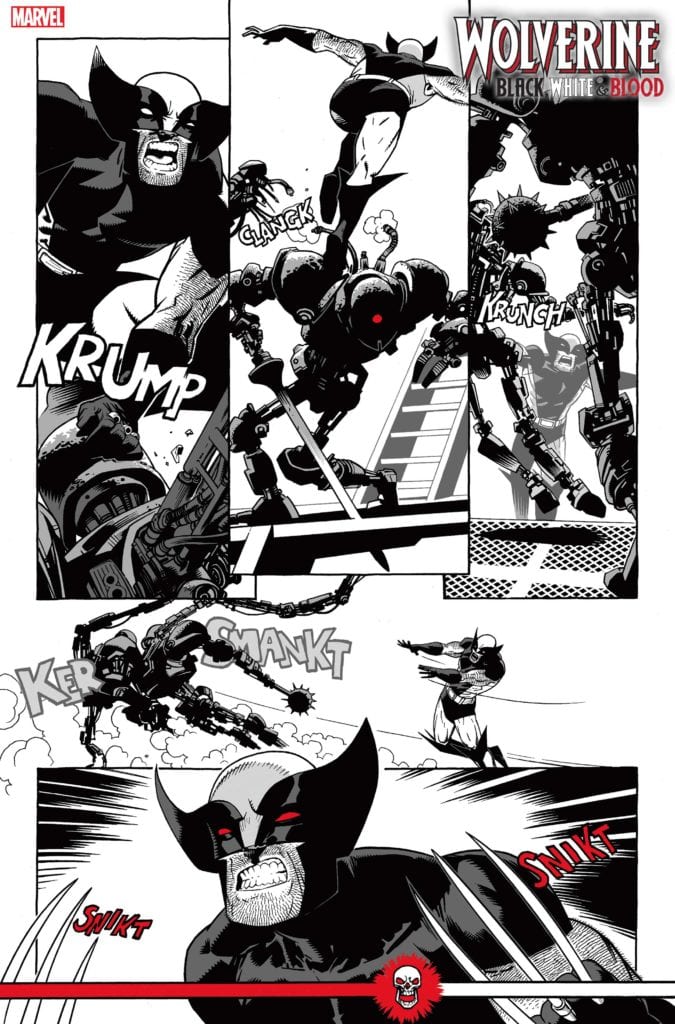 From Vita Ayala and Greg Land's story:
From Chris Claremont and Salvador Larroca's story: