The Black Hammer: Visions series from Dark Horse Comics has been a fantastic exploration of this comic book universe. While the start to the series, Black Hammer: Visions #1 was a quiet and personal story about bit characters, Black Hammer: Visions #4 is quite the opposite. Writer Mariko Tamaki, artist Diego Olortegui, colorist Dave Stewart, and letterer Nate Piekos pull out all the stops to show us just how much is possible in this crazy comic world.
Writing
Tamaki spends zero time on exposition. She flings the reader into a plot that's already on the brink of boiling over. We see familiar characters in confusing new dynamics. And it's just as we begin to piece together what's going on that Tamaki pulls the rug out from under us again. This story thrives off of our confusion. But we also see some of the clichés used in things like Dynasty or The Jetsons. And so Tamaki is able to discover new, experimental levels to the medium, while keeping us connected to familiar tropes so we're never too lost. Tamaki has us tethered to her rocket ship, and she's taking us places we've never been.
Art
Unfortunately, Olortegui's art does occasionally serve to confuse the reader. As we come to the end of the issue, the page is missing certain things. We can't tell if we're watching the same characters we saw a page before, because they've switched costumes. There's no indication in those last few pages whether these characters are in fact different versions of each other or just really fast with a costume change. But maybe that's part of the point. There's a madness to each page, where panels overlap and time moves quickly, that is deliberately rattling. In the final two pages, Orlotegui slows things down. We go from the breakneck speed of the previous pages, to a shot by shot of a character moving across the page. It's a beautiful end to the issue, easing the confusion of all that's come before.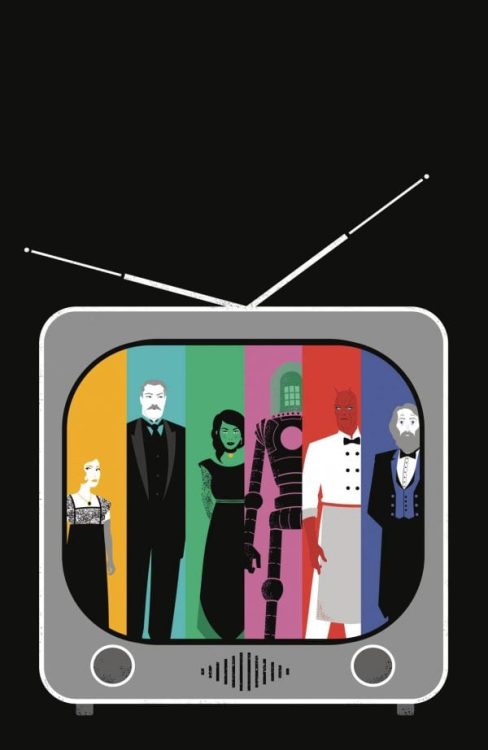 Coloring
Stewart's ability to color just about any kind of comic is on full display in this issue. As we begin the issue, we're introduced to our characters in an old manor. Stewart creates a dark and brooding atmosphere. We could be in a scene right out of an Agatha Christie novel. But when we shift from one story to another, the page brightens up. We go from a room that's lit by fire, to a place covered in fluorescent lights. And it's in that slight change of color palettes that everything else changes too. We immediately feel different about these characters and scenes. Everything feels a little less serious and whole lot less dangerous.
Lettering
Piekos' tone also changes from one setting to another. Following the characters in the old manor, Piekos' word balloons have a seriousness to them. Each character talks in large chunks, sometimes interrupted by someone else's dialogue overlapping theirs. It feels like a play of some kind. People speak their lines, only interrupting for dramatic effect. But when we transition to our new setting, it feels more like we're watching a cartoon. People speak in short spurts, all connected by columns with others adding their banter into the pauses. Thanks to Piekos, we feel the major differences in these two settings. One reads like a Victorian drama, while the other is full of the witty repartee of modern TV.
---
Dark Horse's Black Hammer: Visions #4 opens this world up to all kinds of possibilities. Tamaki, Olortegui, Stewart, and Piekos were given all the toys in the sandbox, and they have lots of fun with them. Pick up Black Hammer: Visions #4, out from Dark Horse the 12th of May, at a comic shop near you!